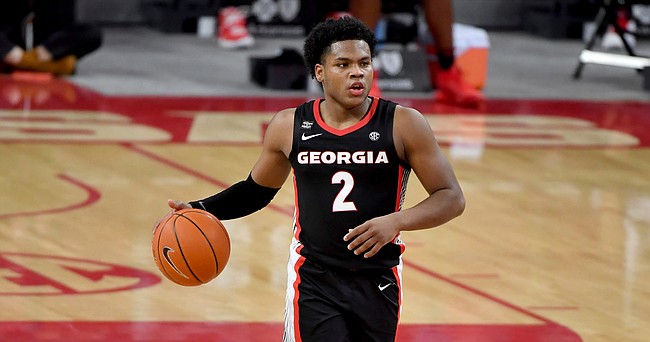 The Kansas men's basketball program made the cut for Georgia point guard Sahvir Wheeler, a sophomore transfer who released his four finalists on Friday morning.
Wheeler, a 5-foot-10, 180-pound lead guard who averaged 14 points per game for the Bulldogs last season, is down to Kansas, Kentucky, LSU and Oklahoma State.
He announced his four finalists on social media Friday morning via a 10-minute video of him and his father, Teddy Wheeler, breaking down game film of each of his finalists.
In the video, you see the faces of the Wheeler, a native of Harlem, N.Y., and his father sitting on the couch and the back of the laptop they're watching.
They spend a couple of minutes on each school and discuss style of play, the head coach, the fit and the opportunities that might come from picking that program.
While the Wheeler announcement is the latest in a long line of made-for-social-media recruiting videos, it's different than most that have come before it in that it provides raw insight into the thinking that helped the player his decision.
"This is a sneak peek into my process of breaking down each of the four schools," Wheeler wrote on Twitter and Instagram. "Hope you guys enjoy!"
No timeline was given for Wheeler to make his final choice, and he told Adam Zagoria, of Zagsblog.com, that he also was testing his NBA draft stock.
"Each of these schools I feel like give me an opportunity and a chance to win at the highest level and be able to compete at the highest level for a national championship, Final Four run," he told Zagoria. "(They) also allow me to elevate my game and get to the next level because there's a direct correlation between getting to the NBA and playing in the March Madness, having a winning record and placing at the top of your league. And I feel like those schools give me an opportunity to do that and also play my game and grow consistently as a player."
Kansas currently has one scholarship to give out and is awaiting draft decisions from 2020-21 starters Ochai Agbaji and Jalen Wilson.