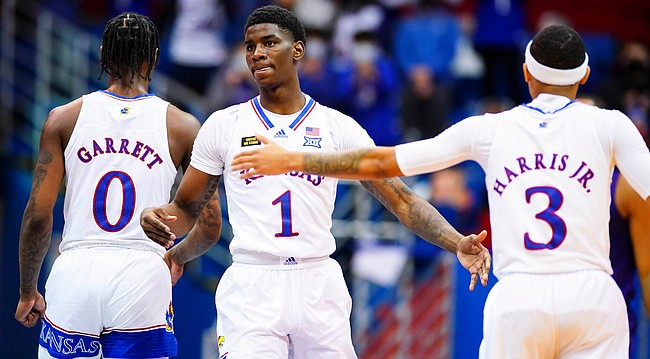 Kansas junior Tyon Grant-Foster has entered the transfer portal, KU coach Bill Self announced Monday afternoon.
Grant-Foster, the former No. 1-ranked junior college player in the country, appeared in 20 games for the Jayhawks during his lone season with the program, averaging 3.1 points and 2.2 rebounds in 8.3 minutes per game.
"Tyon and I visited today and he told me of his intention of putting his name in the portal," Self said. "I support that decision. We all have enjoyed Tyon being here. He is a tremendous young man that has a great future and we all support him moving forward in his basketball career."
Coaches and teammates within the Kansas program had high hopes that Grant-Foster could become an impact player for the Jayhawks in Year 1. In fact, Self said in December that he could envision the 6-foot-7, 205-pound guard becoming one of the team's best players by February.
But that never materialized, and Grant-Foster remained a deep option on the Kansas bench throughout January and February and into March.
He played a total of 16 minutes in four games in February and just 11 minutes in two games in March, including nine mostly-second-half minutes during KU's 85-51, season-ending loss to USC in the second round of the NCAA Tournament.
Throughout the season, Self pointed to the lack of opportunities Grant-Foster had been given to both get comfortable in the Kansas system and prove that he deserved a spot in KU's regular rotation. And as the Jayhawks entered the NCAA Tournament with COVID-19 issues affecting their frontcourt, Self said he told Grant-Foster that he would have an opportunity to be an impact player for KU on the season's biggest and brightest stage.
But with the Jayhawks needing a come-from-behind effort to knock off Eastern Washington in Round 1, Grant-Foster played just two minutes in that game.
Grant-Foster flashed big moments during his limited time at KU, by the far the biggest coming when he scored eight points, grabbed eight rebounds and recorded two blocks while making a couple of big time plays late to help KU win a nonconference game over North Dakota State at home in December. He also scored 13 points and grabbed seven rebounds in a home win over Omaha a week later.
But he played double-digit minutes in just two of the final 14 games he appeared in and shot 40% from the floor (27 for 68) and 13% (3 of 23) from 3-point range.
Originally from Schlagle High in Kansas City, Kan., Grant-Foster played two seasons at Indian Hills Community College before coming to Kansas.
Sources told the Journal-World this week that Grant-Foster has drawn interest from programs in the Big Ten Conference. Wherever he ends up, he will have two years of eligibility remaining thanks to the free year given out by the NCAA in the wake of the pandemic. And if the one-time transfer exemption passes next month — as is expected — he could be eligible to play immediately at his new school.
Grant-Foster's departure opens up a scholarship for the Jayhawks to fill heading into the 2021-22 season, and there figures to be no shortage of options.
Kansas City senior guard Brandon McKissic has listed KU as one of his final six transfer destinations and the Jayhawks remain in pursuit of prep guards Ty Ty Washington and Bobby Pettiford, who both recently backed out of commitments to Creighton and Louisville, respectively.