Kansas sophomore Christian Braun's first taste of the NCAA Tournament has been different than what most Jayhawks have gone through before him.
Braun, who missed out on the opportunity to play in the Big Dance his freshman season because of the pandemic, is one of nine players on KU's roster going through the NCAA Tournament routine for the first time.
While the experience figures to change if they're able to make it back to the event later in their careers, Braun said Wednesday that things had gone well in Indianapolis up to this point.
"It's definitely different," Braun said. "You know, it's just a different lifestyle for us, something we have to adjust to. I think the Big 12 tournament was a good warm-up for this."
In addition to eating pre-packaged meals and following strict rules for when they can leave their rooms and when they can meet and practice, each Jayhawk has his own room throughout the team's stay in Indianapolis.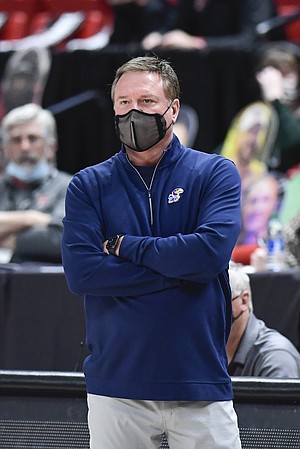 For Braun, that has meant plenty of time playing video games on his PlayStation and relaxing between practices and meetings.
On Wedensday, Dan Gavitt, the NCAA's senior vice president of basketball, shared with reporters via conference call what other options the hundreds of athletes in Indianapolis this week have at their disposal to help pass the down time.
Included among them are trips to nearby Victory Park, home of the Triple-A Indianapolis Indians, where badminton, cornhole and other yard games are set up.
The teams also have access to libraries and academic resource centers in each hotel and have been greeted by a copy of the late John Thompson's book in their rooms.
Gavitt also said that outings to the Indianapolis Zoo and Top Golf are on the horizon for the teams that stick around Indianapolis the longest.
In addition to those who are in Indianapolis having to adjust, several people who normally accompany their teams to the NCAA Tournament — band members, cheerleaders, mascots, etc. — are nowhere to be found this week.
The NCAA has set the number of people allowed in each team's travel party at 34, meaning there's room for players, coaches, managers, trainers, a few administrators and little else.
While managing the experience can be a lot, both Braun and KU coach Bill Self said Wednesday that following the NCAA's tourney guidelines is a small price to pay for getting the chance to compete for a championship.
"I hope we do get to experience what it's like being here for a long time," Braun said. "It's going to be different. You pack extra clothes for that reason. You hope for a run in March. That's everybody here's goal. And we're just focused on getting wins and staying here in the bubble as long as possible."
Despite the rules and restrictions, Braun said KU's first couple of practices in Indianapolis had been the same as they've been all season.
As the week progresses, the intensity and focus will ramp up. And Braun said the excitement that comes with his upcoming NCAA Tournament debut has trumped all other emotions.
"The team that we've got is really excited to play," he said. "We're all really juiced up. This is a lot of our first tournaments, so we're excited for that first game."
Added Self, when asked how concerned he was about his players' mental health during life in the bubble:
"It won't be easy, but I also believe that it's not the hardest thing. And if you're fortunate enough to advance, I think the sacrifices that you have to make to be here will be minimal compared to the reward."