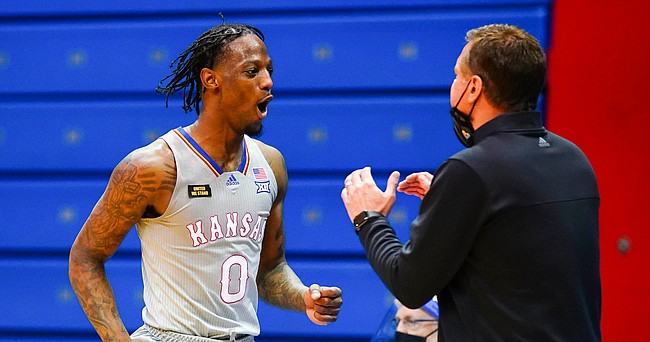 The Kansas men's basketball team received a No. 3 seed in the West region in the NCAA Tournament on Sunday, and KU coach Bill Self said that the COVID-19 issues that kept the Jayhawks from finishing the Big 12 tournament had not created any further problems.
"Knock on wood, we think we're in as good a shape as we can be in," Self said in a Zoom call with reporters after the bracket came out. "We're going to Indy (on Monday) with a healthy group; it's just a smaller group. We're minus three bodies right now."
Two of those three — junior David McCormack and sophomore Tristan Enaruna — were ruled out before the start of the Big 12 tournament. Self said he expected both to rejoin the team at some point this week in Indianapolis.
The third player, who tested positive for COVID-19 on Friday morning, remains unnamed and is expected to be out for KU's first two games of the NCAA Tournament, in accordance with the tournament's protocols.
While that leaves the Jayhawks shorthanded as they prepare to kick off a postseason run for an NCAA-record 31st consecutive NCAA Tournament, Self said the rest of the team had tested negative multiple times since Friday and that he was appreciative that the Jayhawks' first game of this year's tournament was not until Saturday.
"I'm actually glad that we have an extra day," Self said. "Not only for (the guys who've been out), but for all our bodies and (so we can) practice together closer to game time. So I thought that the draw we got was fair."
When the full KU gang gets together again, the Jayhawks (20-8) will prepare to face 14th-seeded Eastern Washington, which earned a spot in the field by winning the Big Sky postseason tournament and is 16-7 overall. This is Eastern Washington's third trip to the NCAA Tournament and the first since 2015.
KU will face EWU at 12:15 p.m. Saturday at Farmers Coliseum in Indianapolis.
Kansas landed in the same region as No. 1 seed Gonzaga, which defeated KU in the season opener on Thanksgiving. Iowa is the 2 seed in the West, and Virginia and Creighton round out the region's top five.
The winner of KU's game with Eastern Washington will play the winner of the 6-11 matchup between USC and the winner of the First Four matchup between 11 seeds Wichita State and Drake.
Self said that while every team in the field deserved respect, nearly all of the teams in the West region had something in common.
"The one thing that jumps out in our bracket that would be the hardest thing, and I think there's 15 other teams that can attest to this, is that Gonzaga is in our bracket," Self said. "To get to a Final Four, you're going to have to eventually probably go through one of the better teams our sport has seen in recent memory.
"Since that's the draw we got, I might as well be comfortable with it and like it," Self added. "I certainly don't dislike it."
Gonzaga ran through the regular season and West Coast Conference tournament at 26-0 and enters the NCAA Tournament as the No. 1 overall seed.
Despite that potential challenge looming, which senior guard Marcus Garrett said was "definitely something we'd look forward to," Self said his team's focus was solely on Eastern Washington, USC, Wichita State and Drake.
"That's all I'm going to think about," Self said. "The NCAA Tournament is a series of two-game tournaments. You have to go into a weekend and win a two-game tournament, and that's the only bracket I'm thinking about."
There were other things on Self's mind on Sunday. Most notable among them was the pride he felt in his team for elevating itself to the position of a 3 seed.
After finishing the month of January at 3-5, with a stretch of four losses in five games, the Jayhawks were reeling and talked about by many as one of the worst teams Self has had at Kansas. Plenty outside of the program also projected that Self's stretch of never being seeded lower than 4 during his days at KU also could come to an end this year.
"To go from that to being a 3 seed, I think, is a pretty strong statement (about) how much our team got better and how much the players improved," Self said of his squad, which enters the NCAA Tournament having won eight of its last nine games. "I actually am probably about as excited as I've been on a Sunday of the selection show. I'm really proud of (this team) and I'm excited."
While the experience of seeing their names called on Selection Sunday was still new to most of the Jayhawks' roster — especially given the fact that last season's tournament was canceled at the outset of the COVID-19 pandemic — Self said he sensed an element of pride from the players as they watched Sunday's bracket come out.
"I think that they were proud of themselves, to be honest," Self said. "I think they feel good about themselves. But not good in a way that we've accomplished anything. Just good in a way of, 'Well, so far so good. We put ourselves in a decent position; now we have to take advantage of this opportunity.'"
That there's an opportunity awaiting at all was reason enough for KU's leading scorer, Ochai Agbaji, to get excited.
"It's been tough," Agbaji said of staying patient and upbeat during the past few days. "Kind of (started) getting the same feel from last year when we didn't play the Big 12 tournament (or NCAA Tournament) at all. But we've been sitting around (and) practicing, and we're thankful that we still have the opportunity to play in the NCAA Tournament."