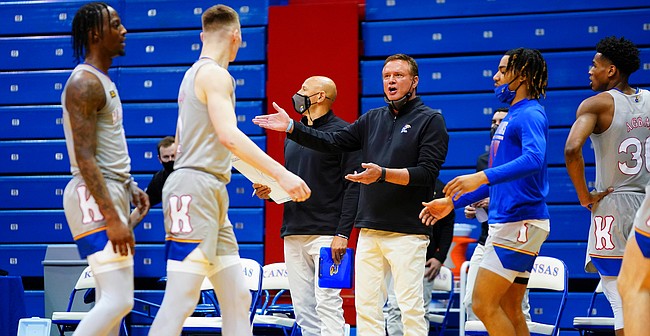 No. 11 Kansas Jayhawks (19-8 overall, 12-6 Big 12) vs. No. 25 Oklahoma (15-9 overall, 9-8 Big 12) 
Time: 5:30 p.m., Thursday, March 11, 2021
Location: T-Mobile Center, Kansas City, Mo.
TV: ESPN | Radio: IMG Jayhawk Radio Network
Log on to KUsports.com for our live game blog coverage and follow the KUsports.com staff on Twitter: @KUSports @mctait @bentonasmith & @SJacksonLJW
Keys for Kansas
1. Relearn how to play small
With big man David McCormack as well as Tristan Enaruna being unavailable due to COVID-19 protocols, Kansas will have to relearn how to play with its smaller lineup because of a lack of depth in the frontcourt.
KU's small-ball lineup actually has had a lot of success, especially early in the year. Yet McCormack's emergence as the Big 12's Most Improved Player prevented that lineup from getting more playing time in the heart of league play.
"Minus the foul situation, we actually played some of our best ball of the year when we played small," Kansas coach Bill Self said during Monday's media availability. "We haven't practiced that a lot, but the recent practices we've put a lot of time in on that."
Early in the year, redshirt freshman Jalen Wilson served as the de facto 5 man when the Jayhawks went with their small lineup. At 6-foot-7 and 190-pounds, Wilson has a nice blend of length and athleticism to create mismatches for opposing defenders from the five position.
Mitch Lightfoot could get the start at center, but don't be surprised if a four-guard lineup around Wilson ends up being KU's go-to unit at times.
2. Offensive rebounding is key
Rebounding is a key statistic that tends to predict wins and losses for this KU team. According to KenPom, the Jayhawks were third in the Big 12 in offensive rebounding with an offensive rebound rate of 31.4% this season.
However, it was an area that Kansas struggled to find success in during the two meetings with Oklahoma in the regular season. KU collected a total of six offensive rebounds in those two games, which included a season-worst effort of two boards on that end of the floor in its loss to OU in Norman.
In terms of offensive rebound rate, KU's four worst games of the year — at Oklahoma, at Tennessee, vs. Gonzaga and at Texas — were all under 20% and all resulted in losses.
The Jayhawks are 14-3 this season when posting an offensive rebound rate of 30% or higher. A pair of those wins came against Iowa State, when Kansas recorded an offensive rebound rate of 32.4% in the first meeting with the Cyclones and a 34.1% clip in the rematch just two days later.
While McCormack's absence will certainly hurt Kansas in that department, Wilson is second on the team in offensive rebounds with 63 on the year. Wilson is averaging 8.2 rebounds per game to lead the way in that category for KU.
3. Bench production
There is no way of replacing McCormack's contributions with just one player, so Kansas will have to rely on multiple players who are normally reserves.
Lightfoot figures to be the obvious candidate for an increased role, perhaps even getting the starting nod. Lightfoot has not started since the 2017-18 season, when he made seven starts and played a total of 143 minutes during that stretch.
Freshman guard Bryce Thompson, who made his return in the first ISU game after being sidelined with a broken finger, could also play a bigger role for the Jayhawks this week. Thompson was held to five points on six shots over the last two outings of the regular season.
Self also acknowledged that Tyon Grant-Foster or Gethro Muscadin could get some run for the Jayhawks this week.
"I would like to see everybody step up," Self said. "Without putting pressure on anyone, your best players need to perform in the games that matter the most."
"I actually am excited about watching us grow this weekend," Self added.
Marquee Matchup
Mitch Lightfoot vs. opposing big men
Whether he starts or not, Lightfoot's minutes will be crucial as the team's primary big man.
Lightfoot has logged double-digit minutes in 14 of his 27 games this season, but he has only eclipsed the 15-minute mark in four contests. He played a season-best 18 minutes on Feb. 11 against Iowa State, when he scored three points and grabbed three rebounds.
In the two regular-season meetings with Oklahoma, Lightfoot was rather efficient from an offensive perspective. He went 3-of-3 during a 7-point performance on Jan. 9, while shooting 3-of-4 in a 6-point effort on Jan. 23. Lightfoot also added three rebounds to his stat line in the latter outing.
Lightfoot's best rebounding performance of the season was against Omaha, when he hauled in seven boards for Kansas. That was the game Lightfoot scored 14 points, which is his only double-digit performance so far this season.
On the defensive end, Lightfoot has registered a season-best three blocks in four different games this year.
Jayhawk Pulse
Entering the Big 12 tournament, the Jayhawks are hot after winning seven of their final eight games to end the regular season. In fact, KU has only dropped two games since the calendar turned from that rocky January.
While its 67-62 win over UTEP in the regular-season finale was a bit closer than it should have been, it was also a performance that can give this Kansas team plenty of confidence ahead of the postseason. Even when the Jayhawks aren't playing well, they know now that they can find a way to win.
Doing so in Kansas City, with the potential to play three games in as many days, is an entirely different story, of course. But it is a possible that that type of grind, especially while shorthanded, could help prepare KU for whatever is to come in the NCAA Tournament.
Not only that, but the Jayhawks might actually need this week to help give them the best seed possible. As it stands, Kansas is currently hovering around the 3-seed or 4-seed range.
"If we win, that takes care of everything," Self said of the seeding. "For us, personally, I think this year is more about the matchups than it is most years just because of knowing what our strengths and weaknesses are."
"Everybody wants to be seeded as high as possible," Self added. "We still have that opportunity to do that. We are just going to have to really, really compete at a high level without our full complement of guys."
Probable Starters
No. 11 Kansas
G – Marcus Garrett, 6-5, 195, Sr.
G – Ochai Agbaji, 6-5, 210, Jr.
G – Christian Braun, 6-6, 205, Soph.
G – Jalen Wilson, 6-7, 190, RS-Fr.
F – Mitch Lightfoot, 6-8, 225, RS-Sr.
No. 25 Oklahoma
G – Austin Reaves, 6-5, 206, Sr.
G - Umoja Gibson, 6-1, 176, Jr.
G – De'Vion Harmon, 6-2, 198, Soph.
G – Elijah Harkless, 6-3, 195, Jr.
F – Brady Manek, 6-9, 231, Sr.