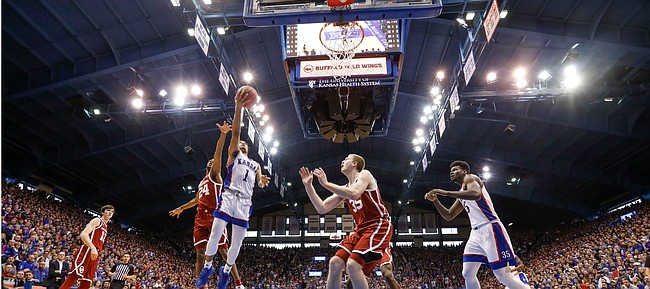 Although Thursday's game between No. 13 Kansas and visiting UTEP at Allen Fieldhouse was added at the last minute, it will hardly be a new experience for a couple of people on the Miners' roster.
UTEP coach Rodney Terry and junior guard Jamal Bieniemy both have experienced the game day atmosphere in Lawrence, with Bieniemy having played in Allen Fieldhouse during each of the past two seasons while at Oklahoma and Terry having made several trips to KU's home venue during his days as assistant coach at Texas for nine years and Baylor for two.
"I'll never forget going in there for the first time when I was coaching at Baylor," Terry recalled during a Tuesday morning Zoom interview. "You go in there for shoot around and initially you're thinking, 'This isn't that intimidating of a venue.' Now, when the lights come on, it becomes a whole different monster."
While most of his trips to Allen Fieldhouse resulted in losses, Terry was on the bench for Texas in 2011, when Rick Barnes' led to Longhorns to a win on KU's home floor.
"Our guys always loved playing there," said Terry, who coached T.J. Ford, Kevin Durant, D.J. Augustin, LaMarcus Aldridge and Tristan Thompson at Texas. "We played a lot of close games in there. I only won one time, and the one game we did win we started out down 15-2."
Although Thursday's game — 7 p.m. on Big 12 Now/ESPN+ — will feature just 2,500 fans instead of the jam-packed total 16,300 like most years, Terry and Biemiemy said the Miners were looking forward to it all the same.
"It's definitely a big time opportunity for us," Bieniemy said.
Asked what stood out about his two previous trips to Allen Fieldhouse, Bieniemy smiled and said, "Just a lot of noise, a lot of energy. It's a great place to place, a memorable place to play; you'll never forget it. And it's going to be a great experience for our guys."
Terry said the game was the result of ongoing dialogue between the two schools about scheduling a game. UTEP is also slated to play at KU next season, and when both programs reached the finish line this year with room to add a game, it seemed like a natural fit to link up.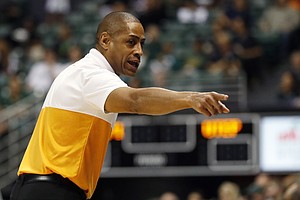 "I know for myself I was excited about the opportunity," Terry said. "So I was hoping that my guys would be excited about the opportunity, too."
They were.
Redshirt junior Souley Boum said team found out about the game with Kansas on a Zoom call and that it did not take long for the magnitude of the opportunity to hit them.
"We were all excited," Boum said. "This experience is once in a lifetime for us."
It also will not be entirely unfamiliar.
This season alone, the Miners (12-10 overall, 8-8 in Conference USA) played three consecutive December games at Arizona, Arizona State and Saint Mary's, losing by eight to Arizona and Saint Mary's and winning by 13 at ASU.
Terry admitted that none of those venues quite compared to Allen Fieldhouse, but he added that playing one of college basketball's blue blood programs should only add to the team's intensity and focus.
"I think they'll be excited about the opportunity to get a chance to compete against one of the top teams in the country," he said.
Terry and his players said they hoped that defense would be the key to Thursday's game, and KU's recent improvement in that area was not lost on any of them.
Terry said the Jayhawks look like a completely different team from the one that lost by nearly 20 points at Tennessee just a month ago.
"To watch where they were then to where they are now and what he's done with this group, I think is one of his best jobs since he's been at KU," Terry said of KU coach Bill Self. "I think a lot of it's predicated on how hard they guard."
That assessment hardly surprised Bieniemy, who said what little he had seen of the Jayhawks so far looked awfully familiar.

"This group is kind of the same group of guys that I played against when I was at Oklahoma," he said. "Just athletic defenders who can make shots. They're not going to beat themselves, so you just have to be ready to play and execute."
That's the plan, according to Terry, who said his team had everything to gain and very little to lose on Thursday night.
"It's a high-level game," he said. "So it keeps us competing at that level. I have a team full of competitors, so we're coming with the throught process that we're going to try to win the ballgame."