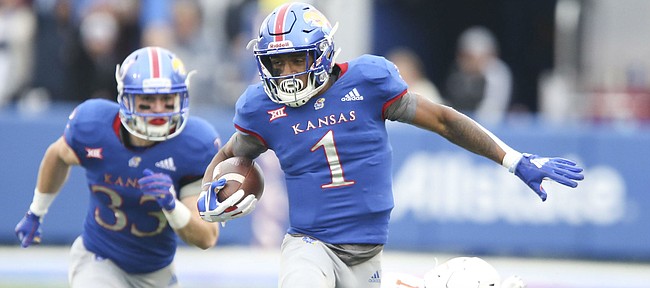 Former Kansas football star running back Pooka Williams will be back in Lawrence this week, hoping to prove himself as an NFL prospect at the Jayhawks' pro day on Friday.
Due to the pandemic, there won't be an NFL Scouting Combine in 2021, making the pro days hosted by individual college football programs all the more important for the players trying to make it to the next level.
The NFL still extended invitations to players for a virtual version of the combine this year, though, and Williams received one, KU announced on Tuesday.
Williams, a four-star high school prospect when he signed with KU as a touted recruit from Louisiana, figures to be a player of interest for NFL teams, whose scouts and coaches will be able to access video footage and results from KU's pro day drills.
With most of the seniors from KU's 2020 roster either gone via the transfer portal or sticking around for an extra college season thanks to the NCAA's blanket waiver for additional eligibility, there won't be many Jayhawks who played this past season at KU participating at the pro day at the team's indoor practice facility. But Williams and longsnapper Logan Klusman will be joined at the event by some former KU players, who last took the field in 2019.
Listed at 5-foot-10 and 170 pounds as a junior at KU, Williams rushed for more than 1,000 yards in each of his first two seasons, giving the long struggling program a dynamic offensive player out of the backfield.
However, as the offense flatlined early in the 2020 season, Williams wasn't as productive, and he opted out of what would become his final year with the Jayhawks after four games.
Williams, who declared for the draft in December following his junior year at KU, averaged only 3.8 yards per carry during his abbreviated season. He ran for 196 yards (65.3 yards per game) and scored two rushing touchdowns in 2020.
His final contribution in a KU uniform came on special teams, late in the Jayhawks' road loss at West Virginia, and Williams returned a kickoff 92 yards for a touchdown.
Earlier in his career, Williams averaged 7.0 yards per carry as a freshman and 5.2 as a sophomore as a rusher. He totaled 1,125 rushing yards (102.3 per game) as a freshman and 1,061 as a sophomore (96.5 per game).
The NFL draft guide put together by Pro Football Focus projects Williams as a sixth-round pick.
While the situation is vastly different in 2021, this marks the fourth consecutive year at least one KU player received an invite to the NFL's combine. In 2020, when the event actually took place, both offensive lineman Hakeem Adeniji and edge rusher Azur Kamara traveled to Indianapolis to show off their skills in front of NFL scouts and decision makers. The Cincinnati Bengals drafted Adeniji in the sixth round, while Kamara went undrafted before signing with the Dallas Cowboys as a reserve linebacker.
Former standout KU defensive linemen Dorance Armstrong Jr. (2018) and Daniel Wise (2019) also picked up combine invites. Armstrong became a fourth-round pick of the Cowboys. Wise went undrafted, then signed with Dallas. Wise later joined Arizona on the practice squad, and finished the 2020 season with Washington.