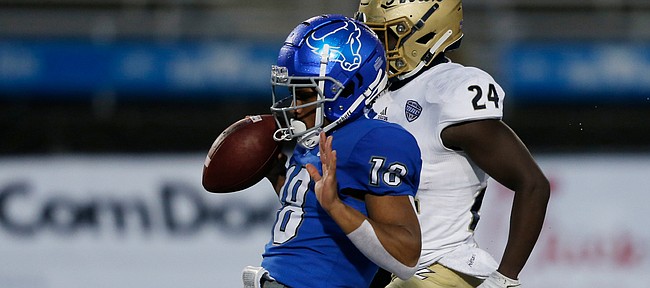 Among the six former Buffalo football players who transferred to Kansas this summer, following head coach Lance Leipold, two could become mainstays within the Jayhawks' offense over the course of the next few years.
While Leipold also expects the KU offense to immediately benefit from the presence of former UB starting center Mike Novitsky, two younger transfers — receiver Trevor Wilson and offensive tackle Michael Ford Jr. — could potentially play at KU longer.
A 5-foot-11, 190-pound wideout from Tallahassee, Fla., Wilson played his debut college season at Buffalo in 2020. Meanwhile, Ford, a 6-3, 285-pound O-lineman from Homewood, Ill., redshirted with the Bulls this past year and will play his first college game this fall.
KU added Wilson to the roster this summer as a sophomore and brought in Ford as a redshirt freshman, so Wilson could play for the Jayhawks for three seasons and Ford may be around for four seasons.
Leipold has now known Wilson for more than two years, as the receiver joined Buffalo as a mid-year enrollee in the spring of 2019 before redshirting. In a recent interview with the Journal-World, Leipold described Wilson as "extremely athletic," "extremely talented" and "really developed.
Wilson's first fall suiting up for the Bulls didn't even include a full slate of games, but he found ways to stand out during UB's 6-1 season. He led the team with 19.9 yards per reception, gained 78 yards on one of his 16 catches and led the Bulls with three receiving touchdowns.
In a breakout game for Wilson late in 2020 versus Ball State, he hauled in six receptions for 118 yards and a TD.
"So he's got the kind of speed (you're looking for)" Leipold said, adding Wilson also possesses the ability to be a returner on KU's special teams units.
As good as wilson was at Buffalo, Leipold indicated that won't make the receiver an automatic contributor immediately for the Jayhawks' offense.
"We'll see where he can go," KU's head coach said. "But there's a lot of numbers, a lot of competition at the receiver spot. He understands what he's stepping into."
This past week, KU football's director of sports performance, Matt Gildersleeve, named Wilson the team's "guy of the week" for the work Wilson put in during the Jayhawks' strength and conditioning sessions. Gildersleeve previously described the honor as one that goes to "the guy that moves the needle the most in this program."
Although they have different builds and play dissimilar positions, Leipold also described Ford as "extremely athletic." Rated by Rivals as a two-star prospect in UB's 2020 signing class, Leipold said he and his staff were pleased to land Ford.
"We thought was really a steal of a recruit for us," Leipold said.
The coaches learned while watching Ford practice a year ago, as well as throughout this past spring at UB, that the O-lineman from the Chicago area moves his feet well and makes good use of his athleticism as a blocker.
"He came out of our spring at Buffalo when we finished up as the starting left tackle," Leipold shared.