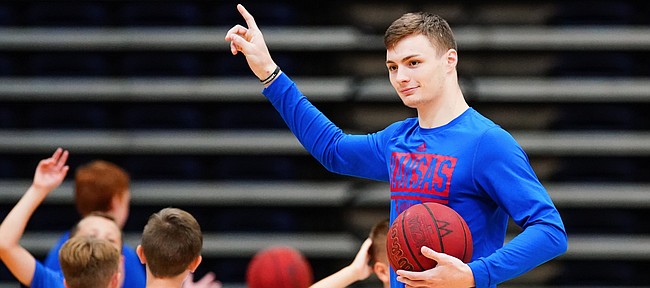 Topeka — When Kansas junior Christian Braun says his summer agenda includes improving "everything" he brings to the court, his fellow Jayhawks believe him.
A teammate of Braun's since the guard from Blue Valley Northwest arrived on campus two years ago, senior David McCormack said he has seen "an aggressive mindset" out of the 6-foot-6 Braun during the Jayhawks' offseason workouts of late.
"Attacking downhill, shooting the right shots when able. I think he's done a better job, from what I've seen this far, in hitting open guys with his looks, becoming a better passer, which is definitely going to help the team, too," McCormack said Tuesday, during a break in the action at Washburn head coach Brett Ballard's basketball camp.
With a year of seasoning behind him and a larger role in store for his second go-round on the college level, Braun's minutes went from 18.4 per game as a freshman to 31.1 as a sophomore, and his points per game average improved form 5.3 to 9.7.
Braun started all 30 games for KU in the pandemic altered 2020-21 season, during which his contributions also included 5.2 rebounds, 1.2 steals and 1.9 assists per game, as well as 34% 3-point shooting.
"I just want to get better with everything in my game. Just get ready for next year. It's another big year, so hopefully I'll take another big step," Braun said of how he wants to improve before the start of his junior campaign. "So this summer I'm just focusing on myself, getting better."
If there's one specific area that has Braun's attention it's the release on his shot. Ideally, he'd like to shed as much time as possible off of his motion, making it harder for defenders to contest the looks he gets from 3-point range and elsewhere.
While working toward a quicker release is something Braun said he's always working on, there is more available downtime to hone such individual skills during the offseason.
"Getting more confident just letting it go off the catch," Braun said of his objective.
The way KU sophomore point guard Dajuan Harris Jr. sees it, Braun finding a faster release for his jumper will allow the veteran to "get any shot off that he wants."
Shaving even fractions of a second off a shot release, Harris pointed out, is hard to do, and Braun is committed to putting in the time and repetitions to make that happen.
"He'll be a really good player," Harris said of Braun's potential if he achieves that desired result, "because he's (6-6), can shoot the ball. He's strong, he can guard, he can do anything he wants."
After going 32-for-72 (44.4%) from 3-point range in a more limited role as a freshman, Braun shot 52-for-153 (34%) during his sophomore season.
But according to Harris, Braun's 3-pointer looks different now in the behind the scenes setting of KU's workouts and pickup games.
"He's shooting it quicker," Harris attested. "Last year his release wasn't that fast, and I feel like he's shooting it way better than he was last year."
Harris also deems Braun is even more comfortable as a ball handler now, saying his handles have noticeably improved.
With Braun progressing as a passer off the bounce, too, McCormack thinks Braun is adding a play-making element to his repertoire that will make him that much harder to guard.
What's more, McCormack said Braun also has shown that he can make a play individually when the offense has to execute in a hurry.
"I think his ability to get better at isos and end of clock (situations) with one-on-ones are definitely going to be more beneficial to the team this year," McCormack said.
The veteran big considers Braun to be a "vital" piece of the puzzle for a KU roster that is bringing in a number of new additions for the 2021-22 season.
"We definitely count on CB for a lot. He's helped out in every aspect he plays," McCormack added of Braun's versatility . "He's one of the hardest (playing) players on the team, so nothing he does is ever taken for granted by us."
After making honorable mention on the league coaches' All-Big 12 team this past season, Braun's teammates think his overall effectiveness on both ends of the floor make him more valuable than some may realize.
"I feel like a lot of people sleep on him," Harris said. "But he's just gotta wake 'em up, for real."