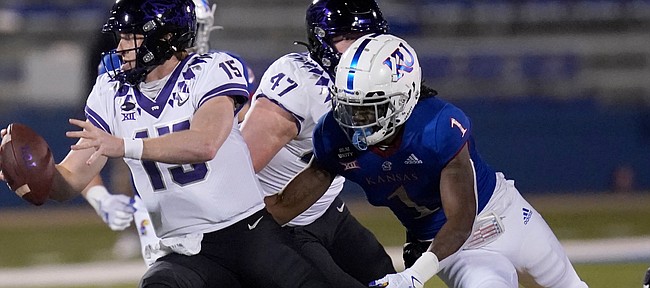 It's not that Kenny Logan Jr. undervalues what he achieved individually for the Kansas football program this past season, it's just that the safety and special teams returner wants more.
The Jayhawks' leading tackler during his breakout sophomore year, Logan also intercepted two passes and returned a kickoff 100 yards for a touchdown.
So what does Logan feel like he accomplished on the field in 2020?
"Not enough," Logan said during a media session this spring. "Not enough."
Those KU defense-leading 58 total tackles, plus three pass breakups, one tackle for loss, one sack, one forced fumble and a 26.5 yards per kickoff return average all factored into Logan's emergence as one of the most important players on the roster.
But when the 6-foot, 195-pound junior from St. Augustine, Fla., looks back at his production, Logan doesn't necessarily find it satisfying.
"It just wasn't enough to help my team get a victory," Logan said, referencing KU's 0-9 record. "So I don't feel like I accomplished anything if it's not leading to a 'W.'"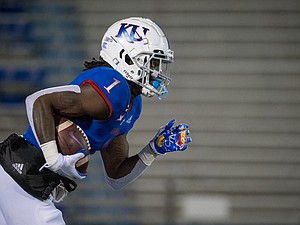 That team-first mindset was on display throughout the spring around KU's facilities, according to Logan's teammates and coaches.
Receivers coach Emmett Jones, who served as the program's interim head coach during spring ball, before Lance Leipold was hired, calls Logan "a facility rat." Jones said Logan is "always" around somewhere or another and that Logan is the type of player who loves to come into a coach's office and "just talk life, talk ball."
When Jones and Logan conversed during the spring, the coach shared, they spoke about Logan being a veteran now and how he can guide players in the right direction.
"So many guys on that back end and some of these offensive guys, they look up to him, also," Jones said. "He's doing a great job as far as developing our younger guys and instilling confidence on that back end."
One of the secondary's many underclassmen, sophomore cornerback Duece Mayberry considers Logan to be the leader of the entire defense.
"He knows the defense," Mayberry said. "Kenny knows what he's supposed to do. If we don't know what we're supposed to do, he's going to let us know what we have to do."
Mayberry noticed this past fall that Logan attacked each day with the same energy, regardless of whether the Jayhawks had a game to play.
"Kenny, like I said, he's a great leader," Mayberry reiterated. "He's going to bring the intensity."
Logan aims to build off his sophomore season, and as he takes on a larger role within the program, players at other positions are noticing, too.
Junior linebacker Nick Channel said during the spring Logan did much more than inject energy into practices and make plays every day.
"He's picked up right where he left off in the fall," Channel said. "He's leading us all, trying to get us all on the right track, and he's doing pretty damn well."
Senior defensive lineman Caleb Sampson said during spring practices he witnessed Logan's leadership, whether the third-year safety was helping other members of the secondary or making play calls or checking into a different call before the snap.
"Even when I'm on the sideline with him, I see him coaching up the young guys and really taking the initiative this year," Sampson said. "Kenny's been making great strides with just being a leader for the defense."
As impactful as Logan was during his sophomore season, Jones said the safety and returner now looks more confident than ever.
"You can tell he walks around with a different type of swagger. You can tell he's been in some critical situations on that back end in live Big 12 games," Jones said. "You can tell he's made some big plays in some big games. And it's just translating onto the football field."
To that end, Jones said Logan not only is the quarterback of the KU secondary, but also has become great at disguising his intentions as a playmaker.
"He'll give you one look, before you know it he's down there in the box," Jones said, "making a tackle in B gap or C gap."
Now that he's entering his third season with the Jayhawks, Logan considers his leadership role as essential as his contributions to the defense.
Logan said it's his responsibility to give those younger players in the secondary someone to look up to.
"Continue to be the voice, continue to be the backbone for those guys and continue to push them each and every day, and have those guys push me," Logan said.
After a winless season accompanied by individual gains, Logan was asked this spring (before his defensive teammates Da'Jon Terry, Marcus Harris and Karon Prunty transferred) why it was important for him to stay at KU when the transfer portal was becoming so popular.
According to Logan, he wanted to show his loyalty to KU football.
"I came here for a reason, and that was to change this program," he said. "And I had to start from the bottom and continue to work to get to the top."
Channeling his "not enough" mentality, Logan hopes through his play and leadership the Jayhawks can show some progress in 2021.
"I just want to continue to put my head down and work with my brothers each and every day," he said, "so we can start putting 'Ws' on the board."