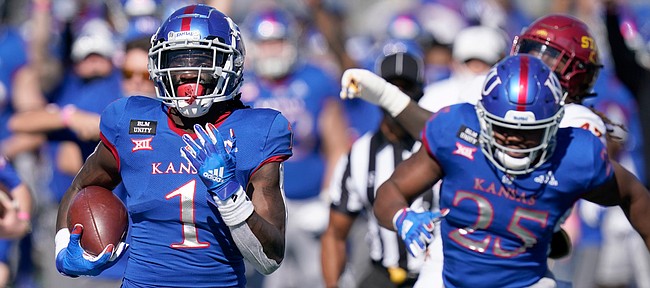 Long before Kenny Logan Jr. made his first career start for Kansas earlier this year or emerged as the Jayhawks' leading tackler, head football coach Les Miles envisioned Logan making game-altering plays in a KU uniform.
And though Logan, who on Saturday against Iowa State became the first FBS player in a little more than two years to intercept a pass and return a kickoff for a touchdown in the same game, couldn't swing the outcome in KU's favor with a pair of standout individual efforts in the second half, those plays were exactly what Miles expected out of the sophomore safety.
"We saw that out of Kenny Logan, really, before we recruited him," Miles said following the Jayhawks' 52-22 loss to Iowa State. "We watched his film, we did an evaluation. And he is just what you saw today. He has the potential to break a play, he has the potential to break a game open."
A 6-foot, 190-pound safety from St. Augustine, Fla., Logan was considered a thee-star athlete in the Class of 2019 when he signed with KU, after receiving offers from 20-plus programs, including Auburn, ISU, Nebraska, Ole Miss and South Florida.
He played a little as a freshman reserve in 2019, before making seven total tackles in his sophomore debut versus Coastal Carolina. Logan has started every game since, leading KU in tackles in two of those games. Saturday marked the first time this season Logan finished with fewer than six tackles in a game, but he more than made up for it with his kickoff return for a TD in the third quarter and pick in the fourth.
The Jayhawks (0-6 overall, 0-5 Big 12) had fallen behind, 27-7, in the third quarter when Logan fielded a kickoff in the north end zone and didn't think for a second about taking a knee.
"I just felt like we needed a play," Logan said, "and I felt like that was the one to be made."
His instincts proved correct, as Logan found all the space he needed to evade the Cyclones chasing after him and go 100 yards for a TD.
"It was exciting. I want to thank all my blockers that made it possible for me to get to the end zone. And it was pretty fun having the ball back in my hand again," added Logan, who played multiple offensive positions in his prep days at Menendez High (Fla.).
A quarter later, with KU trailing 38-22, Logan spotted a chance to have the ball again, while watching ISU quarterback Brock Purdy.
Document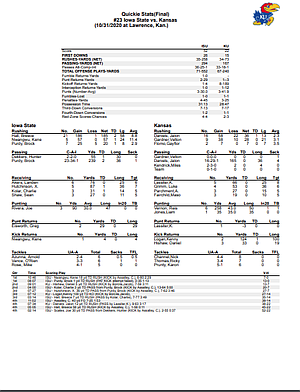 In Logan's words, he was simply doing his part at safety as he noticed where Purdy's shoulders were pointing and went to make a play. The interception, Logan's first at KU, made him the first FBS player since Boise State's Avery Williams, in 2018, to secure a pick and score on a kickoff return in the same outing.
"I'm just middle of the field, reading quarterback intentions," Logan said of making it happen, adding he once again was trying to excite the team with a big play.
A highly respected member of the KU defense in just his second year with the program, Logan, who also broke up a pass against ISU, is averaging 7.2 total tackles per game (tied for eighth in the Big 12) and also has a sack and a forced fumble on his season stat line.
Sophomore linebacker Nick Channel said Logan always knows his assignments, but there's more to the safety's success.
"He always just brings a certain intensity that everybody can build off of," Channel said, calling that the most effective aspect of Logan's approach, "and he just gets everybody excited."
That includes the Jayhawks on offense. KU senior receivers Andrew Parchment and Kwamie Lassiter II both praised Logan after the ISU loss.
"That's Florida, you know what I mean?" said Parchment, a Florida native himself. "I feel like once Kansas gets down to Florida for the next couple of classes we'll have a lot more players just like that."
Lassiter said he wasn't surprised when Logan decided to return the kickoff that the sophomore took the length of the field for a score. And Lassiter said Logan has noticeably improved overall since last season.
"He's really finding his game," Lassiter added. "He's getting more comfortable playing and he's looking like a vet — as a sophomore."
Miles hopes for even better days ahead for Logan, who became the fifth player in KU history to return a kickoff in the end zone and make it all the way to the opposite goal line, joining Greg Heaggans (2002), Eric Vann (1996), June Henley (1993) and Art Pooler (1905).
"I probably under-expressed his talent," Miles said of Logan, "but his talent's pretty extreme. He's fast and tough. He will strike you and, yeah, I think we'll look forward to him for quite some time."