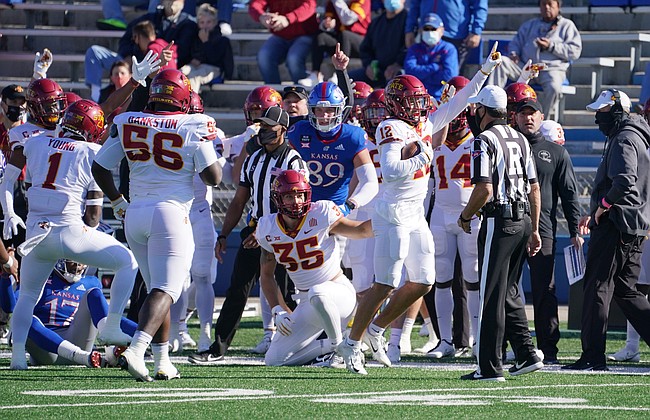 A depleted Kansas football roster couldn't keep up with No. 23 Iowa State Saturday at David Booth Kansas Memorial Stadium.
With the Jayhawks missing nine potential starters, including two on the offensive line, a two-score game midway through the fourth quarter ended in a 52-22 rout.
Head coach Les Miles said during his postgame press conference, though, that he wasn't going to worry particularly on this day about the Jayhawks who he didn't have on the field, in front of an announced crowd of 9,652.
"We're not perfect certainly, but dag-gone-it, we can still put this team together," Miles said.
Some fourth quarter intrigue emerged briefly after ISU quarterback Brock Purdy (23-for-34 passing, 239 yards, two touchdowns, one interception) threw a deep pass into double coverage with the Cyclones ahead 38-22.
KU sophomore safety Kenny Logan Jr. picked it out of the air, setting the Jayhawks up for at least the potential for a rally with 6:49 left to play. However, KU's struggling offense, playing without senior offensive linemen Api Mane and Adagio Lopeti, went three and out after the Logan takeaway.
Senior receiver Andrew Parchment said that sequence hurt "a lot."
"We know in the Big 12 you've got to score points to win. We have very limited chances and we can't keep putting our defense out there," Parchment said. "I feel like our defense did a hell of a job and they played well enough for us to win."
The Cyclones, meanwhile, only needed one Breece Hall run to go 58 yards for a touchdown that put the Jayhawks away. ISU (4-2 overall, 4-1 Big 12) wasn't content with its 45-22 lead, though. Led by their reserves, the Cyclones' final possession was a quick one, too, as backup QB Hunter Dekkers completed two passes covering 55 yards and the Cyclones tacked on another score with a 37-second scoring drive.
A late-game TD run by freshman quarterback Jalon Daniels (16-for-29 passing, 165 yards, one interception) gave KU its first offensive score in more than two quarters. And a trick play afterward, with Daniels handing the ball off to Parchment for a reverse and successful pass to Kwamie Lassiter II pulled off the 2-point conversion, making it 38-22 with 7:34 to go.
The Cyclones more than doubled up KU in total yardage, 552-240, as the Jayhawks (0-6, 0-5) struggled with their run plays in particular, averaging just 2.1 yards per carry on 34 attempts. Velton Gardner ran nine times for 28 yards and Daniels finished with a team-best 36 rushing yards on 16 attempts.
"We have to be able to run the football better," Miles said. "And I want the ability to use the quarterback but I don't necessarily want to use the quarterback as often as we have."
Entering the fourth quarter, ISU led 35-14 on the scoreboard and 406-180 in yardage. The Cyclones appeared to put the Jayhawks away for good not too long after halftime. Facing a 4th and 1 at KU's 36-yard line near the midway point of the third quarter, Purdy looked at first like he may run for a 1st down before spotting receiver Xavier Hutchinson open over the middle. The completion turned into much more than a continuation of the series, though, as KU senior safety Ricky Thomas failed to complete his tackle attempt and Hutchinson ran away for a TD and a 20-point lead for ISU.
That margin only stood for a few seconds, though, when Logan spotted an opportunity to make a play on the ensuing kickoff. Though Logan fielded the kick in the north end zone, he took off, found a lane to run through and, with the help of a couple of slick jukes in the process, never came close to being tackled on a 100-yard return that at least revived the Jayhawks' chances.
But the 27-14 score didn't hold up for long either, as the Cyclones' offense only needed seven plays to go 77 yards, and Hall (21 rushes, 185 yards, two TDs) sauntered into the end zone for a seven-yard TD, setting up a successful two-point conversion and a 35-14 lead for the favored Cyclones.
"On defense we had a lot of plays that we should've made to get the offense back on the field," Logan said, when asked about his two big plays in the second half. "And all I was trying to do was continue to make plays for our offense to go down and score and give us some energy."
ISU's opening series of the second half came to a quick conclusion. After Steven Parker tackled Hall for a loss and Da'Jon Terry hurried Purdy into an incompletion, a fumbled snap on 3rd and long forced ISU to punt.
The upset-chasing Jayhawks had a chance to cut into Iowa State's 20-7 cushion before halftime, as Daniels passes to Lassiter, Luke Grimm and Parchment gave the Jayhawks 1st downs and helped them move down the field.
But KU had an ISU penalty to thank for a bonus shot at putting points on the board before the half. Linebacker O'Rien Vance roughed Daniels on 4th and 15 at the ISU 35-yard line, putting the Jayhawks at the 20-yard line with a fresh set of downs in the final seconds of the second quarter.
After a short pass from Daniels to Grimm got KU five yards, Daniels stopped the clock with a quick snap and spike with six seconds left. Miles elected to bring kicker Jacob Borcila on for a 33-yard field goal try, but the kick into the wind missed to the left.
Document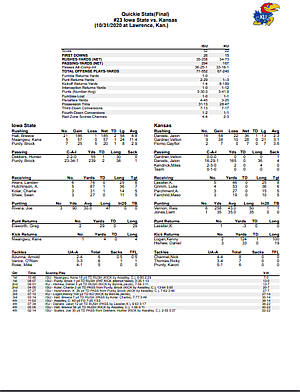 After KU's defense showed some fight on consecutive trips onto the field in the second quarter, forcing a punt and getting a turnover on downs, they couldn't extend that success to the next ISU possession. A trio of Brock Purdy passes for 1st downs keyed a 64-yard TD drive, capped by a pass to a wide-open Charlie Kolar with 4:00 left in the first half, allowing ISU to extend its lead to 20-7.
"Anytime we don't stop them it's a missed opportunity," linebacker Nick Channel said.
A 4th down tackle safety Thomas made on a completion to Hall just shy of the sticks gave KU some momentum in the second quarter, as well as chance to open a drive with good field position, at its own 41-yard line.
Just a few snaps later, another 4th down play went the Jayhawks' way, this time on offense. Facing 4th and 6 at ISU's 40-yard line, not only did KU go for it, but Daniels spotted fellow freshman Grimm sprinting open down the right sideline. The true freshman connection went for 36 yards to get the KU inside the 5-yard line.
With the Jayhawks finally in striking distance, they turned to another true freshman, Daniel Hishaw Jr., on 2nd and goal, lining the running back up in the shotgun formation for a direct snap. A patient approach from Hishaw allowed him to find a path toward the goal line, and with a stiff arm and a broken tackle along the way, Hishaw gave KU its first score on a four-yard rushing TD. The all-effort play from the freshman allowed KU to cut the ISU lead to 13-7 with 9:01 remaining in the first half.
The first costly mistake for KU came early in the first quarter, with the Jayhawks already in a 7-0 hole. Daniels scrambled, looking to make a play for the offense on 3rd and long, but was brought down short of the chains. Then, an official review showed the ball came loose as the QB was headed to the turf, and the Cyclones' Greg Eisworth recovered, setting ISU up for a more than manageable short field, 35 yards out from the goal line.
ISU star running back Hall, who entered the weekend as the country's leading rusher, busted a 31-yard run on the very next play. After another Hall run, Purdy finished the rapid TD drive with a one-yard score that extended the lead to 13-0 less than seven minutes into the game.
After the Cyclones finished their first two drives with touchdowns, the KU defense forced a punt late in the first quarter, and because ISU's Joe Rivera had to kick directly into the wind, the punt only traveled 14 yards.
KU's offense, which faltered to varying degrees on its opening four possessions, couldn't take advantage of the short punt. The Jayhawks opened the ensuing series at midfield but went three and out.
Miles said his postgame message to the Jayhawks was a positive one.
"Hey, listen. I want to put this team together," the coach shared of his talk in the locker room. "But I want your help. I think it gets done. And I think it gets done this year."
KU travels next week to play Oklahoma.
SCORE BY QUARTERS
FIRST QUARTER
10:46 — Kene Nwangwu 18 run. Connor Assalley kick. Six-play drive for 80 yards. (ISU 7, KU 0.)
8:07 — Brock Purdy 1 run. Assalley kick missed. Three-play drive for 35 yards, in 1:13. (ISU 13, KU 0.)
SECOND QUARTER
9:01 — Daniel Hishaw Jr. 5 run. Jacob Borcila kick. Seven-play drive for 59 yards, in 3:11. (ISU 13, KU 7.)
4:00 — Charlie Kolar 3 pass from Purdy. Assalley kick. Thirteen-play drive for 64 yards, in 5:00. (ISU 20, KU 7.)
THIRD QUARTER
7:27 — Xavier Hutchinson 36 pass from Purdy. Assalley kick. Seven-play drive for 62 yards, in 3:46. (ISU 27, KU 7.)
7:12 — Kenny Logan Jr. 100 kickoff return. Borcila kick. (ISU 27, KU 14.)
3:14 — Breece Hall 7 run. Kolar pass from Purdy. Seven-play drive for 77 yards, in 3:49. (ISU 35, KU 14.)
FOURTH QUARTER
11:02 — Assalley 40 field goal. Seven-play drive for 25 yards, in 1:53. (ISU 38, KU 14.)
7:34 — Jalon Daniels 12 run. Kwamie Lassiter II pass from Andre Parchment. Nine-play drive for 63 yards, in 3:17. (ISU 38, KU 22.)
5:05 — Hall 58 run. Assalley kick. One-play drive for 58 yards, in 0:11. (ISU 45, KU 22.)
2:14 — Joe Scates 30 pass from Hunter Dekkers. Assalley kick. (ISU 52, KU 22.)