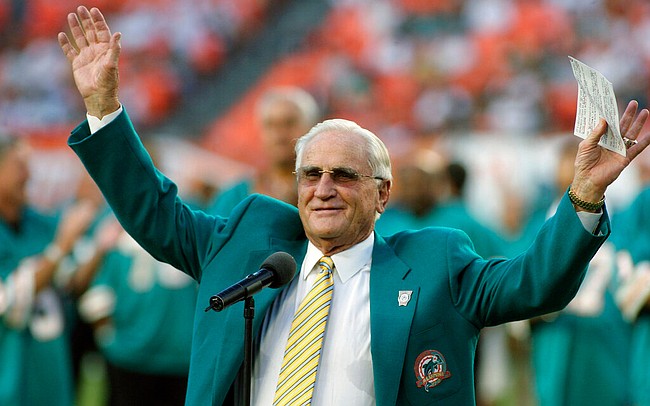 For two years in the late 1980s, former Kansas defensive coordinator Dave Campo shared the town of Miami with legendary Dolphins coach Don Shula, who died Monday at age 90.
The stages they performed on were different, of course, with Shula nearing the homestretch of his Hall of Fame NFL career and Campo coaching defensive backs for Jimmy Johnson at the University of Miami.
But the two teams shared the same stadium for a season, and Campo recalls running into Shula from time to time, both then and in the years that followed after Campo joined the Dallas Cowboys and competed against the Dolphins.
"We would just talk about some of the things he did with his players or our shared love of the game," Campo recalled in a Tuesday phone interview from his home in Ponte Vedra Beach, Fla. "Coach Shula was a grinder and he's a legend in so many ways."
There was the perfect season of 1972, when Shula's Dolphins went 17-0 and won a world championship.
"We talked about that a couple of times," Campo said. "The one thing about him, he was competitive and there's no way he wanted anybody else to have a perfect season. He wanted to be the only one. And he still is."
Campo's current neighbors in Florida are lifelong Dolphins fans.
"And they still talk about that season today," he said. "They talk about every player on that team. It's still a big deal."
Will a run like that ever happen again?
"I don't think so," Campo said. "There's just way too much parity in today's game.
Campo and Shula also had conversations about Shula's sons, Dave and Mike, with whom Campo actually worked at various stops during his four-plus decades in coaching.
Campo said both reminded him of their father in the way they competed, prepared and respected the game.

"Oh yeah," he said. "No question. In some ways, David was almost too tough for the times. He had his father's toughness and, in coaching, you have to change a little bit with the times."
The lineage even went one step further, with one of Shula's grandsons, Matt Shula, working as a quality control coach on the Kansas staff when Charlie Weis was the head coach and Campo was his defensive coordinator.
Said Weis of the hiring at the time: "I figured he had good bloodlines."
And then there was Campo's story of Tony Wise, an offensive line coach and colleague of Campo's in Miami and with Cowboys, as well.
"Tony was a historian of football," Campo recalled. "He loved the game and he knew everything about every NFL team and all those things. And he had such great respect for Coach Shula."
One spring afternoon in Miami, during their time with the Hurricanes, Campo and Wise were playing golf at Miami Lakes Country Club, where Shula lived. On the hole that backed up to Shula's house, Wise hit his ball out of bounds and into Shula's yard.
Both of them knew whose house it was. And Campo said Wise did everything he could to not be seen.
"It took him 15 minutes to go in and get it," Campo remembered. "Because he didn't want Coach Shula to see him playing golf during spring football season. And who walks right out but Coach Shula?"
The two had a quick conversation. Campo kept walking. And Wise was haunted by the moment for the next several days.
"He was miserable for two weeks about Coach Shula seeing him on the golf course during our spring football," Campo said. "Because he thought Shula would think he wasn't a hard enough worker. That's the kind of legend Coach Shula was."