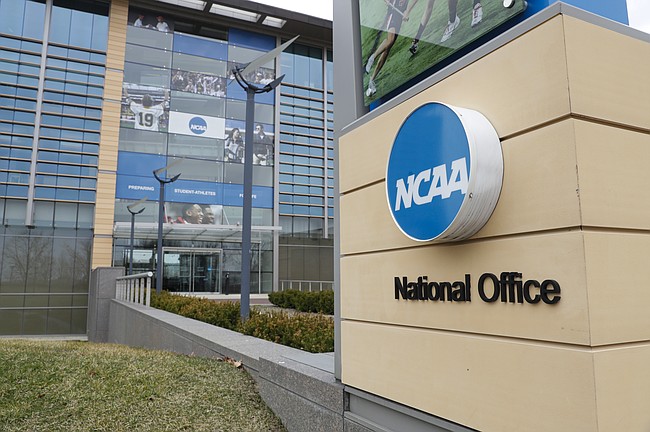 The deadline for the NCAA to respond to the University of Kansas in a case involving basketball- and football-related allegations came and went Tuesday with no word from either entity on whether the response had been received.
The response from the NCAA enforcement staff is one of the final steps in the case, which began when KU received the NCAA's original Notice of Allegations in September. If KU has received the response from the NCAA, the next step in the process will be a hearing before the NCAA's Committee on Infractions. It's not known when that hearing would take place.
KU issued its defense against the allegations on March 5, after the NOA was amended several times. The NCAA enforcement staff then had 60 days to respond to that defense, meaning that its deadline was on Tuesday.
Spokespeople for both KU and the NCAA did not respond to multiple requests about the status of the enforcement staff's response or whether it would be made public once KU received it. There was also no public indication the NCAA's response would be delayed in any way by the COVID-19 pandemic.
KU denied a request from the Journal-World under the Kansas Open Records Act on Monday for the response, saying it didn't have the document. The newspaper filed a new request on Tuesday to correspond with the NCAA's deadline.
In the original NOA, the NCAA alleged the KU's men's basketball program and coach Bill Self committed five severe violations tied to recruiting. The football program was also accused of some lower-level violations — the origins of which are being disputed in a lawsuit filed by former coach David Beaty.
The allegations carry potential punishments that could keep the basketball program from the NCAA tournament for the first time since 1989 and result in a long-term suspension for Self, among other possible penalties.
In KU's 149-page response to the NOA in March, the university and its outside legal team argued that the NCAA's evidence in the case is not credible, and it did not acknowledge that any violations took place in its men's basketball program.
The response, separate from individual responses by Self and assistant coach Kurtis Townsend, argued that the NCAA's allegations rely on a "never before alleged theory" that employees of corporate partners are boosters to college athletic programs.