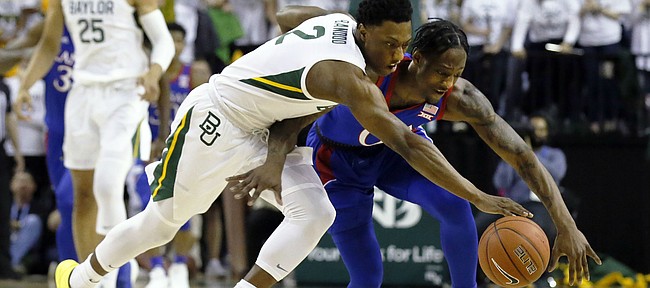 With the Big 12 Conference honor already in his trophy case, Kansas junior Marcus Garrett now has his sights set on bigger things.
On Monday morning, the Atlanta Tipoff Club named Garrett one of four finalists for the 2020 Naismith Defensive Player of the Year award.
Given annually to the best defender in college basketball, this year's winner will be revealed on April 1. Joining Garrett as finalists are Kentucky's Ashton Hagans, Duke's Tre Jones and Baylor's Mark Vital.
Like Garrett, Vital was a unanimous selection on the Big 12's all-defensive team and Kansas coach Bill Self said throughout the season that both players were as good as it got when it came to individual defenders.
Naturally, Self, who has long been a fan of Vital's, leaned toward his own guy a little more when it came down to who was more deserving of the awards.
"This league plays great defense," Self said after the All-Big 12 teams were released. "But Marcus was the premier defender in the conference and I am very happy for him getting Defensive Player of the Year. Hopefully this will propel him into some national defensive awards."
At one point or another this season, Garrett guarded all five positions for the Jayhawks while finishing second on the team in steals with 56.

He also led the Big 12 in assists (4.6) and assist-to-turnover ratio (2.7) and was among the Big 12 leaders in steals per game (fifth at 1.8) and deflections per game (4.5).
His ability to get his hands in passing lanes and disrupt dribblers skyrocketed during the final nine games of the season, as his deflections per game number jumped to 6.9.
The junior guard from Dallas' Skyline High also averaged 9.2 and 4.5 rebounds per game for top-ranked Kansas, while earning USBWA All-District VI and AP All-Big 12 second-team honors.
The finalists for this year's award, now in its third season, were chosen by the Atlanta Tipoff Club's board of selectors, comprises leading journalists from around the country, who based their selections on outstanding on-court defensive performances during the 2019-20 regular college basketball season.
West Virginia's Jevon Carter was the first recipient in 2018, and Matisse Thybulle of Washington was last year's honoree.
Azubuike, Dotson honored again
A pair of Jayhawks were featured prominently on the United States Basketball Writers Association's three All-American teams for the 2019-20 men's college basketball season on Monday.
Senior center Udoka Azubuike landed on the USBWA first team and sophomore point guard Devon Dotson was a second-team selection.
The two All-Big 12 players have been on several other All-American squads this postseason, earning anywhere from first- through third-team nods from various outlets.
Azubuike was joined on the USBWA first team by Dayton's Obi Toppin, Seton Hall's Myles Powell, Marquette's Markus Howard and Iowa's Luka Garza.
The second team included: Dotson, Oregon's Payton Pritchard, Duke's Vernon Carey Jr., San Diego State's Malachi Flynn and Michigan State's Cassius Winston, who was a pick of many to be this season's national player of the year during the preseason.
Baylor's Jared Butler, Duke's Tre Jones, Louisville's Jordan Nwora, Gonzaga's Filip Petrusev and Maryland's Jalen Smith made up the third team, which is in just its second year of existence.
AD Long says proper celebration coming
Asked during a videoconference call with reporters on Monday whether he had any news on plans to honor the 2019-20 KU men's basketball team for its strong season, Long said something "appropriate" would be done.
What that will be remains a bit of an unknown.
"Well, this is a special team," Long said. "I mean, they were ranked No. 1 to finish the regular season by AP, by coaches polls, by many other polls. So they are worthy of being recognized and you can expect that we're going to recognize them appropriately come next beginning of basketball season. But Coach Self and I aren't ready to share what that might be and we're still really working through that. What is the best way? What is the most appropriate thing? We know they're a special team, we know they were poised for a great run, and so they will be honored and honored appropriately."