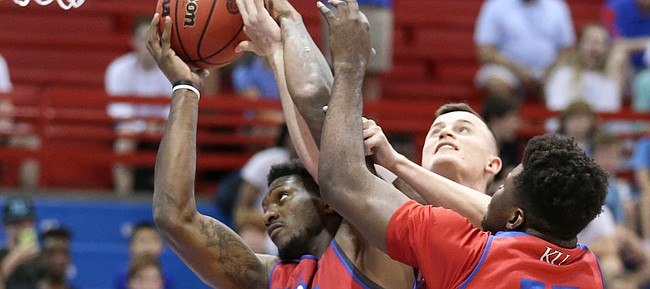 As the coronavirus outbreak continues to grow, University of Kansas Athletics Director Jeff Long said on Monday afternoon that neither any athletes on KU teams nor staff members within the department have tested positive for COVID-19.
"Candidly, I only know of one or two student-athletes that have been tested on our campus because they have shown the signs and whatever," Long said during a video conference with local media members, "and those were negative, to my knowledge."
Through regular communication pipelines between coaches, athletes and administrators, Long said, he wasn't aware of anyone tied to any KU sports program monitoring symptoms at this point either. But it's a situation to which Long and others in the athletic department are paying close attention, because, as Long pointed out, it still hasn't been 14 days since the KU men's basketball team was at Sprint Center in Kansas City, Mo., for a walk-though at the Big 12 Tournament.
With KU classes moving to online formats exclusively, and the cancellation of all winter and spring sports for this academic year, Long said the majority of KU's athletes had returned home. That began even before news of a stay-at-home order for Douglas County through April 23 became public knowledge.
Long estimated that about 75 out of KU's 470-plus student-athletes remain in Lawrence, in either on-campus or off-campus housing.
For those who are hunkering down on or near KU's campus, such as basketball big men Udoka Azubuike and Silvio De Sousa, Long said KU's dining halls remain open, and athletes are able to frequent those spots to pick up carryout. Additionally, all scholarship athletes will continue to receive checks for cost of attendance and the like, through this academic year.
As the athletic department and its coaches continue to adjust to the current abnormal state of affairs, Long stressed KU is doing whatever it can to help all of its student-athletes, regardless of where they're doing their social distancing.
"Head coaches, assistant coaches are reaching out to those student-athletes. We have their academic counselors touching base with them," Long said. "We have tutors going online, just as if we were here — they're just now (communicating with) them virtually. We have the athletic trainers reaching out, we have the KU LEADS program, which is part of student-athlete development, engaged with them."
KU athletes, Long added, also still have access to mental health practitioners, whether athletes were already utilizing them or not. Because of the COVID-19 outbreak, Long said there may be athletes struggling with being removed from their normal athletic and academic routines, so KU wants anyone dealing with those issues to have opportunities to receive help.
NOA timeline unaltered
Although sports schedules and championships got canceled due to the global pandemic, it doesn't appear the timeline for KU's Notice of Allegations will be impacted.
Long said on Monday that members of KU's athletic department have "been in communication" with the NCAA, and Long still expects the NCAA's response to KU's own NOA response to come as scheduled — within 60 days of when KU turned in its lengthy counterarguments to alleged recruiting violations committed by KU's men's basketball program.
KU argued against Level 1 violations in its response on March 5.
"So we have no information at this time that that process has changed at all," Long said. "The timeline remains the same."
Budget decisions
Although KU athletics operations look starkly different now than they did less than two weeks ago, with offices empty, staff working from home and no games or events on the horizon, Long said the department decided to pay all part-time employees through the remainder of the academic year.
"So even if they were part-time and graduate assistants and events workers and things like that for events we're not having, we're going to continue to pay them," Long said, "to when those events were over."
With the losses of revenue that will inevitably come amid this pandemic, Long also said the department has looked toward the future and discussed some "exploratory" cuts as well.
"What would a 10%, what would a 20% cut in our operations look like?" Long explained, adding no decisions have been made. "Most of that is determined on how far and how long this crisis lasts."