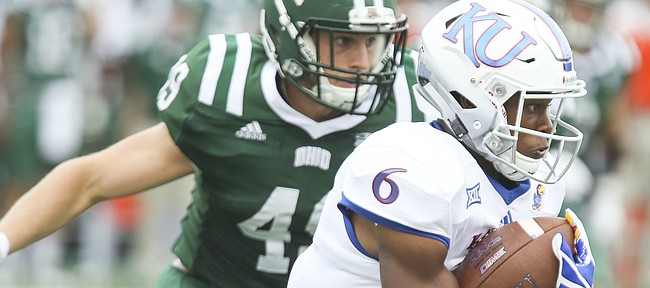 Dom Williams won't be joining a roster full of strangers when he transfers to Northern Iowa.
Former Kansas wide receiver Quan Hampton announced Tuesday he has committed to the Panthers, too.
Hampton's plans became public just a day after Williams, a former KU running back, announced he would transfer to UNI. Both decided earlier this offseason to enter the transfer portal and leave the Jayhawks.
Hampton, a 5-foot-8 slot receiver from Texarkana, Texas, redshirted at KU during the 2018 season, then played sparingly in 2019, the first year Les Miles was in charge of the program.
During his final season with the Jayhawks, as a redshirt sophomore, Hampton appeared in seven games, mostly in the second half of the season. He caught two passes for 19 yards and one touchdown. Both catches came late in KU's road loss at Oklahoma State.
He'll have two seasons of eligibility remaining and will be eligible to play for UNI in the 2020 season, because he's transferring to the FCS level.
Hampton arrived at KU in the Class of 2017, as a three-star prospect, per Rivals. That year, as a true freshman, he played in just six games due to injury, but caught 21 passes for 145 yards.