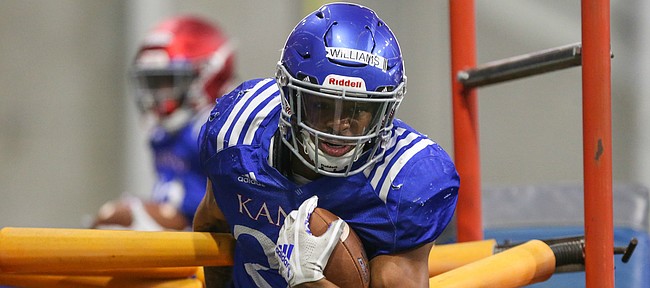 A few weeks after making public his decision to transfer from the University of Kansas, Dom Williams made up his mind on a destination.
The former KU running back announced via Twitter he has committed to join Northern Iowa's football program.
A 5-foot-10 rusher from McKinney, Texas, Williams entered the transfer portal this offseason, following a redshirt season with the Jayhawks. He only appeared in four games in 2019, and will have two years of eligibility remaining when he joins UNI.
Because Williams is transferring to an FCS program, which was his plan all along, he'll be eligible to compete immediately. He could even potentially return to the FBS level for the 2021 season if he has a breakout year with the Panthers and becomes an attractive commodity as a one-year transfer for a program in need of a running back.
Williams entered what would become his final season at KU as one of three running backs expected to be involved with the rushing attack under new head coach Les Miles, but he was third in the pecking order and was rarely playing on Saturdays in the fall.
After Williams played sparingly during KU's nonconference schedule, he decided to redshirt. Williams rushed 17 times for 41 yards during the Jayhawks' first three games of the season, then appeared in the season finale versus Baylor, running three times for 28 yards, giving him 63 rushing yards on 20 carries.
A four-star running back in KU's 2017 recruiting class, Williams signed with the Jayhawks, despite holding offers from Baylor, Boise State, Arizona State, Purdue and other programs. Initially, he was recruited by then-running backs coach Reggie Mitchell, committing to KU as a high school junior in 2015.
Despite his prep accolades, Williams never turned into the featured rusher at KU some expected he would become.
UNI went 10-5 in 2019, with one of its losses coming in a triple overtime season opener against the Big 12's Iowa State. The Panthers' leading rusher in 2019, Trevor Allen, was a senior, and with Allen out of the mix, Williams could step in and replace him this year.