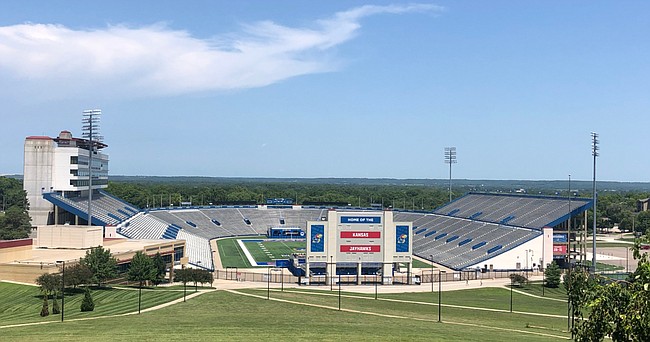 The Kansas football program is planning another round of COVID-19 testing on Saturday and the results of those tests will determine how soon the Jayhawks can get back on the field, KU Athletic Director Jeff Long said Wednesday.
Initially hoping to resume the team's suspended voluntary workouts Wednesday or Thursday of this week, Long told the Journal-World that KU elected to wait a few extra days in the name of caution.
Both Long and KU head coach Les Miles agreed the delay made sense and they informed the team together on a Zoom call Wednesday morning.
KU suspended the program's voluntary workouts on July 3 after 12 players tested positive for COVID-19 just 19 days after roughly 100 football players returned to campus for the first time since March.
The 12 positive tests triggered a 14-day self-quarantine for all KU football players and staff members. Long told the Journal-World that none of KU's football players who tested positive had "produced any kind of serious medical symptoms whatsoever."
The biggest hurdle the infected players have had to overcome, Long said, was their frustration with being asymptomatic yet still isolated from their team.
"I feel for them," Long said. "I do. They feel that frustration and it's understandable, but we're in communication with them and we're letting them know that we're monitoring it and once (they're cleared) they'll come out and be able to resume activity and be like everybody else on our team."
Long said the plan is to have another round of testing on Saturday with the goal being to open back up for voluntary workouts early next week.
"Hopefully we'll have results back Monday or Tuesday and we'll resume voluntary workouts before we move to the next stage of workouts, which begins on Friday the 24th," Long said.
Next Friday is the first date that NCAA rules allow for more contact between coaches and football players, and Long said that date factored into KU's decision to wait a few extra days to try to resume.
Once the test results are available, Long said KU's team physicians from Kansas Team Health would analyze and evaluate the data and make a recommendation about how to move forward.
Long said there is no clear-cut guideline for what the tests must show in order for voluntary workouts to resume.
"There isn't a set number," he said. "It's really the determination of our medical professionals on what (makes it) advisable and safe to resume."
The pandemic has created a number of uncertainties and challenges for colleges and universities across the country during the past few months, but Long praised the efforts and expertise of Kansas Team Health for helping keep KU well informed.
Launched in May of 2019, Kansas Team Health is a third-party healthcare group that serves KU's student-athletes and oversees the practices and procedures utilized by KU's sports medicine professionals.
"I think this would've been much more difficult to work our way through had we not had it in place," Long said of the group that includes the University of Kansas Health System, LMH Health and Kansas Athletics. "Our physicians are definitely putting in overtime and working incredibly hard for our young people."