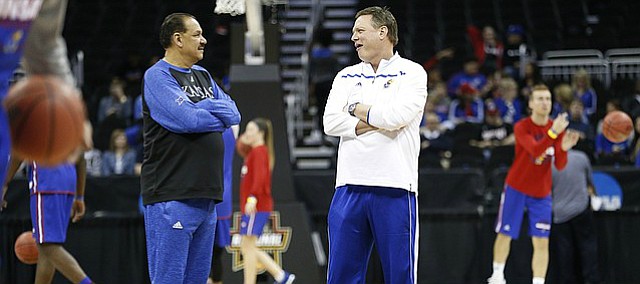 Fort Worth, Texas — Having been a part of the last 469 victories in what is now a 700-win career for Bill Self, Kansas assistant Kurtis Townsend could only smile for his boss following the Jayhawks' 60-46 win over TCU on Saturday.
"To me, it means a lot just to be by his side for as many as I have," Townsend told the Journal-World following Self's 700th win on Saturday. "A guy like me, (I'm) just so happy to be along for the ride."
Townsend has seen it all during his time on Self's staff. From the fire and passion on the sideline and in practices to the witty one-liners and that signature Oklahoma smile that are as much a part of Self's legacy as any of his records, Townsend often has sat shotgun for some of the biggest moments of Self's career.
Through the Final Fours and 2008 national championship and heart-breaking losses and toughest recruiting battles, one thing has stood out to Townsend about Self above everything else.
"He has an uncanny ability to really coach the guys hard and at the same time have such a great relationship with them," Townsend said on Saturday.
The longtime KU assistant pointed to the week turned in by Self and senior center Udoka Azubuike as the latest example of the KU coach's style.
After what Self described as Azubuike not having a great day prior to last Monday's home win over Texas, Self yanked his starting center from the Jayhawks' starting lineup against the Longhorns.
The 7-footer responded by playing with passion and flair during the Jayhawks' 69-58 win, recording 17 points and 12 rebounds for his ninth double-double of the season.
Back in the starting lineup on Saturday morning against TCU, Azubuike, in the first four minutes of the win, needed a reminder that playing hard was the only option. Self gave it to him by pulling him from the game and telling him to wake up, and Azubuike responded with double-double No. 10 and the sixth game in Big 12 history of at least 20 points, 15 rebounds and 5 blocks.
"You know, he sat him (against Texas) and Dok came out and was probably the best player in the game and then he played great again tonight (vs. TCU)," Townsend said. "It's over. It's done, and he teaches the kids a lesson."
Townsend added: "He's unbelievable. I think his best thing is his people skills. I mean he's a great X's and O's coach, obviously. Everybody knows that. But there's a lot of guys that are that who don't have the same people skills and don't know when to push the buttons. I think that's his greatest asset."
Saturday's 700-win celebration was tame by Kansas basketball standards.
No trophies, videos, nets being cut or head coaches with wet hair.
But it happened nonetheless. And although Self enjoyed certain elements of Saturday's achievement more than others — his favorite part seemed to be the opportunity to share it with his 2-year-old granddaughter, Ella — Townsend said he thought there would come a day when Self would look back on wins like those with pride and appreciation. It just might take awhile.
"I think he won't until he's done coaching altogether," Townsend predicted.
Until then, there's too much on the line — each game, each day, each offseason — for Self to get caught up in celebrating moments that already have come and gone.
Although they have been few and far between, Townsend has seen Self hit the pause button to soak it all in, though. The most recent time came in 2017, when Self was inducted into the Naismith Memorial Basketball Hall of Fame and threw the party of his career in Springfield, Mass.
"I did see that side of him when we got to celebrate the Hall of Fame," Townsend recalled. "I think he took a step back then and said, 'This is an incredible achievement.' But, at the same time, he was thanking everybody else for letting him be there."
It's that part of the grind — the desire to build his win total higher and higher by simply winning the game that's in front of him — that Townsend said keeps Self so genuinely humble when the rest of the world is chanting his name and showering him with praise.
And it's not just a Bill Self thing either. His wife, Cindy, has a little bit of that trait, too.
Townsend explained.
"I said something to Cindy about Coach's 700 wins and she goes, 'Well, one more,'" Townsend recalled after Saturday's victory. "And I think she was talking about West Virginia (KU's next game on Wednesday), but I said, 'Yeah, 800 would be incredible.' She goes, 'Eight hundred?!' I said, 'Hey, that's only three years for him.'"