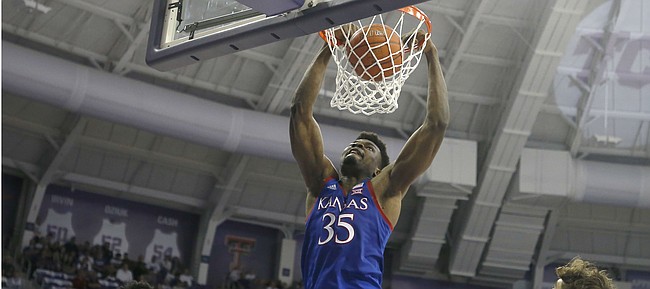 Fort Worth, Texas — A little more than three minutes into Saturday's 60-46 win over TCU at Ed & Rae Schollmaier Arena, Kansas basketball coach Bill Self subbed out senior Udoka Azubuike from the game and had a little chat with him on the bench.
"Just wake up," Self said, sharing the message he sent to Azubuike during that 43-second stint of game time he spent on the bench. "He had two dunks right to start the game and he bounces and hesitates and all that. And he got an easy basket right when he checked back in and after that he was pretty confident."
And dominant.
Taking his coach's words to heart, Azubuike stopped hesitating and started seeking to inflict pain on anything and everything that stood in his way — the rim, the Horned Frogs, the TCU crowd, the record book.
By game's end, Azubuike had finished with 20 points, 15 rebounds and five blocks. And it was that early slow start that sparked it all.
"That was on me," Azubuike noted after the victory. "I've got to be ready to play."
Arguably the two most impressive moments of Azubuike's day, which illustrated he was dialed in, showed up in very different ways — one from pure effort and one from his intelligence.
With TCU sophomore Kevin Samuel overplaying Azubuike's left shoulder every time he caught the ball with his back to the basket in the post, Azubuike had a clear path to the rim on the right side of his body if he wanted it.
Instead of recognizing that and taking advantage, Azubuike forced a short hook with his right hand on the first such possession. It missed.
A few possessions later, when Azubuike caught a pass in nearly the same exact spot, Samuel again sat on Azubuike's left shoulder, refusing to give up anything easy to the KU center's dominant hand. This time, however, Azubuike spun to his right and, finding a clear path to hammer home one of the 10 rim-punishing buckets he scored on the day.
"He's been told numerous times if they're taking your left shoulder away, you've got to go right shoulder quick," Self said.
Azubuike said the information eventually returned to him.
"I'm confident with my left and my right," Azubuike said after the game. "He did a good job of reading the scouting report and then I made the adjustment. I kind of saw it. On the first place, I went with my right (hand) and he got up on it, so I kind of had it in my mind to make the adjustment."
Later, with KU (20-3 overall, 9-1 Big 12) leading 24-13 late in the first half, Azubuike missed a shot in close but immediately went after the rebound, using his explosiveness and power to grab the ball and flush it through to give Kansas complete control.
"Dok was relentless," sophomore forward David McCormack said. "He was a monster. He played to his size today."
Bracket sneak peek
The NCAA on Saturday revealed a sneak peek at the NCAA Tournament bracket during a special on CBS.
Kansas, which is ranked No. 3 in both major polls and No. 1 by KenPom.com, was penciled in as a No. 1 seed in the Midwest and the No. 2 overall seed, behind No. 1 overall seed Baylor, which entered Saturday leading KU by one game in the Big 12 race.
Document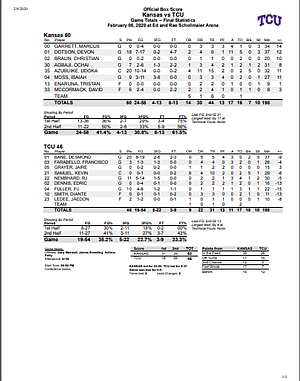 "That means what?" Self asked rhetorically after Saturday's win at TCU. "That doesn't mean anything. But I would say, from our analytics and our resume and stuff, we probably deserve that. You know, we've played a hard schedule and everything. You lose one game, you drop. You win two more, you move up. But I do think at this point in time we probably deserve that."
Self also noted that he believed the preview got it right by plugging Baylor into the top spot.
Gonzaga (West) and San Diego State (East) joined the Jayhawks on the 1 seed line. The 2 seeds were Louisville in the South, Dayton in the Midwest, West Virginia in the West and Duke in the East. The 3 seeds were Seton Hall in the South, Florida State in the Midwest, Villanova in the West and Maryland in the East. And Auburn in the South, Michigan State in the Midwest, Oregon in the West and Butler in the East were the 4 seeds.
The final bracket will be unveiled on March 15, following the regular season and conference tournaments.
Record-setting consistency
In addition to being KU's eighth win in a row and Self's 700th career victory, Saturday's win pushed the Jayhawks to 20 wins for the 31st consecutive season.
That ties North Carolina for the most consecutive 20-win seasons in NCAA men's basketball history and is yet another streak over which the Jayhawks can beam with pride.
The Tar Heels accomplished their record run from 1971-2001. KU's streak started during the 1989-90 season.
"And we won 19 (the year before)," Self noted of former KU coach Roy Williams' 19-12 first season in charge of the KU program. "And before that we were above 20 all of (Larry Brown's) years, so that record could easily be 36 or 37."
Brown's teams won 20 or more games during all five of his seasons at KU, making the 13-16 1982-83 season the last in which Kansas did not win at least 19 games.
"It's great," Self said. "The consistency that the program's had over time is pretty remarkable."
This and that...
KU now leads the all-time series with TCU, 19-2, including an 8-1 mark in Fort Worth and a 7-1 record at Ed & Rae Schollmaier Arena... Kansas is now 9-1 or better in Big 12 play for the first time since the 2013-14 season and the sixth time in the Self era... KU is 6-1 in true road games and has won six in a row away from home since losing at Villanova in late December... The Jayhawks are 10-2 this season in games played outside of Allen Fieldhouse... KU has now held 13 of its 23 opponents this season to fewer than 60 points.