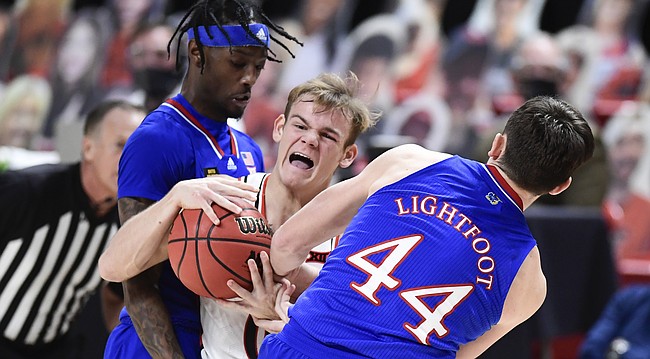 Like every other team that has played Gonzaga this season, third-ranked Kansas was overmatched and outworked when the Jayhawks and Zags did battle on Thanksgiving Day to open the season.
But KU has won every game it has played since then, and two of the team's top leaders believe there's one area the Jayhawks have improved the most since giving up 102 points to the nation's No. 1 team.
"I think we're a little bit better at everything, but if I could pick one thing, I'd say our half-court defense has really improved," Kansas coach Bill Self said ahead of the Jayhawks' final game before break on Dec. 22. "We've been better defensively."
KU senior Marcus Garrett agreed with his head coach, saying that more time on the court during the Jayhawks' current eight-game winning streak has led to the defensive improvement.
"Yeah, definitely," Garrett said. "It was probably a lot of confusion within that first game, a lot of terms players probably didn't know. But I feel like now we're starting to click and come together."
The numbers certainly back that up.
After surrendering 102 points and 1.24 points per possession to Gonzaga in the opener, the Jayhawks have allowed an average of 61.6 points per game on 0.88 points per possession to the eight opponents that followed.
That includes five games where KU's opponent scored 65 points or fewer, three games where the Kansas foe finished in the 50s and five games where the KU defense held the opposing offense under 0.90 points per possession.
All of that came against a schedule that included four ranked teams, two of which were in the top 10 at the time Kansas played them (Creighton and West Virginia).
So what gives? How have the Jayhawks been able to make the jump?
Self believes KU's emphasis on rebounding has helped. After getting beat on the boards 33-24 in the opener — Gonzaga's 65% shooting cut down on the rebounding numbers — the Jayhawks have out-rebounded their last eight opponents by an average margin of 11.4 rebounds per game.
Self has lauded KU's first-shot defense during the team's recent stretch, and the Jayhawks' ability to clean up the glass after forcing misses has contributed to their strong defensive play.
"Defending the arc, knowing scouting report and I think just playing as a team," said Garrett when asked to highlight KU's defensive strengths of late. "I think now we kind of know how to guard together, we're starting to talk more and we're just starting to get comfortable with one another, guarding on the perimeter and down low."
Not playing Gonzaga also has helped.
The Zags, who have won the six games they've played since topping Kansas by an average of 19.5 points per victory, have finished above 1.15 points per possession in six of seven games this season.
That includes games against the No. 3-, No. 6-, No. 11- and No. 16-ranked teams in the country.
The Gonzaga offense ranks No. 1 in KenPom.com's adjusted offensive efficiency rating and recorded an outrageous 1.42 points per possession in a 98-75 win over No. 16 Virginia, widely regarded as one of the best defensive teams in the country during the past decade.
It's not as if all eight Kansas opponents since Gonzaga have been inept offensively, though. Four of the eight currently rank in the top 85 in the country in KenPom's offensive efficiency rankings.
And there's more where that came from. Fifteen of the Jayhawks' 17 remaining regular season games are against teams currently ranked in the top 85 of KenPom's offensive efficiency rankings, including seven against teams in the top 26 (Baylor, Oklahoma, Texas and Tennessee).
"We've come a long ways in just about every area since Gonzaga," Self said. "I still don't think we've played our best ball."