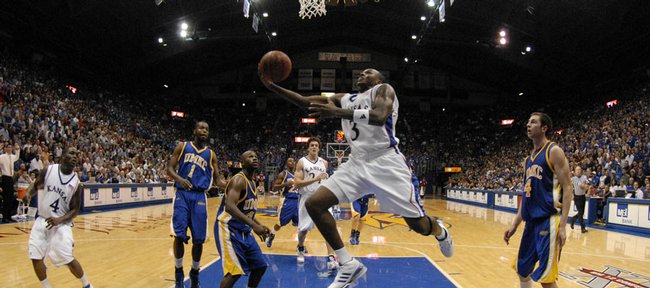 Former Kansas point guard Russell Robinson did for future Jayhawk Kyle Cuffe Jr. what Cuffe's father did for him back in his days as an upcoming basketball star in New York.
Robinson, who signed with the Jayhawks in late 2003 as a five-star prospect out of Rice High in New York City, grew up watching Kyle Cuffe Sr. star at Rice before going on to play college ball down the street at St. John's.
"He was basically a superstar to us," Robinson recently told the Journal-World of the elder Cuffe. "He was a big part of that team Rice had when they recruited me there that kind of showed me these are the footsteps you're going to be following in."
Now, it's Cuffe Jr., a four-star prospect out of Blair Academy prep school in New Jersey, who is following in Robinson's footsteps, having committed to Kansas on Dec. 17 during a ceremony at Gauchos Gym in the Bronx, where both grew up playing.

Even though his freshman year at Rice came the year Cuffe Sr. started at St. John's, Robinson said the brotherhood by Rice basketball players ensures that everybody keeps an eye on each other and older players help the younger generations however they can.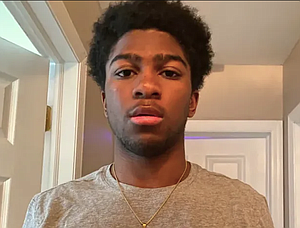 In position to return the favor during Cuffe Jr.'s recruitment, Robinson said he happily talked with Cuffe Sr. on a few occasions about his experience at Kansas.
Although he has watched the younger Cuffe's highlight tape and talked to people about his game, Robinson said he elected to leave Cuffe Jr., alone while he was being recruited.
"I wanted to stay out of it because he had so many great schools on him and it's his decision, his journey," Robinson said. "Obviously, KU sells itself. So it's kind of like, 'Do you want to be a part of the family or not?' Kyle Sr. knows all the great things about Kansas and the tradition that they have. So I kind of stayed out of it."
Robinson shared those sentiments with Cuffe Jr.'s father, telling him, "the door was always open" if he ever wanted to talk Kansas.
But like Robinson, Cuffe Sr. also let his son find his own way during his recruitment.
Now that he's committed — whether he'll come to KU as a member of the 2021 class or stay in the 2022 class, where he's ranked as the 78th best prospect in the country by Rivals.com — Cuffe Jr. will be following in Robinson's footsteps by leaving New York and the comfort zone of the city he grew up in.
For Robinson, the move to the Midwest required an adjustment period. But he thinks Cuffe Jr., who already has played away from home at prep school, will make a quicker adjustment to Kansas than he did.
"We definitely grow up faster than everybody else," Robinson said of East Coast kids. "But I think he might even be a step ahead of where I was in a cultural sense because he's used to being away from home and dealing with people from different backgrounds. So his transition to Lawrence will probably be a lot smoother and easier than mine was."
As for the kind of player the Jayhawks will be getting, Robinson had nothing but good things to say about the explosive 6-foot-2, 180-pound combo guard who is known for his well-rounded game and athleticism.
"I've seen his highlights and his background," Robinson said. "And that winning DNA, I think that's really going to transition well. Kansas fans are going to love him, and I can see a lot of good things coming with him."