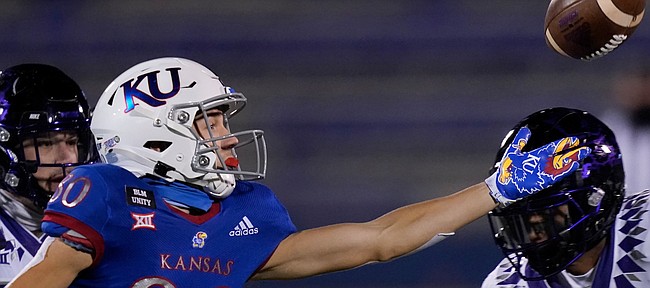 Luke Grimm showed up at the University of Kansas this past summer with reasonable expectations for his freshman year with the football program. What Grimm didn't know then was his work ethic and some unexpected opportunities would allow him to finish the year as one of the Jayhawks' most promising receivers.
When preseason camp began on the last day of July, Grimm recently recalled, he thought if he was going to play on Saturdays this fall he would probably have to force his way onto the field by contributing on special teams.
"If I got in, I got in," Grimm said of his outlook for his first year of college football before it began, "and just make the most of it. And have fun with what they give me the ability to do."
From an individual standpoint, the young receiver's freshman season turned out far more gratifying than he anticipated. It took some injuries within the receiving corps for Grimm to get a chance at some playing time. But once he found himself in the lineup the 6-foot, 176-pound receiver from Ray-Pec High (Mo.) took off.
After not playing at all in three of KU's first four games, Grimm made his first career catch at Kansas State, picking up 28 yards. In the final four games of the season that followed, the wiry freshman produced 18 receptions, 227 yards and two touchdowns.
"It's been crazy," Grimm said late in the season of his emergence.
A three-star prospect in KU's 2020 signing class, Grimm finished his breakout year with a game-high six catches in KU's only narrow loss of the season, during the finale at Texas Tech. When the season concluded, he finished second on the team in receiving yards, with 255. Only senior Kwamie Lassiter II (458) had more. His two touchdown grabs matched Lassiter and Andrew Parchment for the team high.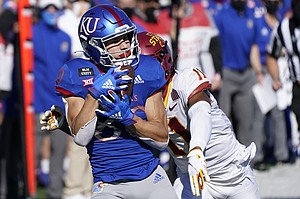 For the players and coaches who saw Grimm beginning to make standout plays during preseason sessions, his eventual rise to prominence didn't seem too surprising.
Junior quarterback Miles Kendrick, who first told reporters in August about the freshman some Jayhawks were calling "Grimm Reaper," described late in the year what made the freshman so effective.
"He's a guy that can really run and stretch the defense by taking the top off. And also he runs great routes," Kendrick began. "He's been gritty. He's been nasty ever since he got here. And he plays ahead of his time — he definitely plays like a mature receiver and he's just a freshman. The sky's the limit for him."
KU head coach Les Miles and his staff first saw Grimm when he was a prep prospect attending a KU summer camp in 2019. Miles noted that Grimm's strong ball skills, athletic ability and competitive nature have long been his strengths.
"I don't think there's much that he can't do. He's very fast, comfortable, has balance and the ability to catch balls and snatch balls that are very difficult," Miles said, adding that Grimm's touchdown catch on the left side of the end zone versus TCU on Nov. 28 was a "spectacular" moment. "We knew it was just a matter of time."
That third quarter toe-tap score was Grimm's second of the day, and when the season wrapped up a few weeks later he remained the only player on the roster to make two TD catches in one game in 2020.
Grimm thought it was definitely one of the better receptions he has made in his life.
"I looked up over my head and I saw the ball," Grimm related, "and I was like, 'I've got to stop here, because the sideline's somewhere near.' And just put my arms out and hopefully my feet were in bounds, and they ended up being there."
Teammates have raved about Grimm's preparation throughout his brief time at KU, and according to Miles that was a key component of his fruitful debut year.
"As a coach you would like to say that there's no such thing as a gamer. You know, you better go to practice, you better make sure you know the game plan, et cetera. I think that that's true. I think that's what makes Luke Grimm a tremendous player," Miles said, "because he takes those tidbits that he gets from his coach, and he walks onto the field and he uses them. And it makes it look natural. But the reality of it is he takes every ability he can gather to be a very competitive player come Saturdays."
Perhaps Grimm's attitude and approach are best summed up in what he viewed as his his favorite play of the season. It wasn't either of his touchdown catches. Nor was it a 36-yard bomb he hauled in on fourth-and-five against Iowa State. Nor when he forced a fumble at Oklahoma after a KU turnover.
The young receiver whom Lassiter described as "a real worker" pointed to a block he made on a Daniel Hishaw Jr. touchdown run against ISU as his top choice, because it was a big hit and he cleared a cornerback into a safety on the edge near the end zone.
"I'd say blocking is more important than catching and running routes, because at the end of the day if we don't move off the line of scrimmage, then we can't do anything," Grimm shared, adding he thinks his blocking improved a lot in the past few months. "But I still think I've got plenty of room to improve."
Miles admitted Grimm exceeded the KU coach's expectations in 2020. But now that the Jayhawks know what they have in Grimm, Miles' point of view is expanding.
"I think he's a guy that steps in and continues to play," Miles said of Grimm's future, "and he has the kind of career that, barring injury, will lead him to a little further down the road."
One of 11 true freshmen who started at least one game for KU this year, Grimm now looks to be one of the foundational pieces of Miles' rebuilding project. And the head coach has as much confidence in the breakthrough receiver as the young Jayhawk has in himself.
"Luke Grimm is expecting to catch balls," Miles said. "And so he does."