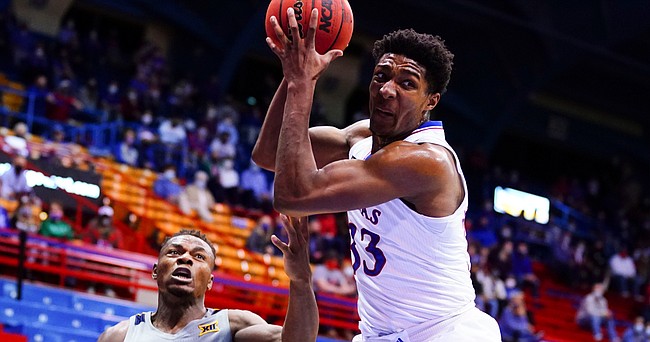 Junior forward David McCormack delivered the kind of showing third-ranked Kansas believed it would need from him to knock off No. 7 West Virginia on Tuesday night at Allen Fieldhouse.
But more important than the 10 points and 11 rebounds McCormack recorded in a season-high 32 minutes on the court, was something he said off of it after the victory.
Asked if Tuesday night's game was the most comfortable he had felt so far this season, McCormack paused and said, "I would say so. I think I just kind of played with a free heart, a free mind and just did what coach asked of me, what was more beneficial for the team."
Therein lies the recipe for McCormack to be exactly what this team needs him to be. And it doesn't have anything to do with how many shots he took or how many points he scored.
Photo Gallery
Kansas basketball v. West Virginia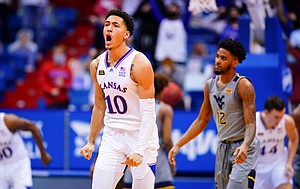 View a gallery of images from Tuesday night's game between the Jayhawks and Mountaineers at Allen Fieldhouse.
He wasn't perfect. He still missed five of the nine from the floor and turned it over twice. But he was active. And, more important than that, he was a presence down low on both offense and defense.
Kansas coach Bill Self said he thought the opportunity to play against players his size — WVU's Derek Culver and Oscar Tshiebwe — played an important role in McCormack's production and allowed him to find his rhythm more quickly and consistently.
"I thought he played well," Self said. "You know, a double-double from him in a game like that (when) we didn't throw it inside much after they went zone, I thought that was pretty impressive."
The Jayhawks went to McCormack in the post right out of the gate on offense, and his ability to both score and successfully pass out of it at times, helped push West Virginia out of its man-to-man defense and into a zone.
The Jayhawks responded to the defensive shift by shredding the zone and knocking in 16 of 37 3-point shots.
Guards Christian Braun, Jalen Wilson and Ochai Agbaji combined to make 13 of 32 shots from downtown and several Jayhawks said McCormack's strong night played a role in their success.
Document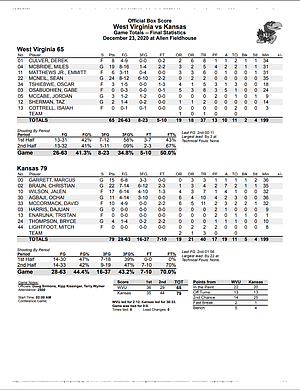 "Dave was great," senior guard Marcus Garrett said. "He gave us some great minutes. He was down there battling with two guys and I feel like he was kind of on top, he was controlling things and he was dominating."
The longer the game went, the more McCormack and others began looking for those KU's shooters behind the 3-point line for open looks.
McCormack recorded six of KU's 19 offensive rebounds and three assists, often looking to get the ball back to the perimeter as soon as he corralled it.
"It just makes the game a lot easier, knowing that if I get it in the post and kick it out, it's either an automatic 3 or, if it comes off, it opens up a crash lane for me to get another offensive board," he said. "You know, that's another good stat for big man."
What impressed McCormack's teammates most was that he delivered it more ways than one against a top-10 team. It wasn't just his rebounding. It wasn't just his poise in the post. It wasn't just his work against the WVU big men. It was all of that, and then some, that helped Kansas (8-1 overall, 2-0 Big 12) pick up its fourth win over a ranked team this season, the second against a top-10 foe.
"Dave was great," Braun said, echoing Garrett's thoughts. "Dave was finding the open man, he was finishing down low. Dave's really on a roll, and, like I said early in the season, that's what he does. We were just waiting for him to do it."