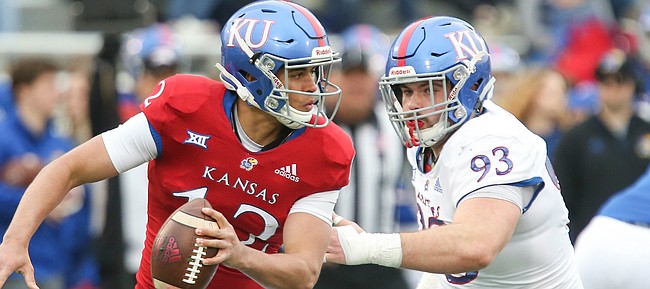 While it remains to be seen how many other 2020 seniors do the same, veteran defensive lineman Sam Burt plans to stick around with the Kansas football program for an extra season.
The starting nose tackle for the Jayhawks' defense in seven of the nine games that were played this year, Burt announced on Twitter he will take advantage of the NCAA's blanket waiver for fall athletes that provides an additional year of eligibility.
"I am excited to continue the work of steadily improving the culture and the men in the program," Burt wrote.
A 6-foot-4, 293-pound former walk-on from Abilene, Burt received a scholarship from KU for the first time in 2019, coinciding with when he first became a key contributor for the defense, making 15 total tackles in 10 games.
Burt again provided 15 total tackles in 2020, this time in nine games. He split time on the interior of KU's defensive line with redshirt freshman Da'Jon Terry. It's possible Terry's role will increase in 2021, and if that's the case Burt can provide the D-line with some greater depth and experience.
KU head coach Les Miles said recently he would like to bring back anywhere from five to eight seniors for a bonus season.
Senior outside linebacker Kyron Johnson told reporters in November that he planned on returning in 2021 thanks to the eligibility waiver.
"Knowing my circumstances, it's really just another person just to lead and really more along the lines of not doing it for my own well being, but for the others," Johnson said at the time of his desire to come back for another year.
No other seniors have made similar declarations yet.
Not all of the seniors Miles and KU hoped to retain are returning. Receivers Andrew Parchment and Stephon Robinson Jr., the only two Jayhawks whom Miles publicly identified as players he would like to have back, entered the transfer portal. As of Friday, they were two of nine KU seniors looking to play somewhere else next year.
"Certainly it's got to be one where our players want to be considered and want to come back," Miles said earlier this month. "That's the key piece."
The NCAA determined back in August, before fall sports began, that all Division I athletes would receive an extra year of eligibility, due to the complications surrounding the COVID-19 pandemic. Athletes who are able to take advantage of this unusual extra year of eligibility won't count against their team's scholarship limits during the 2021-22 academic year.
Jayhawks pick up Academic All-Big 12 honors
Burt was one of 17 Jayhawks named to the Big 12's all-academic first team on Friday.
Football players who made the first team had to maintain a GPA of 3.2 or higher, while second team selections needed a GPA between 3.0 and 3.19. KU had 10 more players make the second team.
To qualify for the Academic All-Big 12 teams, players had to have at least a 3.0 GPA, either cumulative or in the two previous semesters, and must have participated in 20 percent of their team's games. Freshmen and transfers are not eligible in their first year of academic residence.
A total of 275 football players earned 2020 Academic All-Big 12 status.
KU football players on Academic All-Big 12 teams
First team
Jelani Arnold, sr., sport management
Cole Brungardt, sr.; finance, supply chain management
Sam Burt, sr., environmental studies
Nick Channel, jr.; exercise science, pre-med/osteopathic
Mac Copeland, jr., communications
Mason Fairchild, soph., engineering physics
Marcus Harris, R-fr., pre-sport science
Jamahl Horne, soph., sport management
Chris Hughes, sr., management and leadership
Miles Kendrick, jr., communications
Logan Klusman, sr.; health, sport & exercise science
Thomas MacVittie, grad; health, sport & exercise science
Cody McNerney, jr., supply chain management
Kameron McQueen, sr., film and media
Ezra Naylor, sr. liberal arts & sciences
Cooper Root, sr.; biology-pre med/osteopathic
Sam Schroeder, sr., exercise science
Second team
Jacob Borcila, R-fr., undecided
Earl Bostick Jr., R-jr., supply chain management
Gayflor Flomo, sr., communications
Donovan Gagen, sr., communications
Hunter Kaufman, sr., sport management
Api Mane, sr., liberal arts & sciences
James Sosinski, sr., communications
Da'Jon Terry, R-fr.; pre-med/osteopathic, pre-sport science/psychology
Kyle Thompson, sr., psychology
Takulve "TK" Williams, jr., liberal arts & sciences