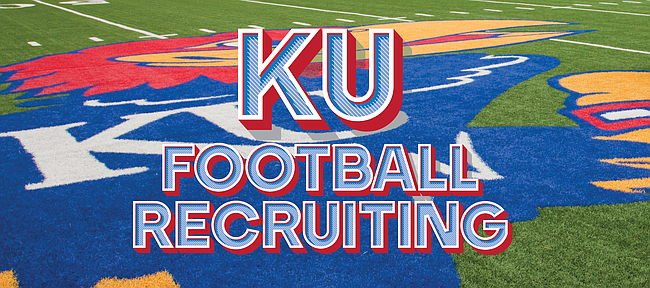 The three-day December early signing period wrapped up with a pleasant surprise for the Kansas football program.
The Jayhawks' list of signees grew to 20 on Friday, when Edwin White, a safety from Mobile, Ala., made public for the first time his decision to join KU's Class of 2021.
Unlike the other high school seniors who signed with KU earlier in the week, White wasn't a prospect who had previously committed to the Jayhawks. Rated a three-star defensive back by Rivals, White committed to Tennessee back in March and remained tied to the Vols until the eve of the signing period, when he revealed he was decommitting.
White announced his new college choice during a ceremony on Friday afternoon, which was shared live over his Instagram account.
"It was a hard decision," White said just before donning a KU hat and signing, "and I trust the coaches to put me in the right place. And I'd like to tell you all I'm signing with Kansas."
During the length of his recruitment, White also received scholarship offers from programs such as Ole Miss, Mississippi State, South Florida, Tulane, UAB, South Alabama and Central Michigan.
"You're getting a leader, a competitor, and a freshman who likes to win," White said in a video KU football posted to its website and social media accounts. "I'm ready to change Kansas and I know this recruiting class is ready to change Kansas."
With 20 signees now in place, KU can add as many as five more prospects to its incoming class in February, during the next window for college football signings. Unless something changes during the course of the weeks to come, two of those spots would belong to the only KU recruits who committed in recent months but didn't sign in December: three-star Texas defensive end Garfield Lawrence and three-star Alabama defensive back Kameron Grays.
The final push for the early signing period proved relatively drama free for KU's coaches, with no players backing out of their commitments or flipping to another program. Since the class first began taking shape back in 2019, KU lost for various reasons four players who were at one time committed: receivers Keon Coleman and Jaddai Henry and offensive linemen Edgar Amaya (signed with Colorado) and Christien Hawks (committed to Air Force).
KU head coach Les Miles and his staff signed nothing but high school prospects in their 2020 recruiting class, and so far they've taken the same approach for the 2021 class.
Miles said during his video press conference on Wednesday, though, he wouldn't be opposed to adding to next year's roster via the transfer portal, if a player interested in joining KU from another program was "the right fit."
KU football Class of 2021 December signees
(Rivals rankings)
√ Ben Easters — 3-star Indiana prep QB; 6-3, 195
√ Omar "O.J." Burroughs — 3-star Florida prep S; 5-10, 167
√ Cam'Ron Dabney — 3-star Georgia prep CB; 5-10, 175
√ Corey Robinson II — 3-star Georgia prep OL; 6-5, 270
√ Majik Rector — 3-star Texas prep WR; 5-9, 152
√ DeVonte Wilson — 3-star Florida prep CB; 6-3, 192
√ Kelan Robinson — 3-star Texas prep WR; 6-2, 183
√ Tommy Dunn Jr. — 3-star Texas prep DL; 6-3, 277
√ Deldrick "D.J." Withers — 2-star Arkansas prep DL; 6-4, 245
√ James Wright — 3-star South Carolina prep S; 6-1, 195
√ D'Marion Alexander — 3-star Texas prep LB; 6-5, 215
√ Trey Staley — 3-star Georgia prep LB; 6-2, 200
√ Mason Brotherton — 3-star Arkansas prep TE; 6-4, 242
√ Devin Neal — 3-star Lawrence prep RB; 5-11, 208
√ Jayson Gilliom — 2-star Georgia prep S; 6-2, 190
√ Andrew Simpson — 3-star California prep LB; 6-1, 220
√ De'Kedrick Sterns — 3-star Texas prep OT; 6-4, 272
√ Larson Workman — 2-star Texas prep OT; 6-5, 270
√ Tanaka Scott Jr. — 3-star Alabama prep WR; 6-4, 192
√ Edwin White — 3-star Alabama prep S; 6-0, 196
Unsigned KU football Class of 2021 recruits
• Kameron Grays — 3-star Alabama prep DB
• Garfield Lawrence — 3-star Texas prep DE