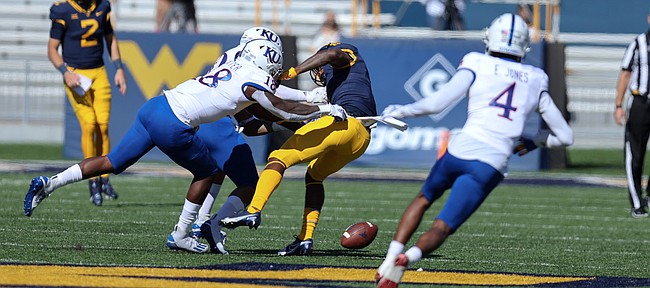 Make it nine Kansas football seniors who hope to finish their college careers playing on greener turfs.
Linebacker Denzel Feaster, like many other KU seniors from the 2020 roster, put his name in the NCAA's transfer portal, according to Thursday reports from 247 Sports and Rivals.
A starter for the KU defense in the first five games of the Jayhawks' winless season, Feaster finished with 20 total tackles, 1.5 tackles for loss and a forced fumble before missing the final four games of the season.
KU head coach Les Miles described the 6-foot-3, 224-pound inside linebacker as "a little nicked" in early November, without elaborating on the injury, and Miles admitted at the time he wasn't sure Feaster would be able to return to the lineup in 2020.
As it turned out, Feaster's four-tackle game at Kansas State was his last in a KU uniform.
Feaster first joined the Jayhawks in their 2015 signing class, when David Beaty was the head coach. Rivals rated him as a two-star prep athlete at the time.
It wasn't until 2020, as a fifth-year senior, that Feaster became prominently involved for the defense.
Since KU football began its preseason activities in August, 12 players from this year's roster have entered their names into the portal. Nine of them were seniors in 2020 and one was a walk-on. Senior offensive lineman Antione Frazier opted out before the season began and decided to transfer, eventually landing with Northern Iowa.
In normal circumstances, none of the seniors who played this year would've been eligible to return to KU and suit up again next season. But the NCAA's blanket waiver that provides an extra year of eligibility for all fall sports athletes makes that possible if a football player so desires — and the coaches want him back.
It remains to be seen which 2020 seniors KU welcomes back for a bonus senior year. Outside linebacker Kyron Johnson is the only Jayhawk who told reporters during the season he wants to take that path.
KU players from 2020 roster in transfer portal
• Andrew Parchment, senior WR
• Stephon Robinson Jr., senior WR
• Kyle Mayberry, senior CB
• Davon Ferguson, junior S
• Denzel Feaster, senior LB
• Api Mane, senior OL
• Kyle Thompson, senior P
• Ezra Naylor II, senior WR
• Antione Frazier, senior OL
• Julian Chandler, senior DB
• Clinton Anokwuru, freshman DL
• Hunter Kaufman, walk-on junior WR