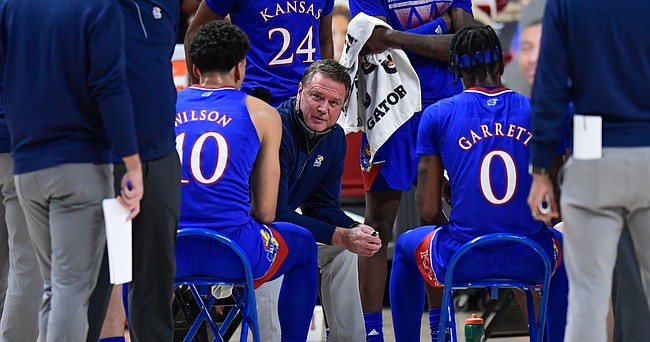 If you only watched the final few possessions of KU's 58-57 victory over Texas Tech on Thursday night, you saw pretty much exactly what you were expecting — two top-15 teams battling to the end and Bill Self's Jayhawks playing lockdown man-to-man defense.
But what you wouldn't have known is that for about eight minutes before that, the Jayhawks had exclusively played a 2-3 zone. And for those eight minutes, the Red Raiders had next to no answer on offense.
It ended up having a major impact in KU's third win over a top-25 foe so far this season.
Tech coach Chris Beard said after the game that when you play Kansas, it's not always about offense, defense, X's and O's. Beard said there are times when players just have to make plays to beat a team like Kansas.
Texas Tech had plenty of moments when that happened on Thursday night. But very few of them came against the Kansas zone. The Red Raiders were just 4 for 12 in the final 7:50 against KU's zone. That included misses on seven of their first eight attempts and zero offensive rebounds.
"I have to be honest with you," Self said after the victory. "We put in a really, really bad zone when practice first started, and about three days ago (we) killed it and said, 'Let's just play an old-fashioned 2-3. And we practiced it maybe for seven minutes."
For Kansas (7-1 overall, 1-0 Big 12), Thursday's offensive hero was junior guard Ochai Agbaji, who led the team with 23 points, including the game-winning layup with 14 seconds left. He said Self's decision to go to the zone was a turning point.
"We threw a different look at them that they hadn't seen," said Agbaji, who tied with senior Marcus Garrett in playing a team-high 34 minutes. "We were covering their shooters and playing outside, making them play around the 3-point line. That kind of slowed them down a little bit and played into our favor more."
Texas Tech built much of its second-half lead of 7 points by pounding the offensive glass. The Red Raiders (6-2 overall, 0-1 Big 12) out-rebounded KU 13-6 on the offensive boards and also held a 16-5 edge in second-chance points.
But the zone neutralized both of those areas.
Document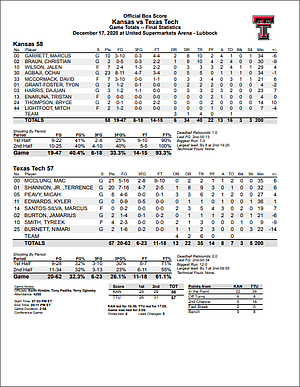 "It was definitely great," Garrett said. "I felt like they were getting a lot of tipped balls and offensive rebounds, and once we went zone, we were able to get stops and rebound the ball."
Here's the crazy thing about the KU zone — other than the fact that the Jayhawks were playing it in the first place, of course. Garrett, the reigning national defensive player of the year, was on the bench roughly half the time they played it.
Dajuan Harris and Agbaji were up top a lot of the time, with David McCormack in the middle and Jalen Wilson and Christian Braun on the wings. When Agbaji went out for a quick breather for a couple of minutes later on, it was Harris and Garrett up top.
Asked whether he and his teammates were comfortable playing zone defense, Garrett hedged with his answer.
"Uh, you could say that. But probably not really," he said. "We don't run it much in practice. We probably spent like five, 10 minutes on it. But it was effective tonight."
And when the Jayhawks took the lead on Agbaji's layup with 14 seconds to play, the next two Texas Tech possessions — one before a timeout and one after — were run against Kansas' man-to-man defense.
What motivated Self to go to the zone in the first place? There were two reasons.
First, Self didn't think McCormack guarding Texas Tech's Terrence Shannon Jr. was a good matchup if the Jayhawks continued to switch defensive assignments at all five spots. Since Self wanted to keep McCormack on the floor to rebound and to help force Tech to guard more than just the perimeter when KU was on offense, he found a way to keep him in the game without exposing him defensively.
The other reason: free throws.
Tech, which has been one of the best teams in the country at getting to the free throw line so far this season, was already in the double bonus at the eight-minute mark of the second half. Self said that made the zone appealing.
"Even though they still scored some baskets and obviously Shannon made two huge 3s against it, what it did was it kept them off the free throw line," Self said.
"It wasn't great," he added. "But it was good enough."