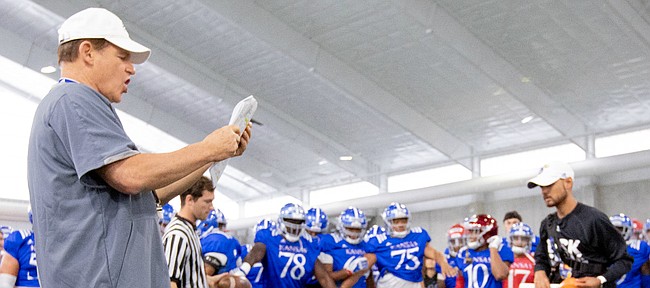 The raw, unedited footage of the "Miles to Go" documentary that profiled coach Les Miles' first season at the helm of KU football can be subpoenaed and used as evidence in the case of former coach David Beaty's disputed firing, a U.S. magistrate judge ruled Tuesday.
Beaty's team of attorneys has argued in previous legal filings that unaired footage from the ESPN+ documentary series will show University of Kansas Athletic Director Jeff Long planning to fire the coach, who went 6-42 in four seasons with KU, before the fall 2018 season began.
Outside counsel for KU Athletics filed a motion in mid-February asking for a subpoena of the footage to be quashed, saying that the footage wasn't relevant to Beaty's case and that it could potentially give opponents a schematic advantage by showing footage of Miles' practices.
Judge Gwynne Birzer in Wichita ruled against that motion Tuesday, saying that the footage, as well as contracts and communications also issued as part of the initial subpoena, could serve as proof of the timeline surrounding Beaty's termination.
Birzer also ruled Tuesday against a motion from KU to quash a second subpoena for video footage of spring 2019 practices that took place under Miles' direction. KU's athletics department has argued that Miles' practice video could give opponents an advantage and that it's irrelevant to Beaty's firing.
Beaty's team, however, argues that the footage will show Miles committing the same violations KU used to fire Beaty for cause and not pay a $3 million buyout — using more coaches than allowed under NCAA rules.
Both the "Miles to Go" footage and 2019 practice footage could also give more insight into KU Athletics' "motivations" regarding NCAA violations levied against Beaty, Birzer said in her ruling.
The "Miles to Go" footage and practice footage must be produced by May 15, Birzer ordered. Before it can be released publicly, though, both parties in the case will meet to evaluate if any of the produced material needs to be sealed — either because it would give KU football opponents a schematic advantage or because student privacy may be violated if the documentary footage is released.
KU has argued in previous case filings that release of some "Miles to Go" footage could violate the Family Educational Right to Privacy Act, a federal law that protects access to education records.
Beaty's case is currently set to go to trial in U.S. District Court in Kansas City, Kan., in February 2021.