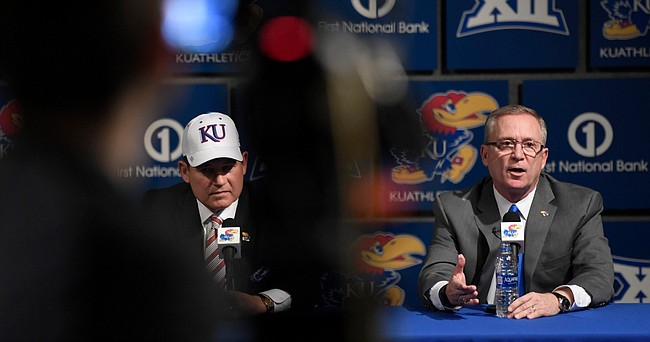 Pay cuts taken by coaches in the Iowa State University athletic department this week will not be replicated at the University of Kansas for now, KU Athletic Director Jeff Long said.

Despite the financial impact of cancellations brought about by the COVID-19 crisis, Long said Thursday he was confident that Kansas Athletics Inc., KU's nonprofit corporation, would complete the school year with a balanced budget.
According to a report from The Associated Press, Iowa State University this week took steps to ensure its 2019-20 finances matched up, with ISU athletic department staff members and coaches taking pay cuts for one year to help offset the lost revenue from the Big 12 and NCAA basketball tournaments.
ISU AD Jamie Pollard said his department faced a $5 million shortfall and that the payroll cuts would save the department $3 million, the AP reported. Beyond that, ISU is suspending bonuses for coaches that total another $1 million.
"That's not where we are at this point, to have to consider those kinds of cuts," Long told the Journal-World on Thursday. "We're in sound, strong financial shape."
That's not to say Long and his staff are ignoring potential worst-case scenarios.
While Long said pay cuts were not necessary at KU today, he noted that discussions were ongoing to make sure KAI was prepared for any unexpected changes.
"We've got a couple months here to go," he said. "It's still a little bit unknown yet what the Big 12 distribution is going to be. But, even with that (likely being lower than in the past), with the expense savings and the travel (savings), we believe we won't have to dip into reserves and we won't have to borrow."
Long said he had heard of some athletic departments around the country taking out loans because of the low interest rates.
Because it is not yet known when the pandemic will end, Long said KU was exploring the idea of making changes to the 2020-21 budget in case future cost-cutting moves became necessary.
Today, that includes an exercise in which Long asked coaches and other department supervisors to trim 10% from their operating budgets. It's all hypothetical at the moment, but Long wanted to be sure that he and his staff were looking ahead so they would be ready to make those types of changes if needed.
"We're asking our people in this time to tell us what that would look like," Long said. "Do the exercises, tell us what you would have to cut to shave 10% from your budget and then, as we see how the pandemic plays out in this country, depending on what happens with football, we may have to go deeper than a 10% cut. So we're also looking at all of those scenarios."
Although it's still too early to make any decisions about the fall football season, there has been talk nationally that the pandemic could impact or even lead to the cancellation of the 2020 college football season.
If that were to happen, even at KU where football has underachieved in terms of on-field production and annual revenue, KU could lose out on millions from television dollars, ticket sales, concessions and more.
"We're just trying to do the responsible thing and plan and be ready for everything," Long said.