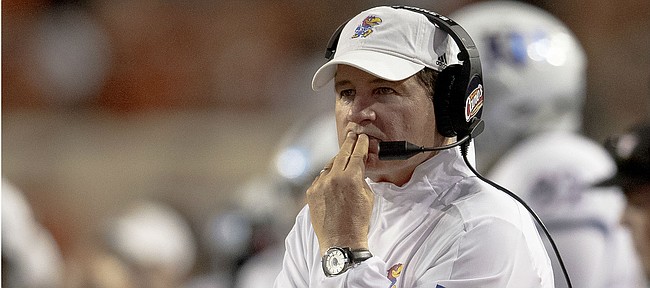 Lawyers for former Kansas football coach David Beaty are zeroing in on the university's treatment of allegations against Les Miles — allegations that they say are just as serious as the ones that the university is using to justify not paying Beaty a $3 million buyout.
But in a deposition released earlier this week, University of Kansas Athletic Director Jeff Long said that the allegations against Miles and his staff are being treated differently because they were less severe than those against Beaty.
Specifically, Long said the athletic department thinks that Beaty instructed a staff member — Jeff Love — to meet with quarterbacks in a coaching capacity and then lied about doing so. Staff members under Miles are accused of acting in noncoaching roles in an NCAA Notice of Allegations against KU, as well. But Long said he wouldn't consider firing Miles for cause because Miles wasn't heavily involved in those violations.
"It would take lying about it. It would take organizing it and actively making it happen," Long said when asked by Beaty's lawyers what it would take for him to fire Miles. "It would be trying to get other students — get student-athletes to provide false and misleading statements. It would be those kinds of higher level things."
Long fired Beaty in early November 2018, with three games remaining in the season. It appeared the termination would be without cause, but Beaty never received his $3 million buyout, leading to the lawsuit. KU would eventually send a letter to Beaty a year later to notify him he was terminated with cause because of the NCAA violations that allegedly occurred during his tenure.
During one stretch of Long's testimony from the unsealed, 109-page deposition, Beaty's lawyers brought up numerous video clips of noncoaches from Miles' staff. The staff members in the clips included Brent Dearmon (before he became offensive coordinator), special teams consultant Devin Ducote, assistant strength coach John Shaw, special teams analyst Tony Coaxum and Josh Eargle (before he became KU'stight ends coach earlier this offseason). Beaty's lawyers argued that the noncoaches were performing coaching duties in the clips.
A lawyer for Beaty asked under what circumstances Long would consider something like that serious.
Long replied: "When it's repetitive, when it's orchestrated, when it's planned."
The attorneys asked Long whether, during Beaty's tenure, it would have been an NCAA violation for Love to have been on the field giving instructions to the head coach or an assistant. Long said it would have.
Long acknowledged that rules allow analysts to provide information to coaches, but it is a violation for them to set up plays or strategize with acting coaches during competition.
According to court documents, the first clip presented by the plaintiffs showed Eargle, an offensive analyst at the time, on the sideline during KU's win at Boston College and flipping through what is described as a play sheet by Beaty's lawyers.
Another clip of Eargle was described as showing him pointing to something on a sheet Miles was holding.
Long testified he couldn't tell from the video what Eargle and Miles were discussing.
A third Eargle clip, according to the deposition, showed the analyst in a huddle on the field during a game and speaking.
Long said it didn't raise any concerns, because, "I have no idea what is being communicated or not communicated."
KU's AD made similar statements when shown a clip of Ducote holding up one finger after KU scored a touchdown at Boston College — presumably signaling the special teams' kicking unit would go on the field for the extra point.
"Devin could be signaling 'We're No. 1,'" Long offered. "I don't know. I don't see any tactical thing. I see a finger in the air."
Long did consider a different clip of Ducote holding up one finger after a touchdown "a little bit more" concerning because Ducote was on the field versus West Virginia in that instance.
A clip of Shaw from the Kansas State game, the document describes, shows the assistant strength coach signaling in a play call from the sideline at the same time as defensive coordinator DJ Eliot.
Long agreed a noncountable coach shouldn't be signaling plays if that was what Ducote and Shaw were doing.
Beaty's lawyer followed that up by asking if Long was planning to fire Miles for cause. Long said he wasn't.
The deposition also included a series of questions about Dearmon and KU's offense, while he was still an analyst, utilizing the type of RPO plays for which Dearmon's known.
Long also was shown a video clip from KU's win at Boston College in which Dearmon could be seen near quarterback Carter Stanley. Long said he couldn't tell from what he watched whether the two were talking to each other.
"I would need more than isolated clips, where you can't tell what someone is saying, if it's tactical or if it's not," Long said of what it would take for him to look further into the instances presented by Beaty's lawyers. "I'd need to see coaching and know that tactical information was being exchanged and being coached."
The NCAA Notice of Allegations against KU alleges that under Miles, both Ducote and Coaxum acted in coaching roles during spring and fall practices in 2019. Long said he didn't believe Miles had knowledge of those alleged violations as they were happening. Earlier in the deposition, Long said Ducote and Coaxum were suspended from the workplace for a week as a result of the infractions. Coaxum is now an assistant coach at Northern Colorado. Ducote remains a non-coaching member of Miles' staff.
Long said KU took measures, such as requiring analysts to wear different colored shirts than assistant coaches and asking them to stay off the playing field, to help prevent future violations. However, he said those didn't take place immediately after KU found alleged violations by Love under Beaty. Rather, Long said those measures went into effect after the program discovered instances of Miles' noncoaching staffers allegedly taking on coaching duties.