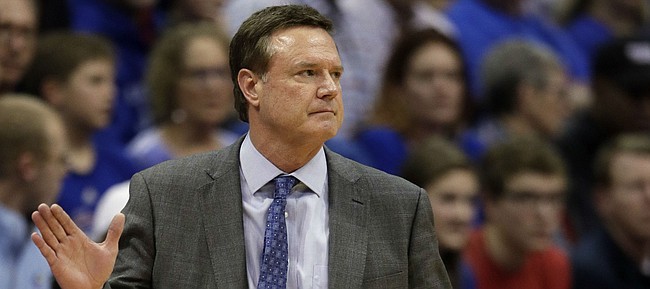 Making his first public comments since receiving a Notice of Allegations from the NCAA on Monday, Kansas men's basketball coach Bill Self said he did not think the looming NCAA situation would be a distraction for his team and that instead it would motivate him.
"I do think it could become that if I'm not very mature about it," Self said Thursday after the Jayhawks' first official practice of the 2019-20 season. "But I plan on being very mature about this. And I plan on coaching this team better and harder than any team I've had here at Kansas.
"I don't see it as being a distraction at all from a player standpoint, and I see it as being a gift to me, from a personal standpoint, that it'll motivate me in a pretty competitive way."
KU on Monday received a 20-page document from the NCAA alleging three Level 1 violations, a lack of institutional control and a charge of coach's responsibility, all of which carry severe punishments that could impact the future of the Kansas program.
But Self, who spoke to his team about the expected NOA before Monday's notice arrived, said the focus for this group, at this time, was on the upcoming season.
"It's kind of been business as usual to be honest," he said. "And today it was really good to get on the court, and guys worked their tails off. We had a very good first day."
Asked directly what message he had for the Kansas fan base, Self said he would not blame anyone for being concerned about what might happen in the future.
"But I don't think it should take away one bit from what's getting ready to happen this year," he added. "And that's putting a team on the floor that's going to be awfully fun to watch and support. I think that we're going to have a terrific basketball team and this team, like any player that's played here, has represented this university in a very first-class way and they deserve to be supported."
The Jayhawks themselves were unified in their belief that the NCAA's case against Kansas would not be a distraction.
"Seeing all that in the news and stuff it obviously brings us more motivation to work harder and that's what's keeping our drive up," sophomore guard Ochai Agbaji said Thursday.
Added junior guard Marcus Garrett: "We don't even think about it, honestly. We just keep our days going, keep having fun."
Self said he thought that approach would be easy for his players because none of them are directly involved in the NCAA's allegations or KU's response.
"They know that we've got this," Self said. "They do. And they're not involved, so if they're not involved there's no reason that they should burn any energy thinking about this."
Senior center Udoka Azubuike said that attitude allowed the team to maintain its focus and remain confident that things will work out.
"Coach is handling everything," Azubuike said. "And I don't have too much to say about it. I just leave it to coach. Right now it's time for us to be together as one and just work together. It's going to be on the news, it's going to be on social media and we don't have to focus on that. We've just got to be together. It's really a big distraction right now for the outside world, and we've just got to come together as a family and focus on getting better and being our best and don't let the outside distractions affect what we have planned."
That, of course, is to put a team on the floor that can contend for Big 12 and national championships, and that work officially began Thursday with the first true practice of the season.
Self said he was "very encouraged" about the effort his players put in and the focus they demonstrated throughout practice.
"I'd say energy, effort, also execution," he said. "It wasn't great, obviously, but it wasn't awful by any stretch. There's been days where the walls got as much practice catching the ball as hands did, and that was only the case a few times today. I just thought we looked better and we looked like we were a year older."
In many ways, diving into the basketball portion of his current reality is the easiest thing for Self to do because, as he said about the NCAA allegations on Thursday, "I've never experienced anything like this."
"No time is the best time (for allegations from the NCAA), but I am real excited about this team's abilities and their motivation to try to do some special things this year," Self said.
As for the support he received from KU Chancellor Douglas Girod and Athletic Director Jeff Long, who both backed their head basketball coach through strong statements on Monday night, Self made it clear their encouragement was welcomed.
"I feel good about it," he said. "I can't speak for them, but I'm appreciative of the way the school has handled this situation and I'm appreciative of the way it'll be handled moving forward."