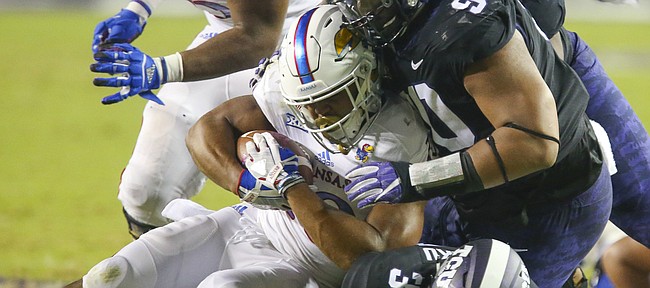 With 40 career starts already on his resume, Kansas senior offensive lineman Hakeem Adeniji typically can remember at least some detail about every college football game in which he has appeared.
Close to two years removed from a nightmarish trip to TCU in 2017, Adeniji cringed when asked what he recalled about that one.
"I don't think about that night," the senior left tackle told reporters earlier this week, ahead of the Jayhawks' Saturday matchup with the Horned Frogs in Fort Worth, Texas.
Adeniji is one of three current KU starters, along with fellow offensive linemen Clyde McCauley III and Andru Tovi, who started in arguably the most forgettable offensive showing in recent college football memory.
Ranked No. 4 in the nation at the time, TCU steamrolled the Jayhawks, 43-0, as KU mustered an inconsequential 21 yards of total offense.
"You remember some more than others for certain reasons," Adeniji said. "But that was, out of the 40, that's probably 40th right there."
Quarterback Carter Stanley wasn't KU's starter at that time, but he played some mop-up snaps late the last time Kansas played at Amon G. Carter Stadium. KU running back Khalil Herbert and receiver Daylon Charlot also appeared in the drubbing.
Stanley looked back upon one of the uglier game day scenes KU football players and coaches have experienced during a decade's worth of losing seasons.
"It was a tough situation," Stanley said earlier this week. "At the time we were coming off of a really subpar performance against Iowa State the week before. And we had a lot of guys banged up, including the offensive line. I remember our offensive line was really banged up at the time, and it was just a tough situation that we were in."
Adeniji said the same, and the veteran O-lineman wasn't even referencing that he played in that game (and others) with two separated shoulders — plural. That night Adeniji started at right tackle as then-head coach David Beaty and his staff had to shuffle blockers up front due to an injury to starting center Mesa Ribordy. McCauley, now KU's starting right tackle, was a fill-in starter at left tackle for Adeniji. Tovi, now KU's starting center, started at left guard, his usual spot in 2017.
It proved to be a brutal night for the entire O-line, as well as the rest of the offense as TCU racked up 11 tackles for loss and four sacks.
"They played a much better football game than us," Stanley said. "But I can't express enough how different this team is right now and really how different they are."
For the Jayhawks who lived through that lowest of lows, as Stanley mentioned, everything about what the offense looks like on video and how the Jayhawks feel about their abilities and personnel has changed significantly since then.
Even before Les Miles took over the program, the Jayhawks at least somewhat avenged that no-show performance by defeating TCU in Lawrence in 2018.
After putting up 48 points in a victory at Boston College a couple of weeks ago and coming one last-second trick play shy of upsetting West Virginia in their Big 12 opener this past Saturday, KU's offensive players trust this trip to TCU (2-1) won't bear any resemblance to their last one.
Since a discouraging home loss to Coastal Carolina, KU's offense has proven to be more competent than what it showed in the first two games of the season, spreading the field and mixing in the types of RPO plays that both Stanley and running backs Pooka Williams Jr. and Khalil Herbert enjoy.
No one will mistake the Jayhawks for Oklahoma, but the Big 12's traditional bottom feeder is averaging 6.5 yards per play four games into the season, a clip that ties KU for 36th in the country — even though at 402 yards per game the Jayhawks rank 77th.
"We've grown a lot since that game," Adeniji said of the KU offense, referencing the 2017 debacle.
The senior left tackle also said the Jayhawks (2-2 overall, 0-1 Big 12) look at Saturday's game at TCU (11 a.m., FOX Sports 1) as a "perfect opportunity" to bounce back from their 29-24 home loss to West Virginia.
"It's a good football team, but we know if we handle our business that we can attack what they have," Adeniji said, "and do what we need to do to win the game."
KU currently ranks ninth in the Big 12 in points per game (25.8) and total offense (402 yards per game), eighth in passing offense (215.2 yards per game), seventh in passing efficiency (161.1) and sixth in rushing offense (186.8 yards per game).