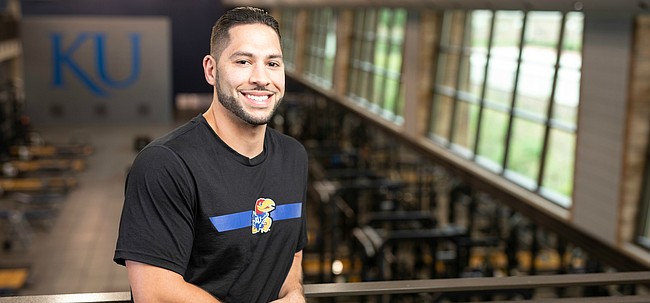 The weight room gains of dozens of current and future Jayhawks eventually will be traced back to a dog named Hunter.
Years before new Kansas basketball strength coach Ramsey Nijem became the youngest strength coach in the NBA, it was Hunter, a black lab/pit bull mix, whose digging in Nijem's Bay Area backyard uncovered a gold chain that Nijem thought was lost forever.
While dozens of classes, three universities and countless hours in weight rooms on the west coast all contributed to the foundation of Nijem's career, it was that chain that started it all.
At age 19, fresh out of high school and in search of what would come next, Nijem, now 28, attempted to walk-on to the UC Santa Barbara basketball team but did not land a spot.
After the setback, Nijem's brother suggested he become a personal trainer. That's where the chain came in.
"It was a basic braided gold chain and attached was a pendant that said love in a Chinese character with diamonds on it," Nijem recently told the Journal-World of the gift given to him by his mother.
Needing money for his first personal trainer certification test, Nijem took the chain to a local pawn shop. The man behind the counter said he didn't need the diamonds but thought he could melt down the gold and offered Nijem $800.
"Done deal," said Nijem, collecting the exact amount he needed for the test. "That's when it took off."
Time for school
From there, Nijem sought out training internships during his sophomore year at UCSB. None existed. Instead of moving on, he kept asking every couple of days.
"I think eventually they realized there were two options that they had — say no or say yeah," Nijem recently recalled on the PJF Performance podcast. "Either way, I was going to keep showing up."
Just before Year 3 at UCSB, Nijem met sports performance director Jeremy Bettle and the two set up an athletic training internship.
Coaching 20 hours a week and taking 18 hours of classes, Nijem threw himself into the strength training world morning, noon and night.

"If the question is, 'How do you get to be the youngest NBA strength coach,' I don't think (the answer) has a lot of Netflix involved," Nijem said on the podcast.
After graduating from UCSB in three years, Nijem went on to Cal-State Fullerton, where he sought a master's degree in sport performance and worked with a man named Jared Coburn.
During one of their first meetings, Nijem asked what it would take to complete the master's program in a single year. Coburn smiled and said it was "extremely difficult, if not impossible, to get through it that fast."
Nijem pushed back and asked again, "Yeah, but what would it take?"
That year set the stage for his first full-time job as the head strength coach at Santa Barbara City College, where he worked two years before joining the Sacramento Kings.
"He definitely took the harder route and did it in a shorter amount of time," Coburn told the Journal-World. "It was very impressive that he was able to pull that off."
Throughout their time together, Coburn marveled at Nijem's drive and desire to carve out his own path.
"As a coach, you can just sort of copy what people do," Coburn said. "But Ramsey questions things. He has sort of a skeptical approach, he's an innovator and he wants to generate new knowledge."
Nijem's thesis, on which Coburn assisted, and his doctoral dissertation, which he successfully defended to earn a doctorate from Rocky Mountain University of Health Professions in 2018, were geared toward innovation and highlighted his passion for learning.
"When I got done with my master's, I bought a backpack just because I felt like that would keep me true to continue learning," Nijem said. "Learning encourages growth, and growth is one my core values."
While Nijem's rise through the academic ranks was fast-tracked by his determination, it moved at a snail's pace compared to the path that led him to Kansas.
From Sacramento to Kansas
On Friday, Aug. 16, one day after news broke that former KU strength coach Andrea Hudy was leaving for Texas, Nijem received a voice message from KU coach Bill Self.
Nijem called Self back that same day and, a week later, was on KU's campus, touring the facilities and talking to Self and his staff about the job.
Seven days after that, on Friday, Aug. 30, Nijem officially accepted KU's offer, and this past Friday the newest Jayhawk wrapped up his first week at KU by closing out Week 1 of boot camp.
"It happened fast," said Nijem, whose girlfriend and current dog plan to join him in Lawrence in the near future. "I packed two bags, hopped a Southwest flight and got to work. It had to be the right move at the right time, and it came out of nowhere. The fact that my first day was boot camp, I love it. I just want to work."
Nijem is not limiting himself in any way. Rooted in academics and science, Nijem believes character, buy-in and old-fashioned effort are every bit as important as numbers and data.
"We'll focus on everything," Nijem said. "Strength, explosiveness, speed, injury risk reduction, character building, leadership, previous injury history, (NBA) combine preparation, everything. The science is the foundation of everything we should be doing in this. And then at that point it just becomes, 'OK, who am I training and what am I training for?'"
The reason the Bay Area native opened his mind to the idea of leaving Sacramento for Kansas was multifaceted. And it started with Self.
"For me to be a fly on the wall and learn from a Hall of Fame coach about coaching, and not just coaching basketball but coaching humans and young men, that's an opportunity that I was excited about," Nijem said.
He added that KU was the only school for which he would have left Sacramento, and his interest was piqued further by KU's status as a blue blood in the basketball world.
"The tradition of Kansas basketball is definitely like no other," he said. "... So for me to be a Jayhawk and work on Naismith Drive, that's a cool story."
Becoming a Jayhawk
It became even cooler on Day 1, when he received a box of Kansas gear from KU equipment guru Larry Hare.
The contents of the box have become Nijem's uniform — his scrubs or suit and tie — and it did not take him long to embrace wearing them.
"To open that up and have that new logo and the colors and be a Jayhawk, it feels good," Nijem said. "I don't necessarily have a strong collegiate tie, and I have buddies that have been to Arizona, Arizona State and other schools. So when the tourney starts and they start talking their talk, now I can engage in that and have a good time with it. I look forward to being 50 years old and watching the tournament and cheering for the Jayhawks."
In some ways, Nijem already has been rooting for Jayhawks. Former KU guards Frank Mason III and Ben McLemore were two of Nijem's favorites back in Sacramento, and they provided him with a deeper understanding of what Kansas was about when the opportunity arrived.
"Both called me and I called them," said Nijem, whose Twitter cover photo is the iconic picture of Mason in a KU uniform, arms spread, eyes up to the sky. "Those are my guys, man. We could talk about them all day."
There's little doubt that both players, along with other Sacramento stars, like Buddy Hield, De'Aaron Fox, Marvin Bagley III and more, will come up often as Nijem trains the Jayhawks.
"Marvin's 20 years old," Nijem said. "We've got players on this roster that are 20 years old. And I've already had a conversation with certain guys about the things that leave an impression with the GM and trainers and strength coaches. Part of my role is not only to prepare you mentally and physically, but also to prepare you as a leader, for the charisma, too. It's about more than being good at basketball at that level."
Nijem believes the skills that served him best with Sacramento's young roster will continue to benefit him at Kansas. And Self said Nijem's age and ties to the NBA were big time bonuses to his candidacy.

"I've never felt like it's held me back," Nijem said of his age. "Some people will size you up and say, 'Who's this young guy?' But I don't get into the whole ego thing. I'm here to help young players and that's it. Being able to relate to players culturally and through social media and Instagram and music and talk the way they talk, those things help create buy-in."
With all of those factors working for him in the NBA, too, the obvious question is why leave? The answer ties in nicely with the way Nijem raced his way to multiple degrees in such a short time: his drive.
"I used to have dream jobs," he said. "And the NBA was a dream job. But that was part of my decision-making here — 'OK, you've achieved that.' Now I think I just have a dream life and purpose... I had to take a step back and say, 'Wow, this is a great opportunity; for me to turn it down would be stupid.'"
As Nijem moves through his first month with the program, it's all about learning again. That's why the boot camp beginning was the perfect starting point. Boot camp is most definitely Self's show. And that fact has afforded Nijem the opportunity to observe and ease into his new gig.
"Sit back and take some notes," is the way Nijem explained it.
"I've got a little clipboard on me and I'm jotting down notes and it's not just how they're moving," he said. "It's attitude, who's talking, how are they talking, who's quieter and things like that. Quiet's not a bad thing, but do I need to check in with him a little more because he's not as forward with his thoughts? For the first month I'm getting to know all those things, and the rest of the time I'm diving into it."