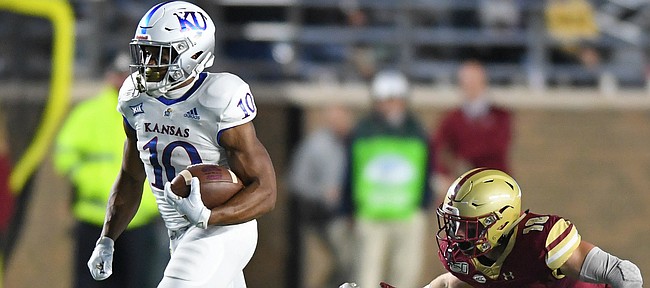 Chestnut Hill, Mass. — It's Carter Stanley's job as the quarterback to know and be able to execute every call in the Kansas football offense's playbook.
After the Jayhawks put up 567 yards and rolled, 48-24, at Boston College Friday night, though, even the businesslike senior QB couldn't mask his affinity for the calls that spread the field and put the Jayhawks' best skill players in more one-on-one opportunities.
"Sheesh," Stanley said after KU's air and ground display at BC. "It was fun."
Head coach Les Miles didn't want to characterize the scheme as a shift from what KU (2-1) showed in the first two weeks, when the offense rarely had any rhythm.
Still, as the Jayhawks prepared for the Eagles it became clear to Stanley that the plays they planned to utilize in their nonconference finale would give KU a distinctively different look.
Brought out of hiding after an awful start to the season offensively, the plays weren't new. Kansas had them all along and practiced them as far back as the spring.
Photo Gallery
Jayhawks earn road victory over Eagles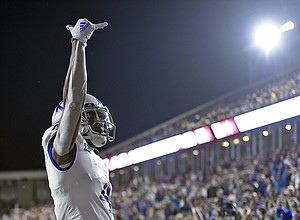 Photo gallery: Jayhawks earn road victory over Eagles (Photos by Chris Evans)
Miles and his staff didn't completely toss out formations featuring a fullback and/or one or more tight ends. But the changes the coaches made seemed to catch BC's defensive players off guard.
"I think we're in the RPO world a little more than we've been," Miles said after running backs Khalil Herbert (11 carries, 187 yards, one touchdown) and Pooka Williams Jr. (22 rushes, 121 yards, one TD) complemented the passing game and vice versa. "I think that that benefits us."
It certainly allowed Herbert to thrive. While Williams averaged 5.5 yards per carry and the sophomore had five runs that gained double-digit yardage thanks to the space created with the play-calling, Herbert often found himself taking off with unfathomable room.
The senior running back only carried the ball 11 times and his night included gashes of 28, 36, 25 and 82 yards.
"It's definitely fun being able to get to the second level, third level, and you can go anywhere you want," a grinning Herbert said after averaging 17 yards per touch in the run game. "It's definitely fun. Receivers did a great job downfield running guys off."
Stanley said the Jayhawks' rushers — the QB also contributed five carries for 23 yards — felt comfortable not just because they had so much room to operate and attack at BC, but also because the offense they showed wasn't new to them.
Stanley said a lot of the "great RPO stuff" senior offensive consultant Brent Dearmon brought with him to KU led to the offense's successful turnaround six days after it put up just one touchdown in a home loss to Coastal Carolina. In 2018, Dearmon was the head coach at NAIA program Bethel, and the Wildcats went 10-1 and averaged 55 points and 540.3 yards per game.
KU's receiving corps fed off the space created by the play-calling as well. Juniors Andrew Parchment (eight receptions, 100 yards, two touchdowns) and Kwamie Lassiter II (five catches, 67 yards), in particular, helped Stanley keep BC out of sorts through the air.
Parchment said he started to figure out the offense would look different earlier in the week, while he and other receivers watched game footage with their position coach, Emmett Jones, who stopped the video and told them, "I hope you guys are ready."
Jones, Parchment said, challenged the receivers, saying it would be on them to go make big plays at BC.
"Or if we don't do that," Parchment added of the message, "we can't complain again."
Of course, Parchment and his fellow targets were more than happy to deliver.
On Stanley's 20 completions he found seven different teammates — Parchment, Lassiter, Williams, receivers Stephon Robinson and Daylon Charlot and tight ends Jack Luavasa and Mason Fairchild.
"I like the way we're spreading out the offense and letting Pooka and Khalil have a lot more rushing lanes," Parchment said. "We got all the receivers involved. You saw Kwamie Lassiter come in there a little bit. I'm just happy everybody got involved, everybody got touches and we got a W."
Spreading the wealth and the field allowed the Jayhawks to look different from how they had a week earlier and distance themselves from the wrong turn the season seemed to be taking with a home loss to Coastal Carolina.
Now Stanley and KU's skill players feel like they have an identity.
"We really haven't shifted much at all," Miles said regarding the offense. "That's really where we were at, OK. The opportunity to throw in and sprinkle in some two-back, we want to do that still. But what we want to do is we want to operate with the best percentages and the best chances at victory."
It would seem the Jayhawks and their head coach now know what works for them.
"It's how you implement a template of RPO," Miles said. "That's kind of what we've done. And we stayed with it, and it's starting to pay dividends."
KU hosts West Virginia next Saturday at David Booth Kansas Memorial Stadium.