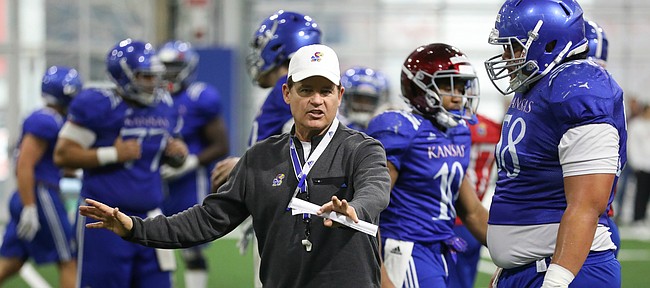 During the buildup to his first game as the head football coach at the University of Kansas, Les Miles at times went out of his way during press conferences and interviews to let people know how optimistic he felt about the Jayhawks' offensive line.
Two games into the season, though, the play up front has neither wowed observers nor overwhelmed opposing defensive linemen and linebackers.
While watching KU's O-line during the team's closed practices, Miles forecasted the group would give the Jayhawks "great play" and described the blockers as a "big, good-looking group of men."
Given those projections, one might conclude Miles hasn't been pleased with what he has seen during a 1-1 start from the offense's point of attack.
The coach didn't go that far, though.
"I think they've played well," Miles said earlier this week.
So what's keeping the offensive linemen from playing that dominant brand of football their coach wants KU playing?
"I think everybody is settling in," Miles said. "I don't know if that's — it makes great sense when you're moving. You arrive at the new house and you settle in, right? I think what we're doing here is we're finding plays that fit our kids that are playmakers. I think we're settling in, if you will, on how to equip our players best. I think there's some time there."
True, there are still 10 games left to play in 2019 for the Jayhawks, beginning with their Friday night nonconference finale at Boston College (6:30 p.m., ACC Network). And through two games, senior quarterback Carter Stanley has been sacked four times (twice in each game) while attempting 48 total passes.
On numerous other plays, though, Stanley has been hurried or at the very least sped up and/or forced to throw or make a decision while on the move due to the defense making its way past the offensive line sooner than expected.
What's more, even though preseason All-Big 12 running back Pooka Williams Jr. returned and rushed for 99 yards on 22 carries against CCU, there were several occasions when the sophomore rusher had to maneuver and break tackles just to eke out small gains.
Five of Williams' attempts went for zero to 2 yards, and he was taken down in the backfield twice — both times in the fourth quarter.
Senior Khalil Herbert ran for 82 yards on only eight carries. He got dropped for a loss of 4 yards on one and had a 1-yard carry.
According to the Pro Football Focus grades provided to Jayhawk Slant, senior left tackle Hakeem Adeniji (79.7) was the only KU O-lineman to receive a grade higher than 70 in the Jayhawks' loss to Coastal Carolina.
In a Week 1 victory over Indiana State, PFF gave grades of 70 or higher to three O-linemen: center Andru Tovi (73.9), Adeniji (73.6) and right guard Chris Hughes (72.6).
Given Miles' clearly high expectations for the group, Adeniji assessed where the offensive line is at entering Week 3, compared to where the Jayhawks thought they would be.
"I think we're progressing," Adeniji said. "I think we're not where we want to be. But I don't think we expected to be there this early in the season. But I think if we keep improving like we have been and we can do, I think we'll be able to get to where we want to be."
Although Adeniji and Malik Clark are playing every snap on the left side of KU's O-line, the staff, as planned, is rotating players in and out at center and on the right side of the line.
Per PFF's snap counts, starting junior center Tovi played three times as many snaps as reserve Api Mane against CCU.
The rotations were more evenly split on the right side of the line, where right tackle Kevin Feder and right guard Hughes started and played four more snaps than right tackle Clyde McCauley III and right guard Adagio Lopeti.
Adeniji said he doesn't think the rotations are impacting what he and Clark are able to do on the opposite side of the line.
Miles said he is happy with the rotation approach thus far.
"Yeah, we're expecting that they're going to get better, OK," Miles said of the O-linemen. "And the guys that are getting rotation time are talented guys and now need some reps to get us better. Obviously the plan is that sooner rather than later we'll be ready to play dominant football."
KU enters its game at Boston College (2-0) ranked 115th among FBS teams in points per game (15.5), 94th in yards per play (5.24) and, according to ESPN's analytics, 129th out of 130 teams in offensive efficiency.