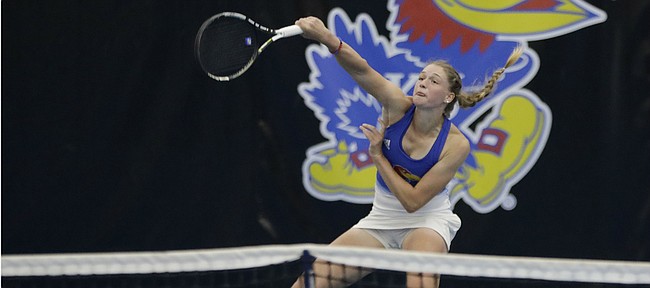 There was no tennis racquet flip. There was no Gatorade bath or large team celebration at the Jayhawk Tennis Center.
Nearly two weeks after doing all those things in response to claiming its first-ever Big 12 title, the postgame festivities for the Kansas women's tennis team were much more tame following a 4-0 win over Denver in the first round of the NCAA Tournament Friday afternoon at Rock Chalk Park.
It was an act like you have been there moment for the Jayhawks. And, well, that's because they have. Last season, in fact, KU took down Denver for a 4-3 win in the opening round of the NCAA's championship tournament before exiting in the second round.
While the score may have reflected a comfortable win for the 14th-ranked Jayhawks, it was anything but that.
Photo Gallery
KU tennis defeats Denver in NCAA Tournament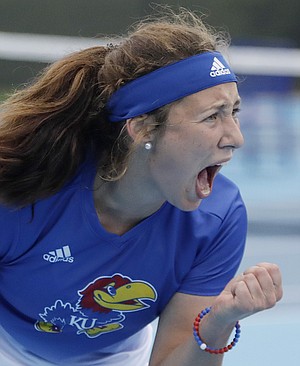 Kansas tennis advanced to the second round of the 2019 NCAA Tournament with a 4-0 win over Denver at Rock Chalk Park on May 3, 2019.
"I wasn't 100 percent pleased with us today," KU head coach Todd Chapman said. "It is nice to get a win and advance, but I think we have to clean a lot of things up to be ready for a tough team (Florida) tomorrow. We were sloppy in some situations."
KU was trailing or tied in all three of its remaining matches in singles play, which went unfinished. Had senior Nina Khmelnitckaia not closed out her win on the fifth court over Denver's Camille Verden-Anderson, it could have been a different story.
"Today, I just felt like we didn't play as well in a couple spots as we are capable of," Chapman said. "All those things are fixable, and all those things we have done in the past. We just have to get on the right page. We advanced; that was the goal."
The Jayhawks took care of business in the spots they had to en route to their ninth team victory in a row.
Senior Anastasia Rychagova and freshman Sonia Smagina, who are ranked No. 64 in doubles, recorded a 6-2 win over Anna Riedmiller and Hada Chang at No. 2 doubles. In the No. 3 doubles slot, junior Maria Toran Ribes and freshman Malkia Ngounoue notched a 6-3 victory over Bianca Mok and Arisha Ladhani.
As a result, it gave Kansas the doubles point for 12th consecutive match and the 23rd time this season.
"I think we came out flat in the beginning, especially in doubles," Khmelnitckaia said. "That is an area we have to be better and bring more energy."
Singles play began on the outside courts, but was ultimately moved indoors due to expected weather. Within minutes of changing locations, Toran Ribes put the finishing touches on her win over Chang (6-0, 6-0) at No. 6 singles to give KU a 2-0 advantage.
Sophomore Plobrung Plipuech took down Tatum Burger (6-2, 6-0) at No. 3 singles, which set the stage for Khmelnitckaia to close things out.
Rychagova dropped the first set in No. 1 singles, but her match went unfinished. Senior Janet Koch dropped the second set at No. 2 singles, while freshman Sonia Smagina was trailing in the second set after winning the first set at No. 3 singles. Both matches were not completed, as Kansas still netted a second-round matchup with Florida.
"They are tough," Chapman said. "They are a team that's been there and done it. They have won a lot of national championships. It is one of those things where we are going to have to bring the same energy and passion we did for the Big 12 championship."
Kansas will take on Florida at 1 p.m. Saturday at the Jayhawk Tennis Center for the second round of the NCAA Tournament.