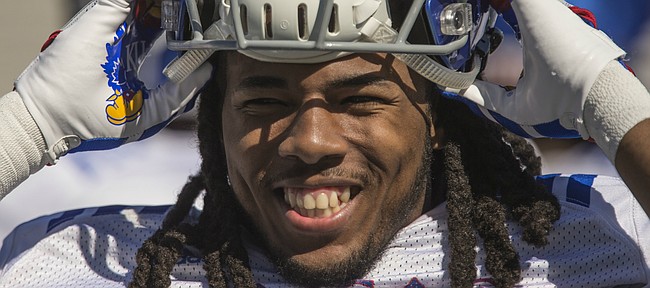 Growing up in New Orleans, it's true that Corione Harris dreamt of one day playing football for Les Miles. He just never figured that would happen for him at Kansas.
While many KU fans felt exhilarated this past November when Miles was hired to take over the football program, Harris was right there with them.
"Back when Coach Miles was at LSU, that's why I really wanted to go there," Harris shared this past week, following a spring practice. "You know, DBU."
A four-star cornerback in the Class of 2018, Harris first met Miles during a visit to LSU while he was still an underclassman at Landry-Walker High. It was then, Harris said, that he first learned what "type of person" Miles is.
LSU would go on to fire Miles four games into the 2016 season, Harris committed to KU in early 2017 and, before his freshman season in Lawrence concluded, the man he once associated with the SEC and a 2007 national championship had become his head coach at Kansas.
"That's a big move for us," a grinning Harris said during his first interview since joining the program (freshmen don't speak with media, per team rules).
Recruited to KU by fellow Louisiana native Tony Hull, the Jayhawks' running backs coach, Harris had three games remaining in his first college season when Kansas fired head coach David Beaty.
It didn't take long for rumors and reports of Miles' interest in the program to surface.
"At first, I was just making sure we get through the season first, and focusing on the season at that moment. And whatever happened after that, I was just ready for any change that was going to happen," Harris recalled. "After I found out that he came, you know, I was excited, because I'm familiar with him. I've seen his work, some of the past teams that he coached for."
Of course, it's not only Louisianans such as Harris that are fired up about Miles' arrival and his track record. According to Harris, that's a prevailing sentiment throughout the KU football locker room.
"And you can tell this year we're coming with a different mindset. We want to break the streak of just losing," Harris said, a few months removed from the Jayhawks' 3-9 2018 season. "That's not what we want to do any more."
In his previous 15-plus seasons as a head coach, first at Oklahoma State, and then at LSU, Miles won a combined 142 games and lost 55.
"So, especially with the name that he has, his franchise, we don't want to mess that up," Harris added.
Although the Jayhawks have only experienced two spring practices with Miles directing them — the team is off for spring break this week — Harris insisted those initial sessions felt different than what they went through last year.
"First and foremost, I think the team is really focused on little things, and just being better," the cornerback said.
An 11-game starter as a true freshman at KU this past season, Harris finished with 43 total tackles, one interception, a forced fumble and six pass breakups.
He found during the first week of spring practice that the players he'll spend the next several weeks lining up against, 2019 junior college receiver signees Ezra Naylor and Andrew Parchment in particular, should challenge him and foster his development ahead of his sophomore season.
"We know that coach Miles is known for recruiting, so it's not like we can just play around or nothing like that," Harris said. "I think the whole team is just focused. We're locked in and really want to improve."