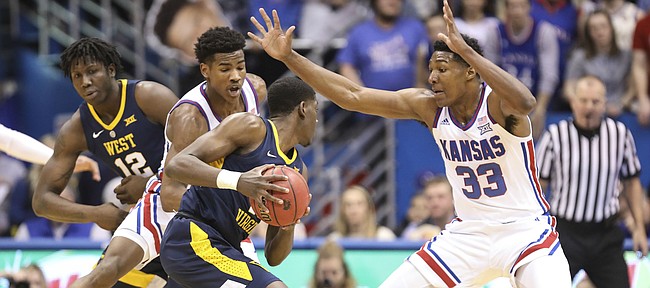 In a conference season full of nail-biters, Saturday's thrashing was a nice refresher for the Kansas men's basketball team.
No. 14 Kansas led for all but one minute, and even had a double-digit advantage over the final 30 minutes of the contest, during a 78-53 win over West Virginia Saturday afternoon at Allen Fieldhouse. The Jayhawks (20-6, 9-4 Big 12) avoided the season sweep of the Mountaineers (10-15, 2-10) after dropping a 65-64 decision in Morgantown on Jan. 19.
The Jayhawks have now won three games in a row since dropping a road decision at Kansas State, which fell at home to Iowa State on Saturday to make the Big 12 race more interesting.
Five KU players scored in double figures in the win. Devon Dotson finished with 15 points on 5-for-7 shooting, while K.J. Lawson registered 15 points on 5-of-7 shooting. Dedric Lawson scored 14 points on a 4-for-8 effort from the field. David McCormack and Ochai Agbaji each tallied 10 points.
Here's a quick look back at some of the action:
• The game turned when: Kansas had this thing in the bag pretty early on.
West Virginia actually led by a 7-6 margin with 15:07 left in the first half. The Jayhawks responded by scoring the next 11 points to take a lead that they would not relinquish. Devon Dotson hit a pair of free throws, while Dedric Lawson buried a 3-pointer.
Mitch Lightfoot netted a dunk off an incredible pass by Quentin Grimes. Ochai Agbaji and Devon Dotson each tallied a bucket as well during a decisive stretch to take control of the game.
• Offensive highlight: Late in the first half, the Jayhawks hit three triples within two minutes to put the game out of reach.
Dedric Lawson caught the ball on the left wing, and then pump-faked his defender to go by him. Lawson then kicked it to Dotson, who drilled a 3-pointer from the top of the key. Moments later, Agbaji missed Lightfoot on a back-cut, so he pulled up from the top of the key instead to drain a 3-pointer.
K.J. Lawson then connected on a corner 3-pointer at the 2:11 mark off an assist from Dedric Lawson. KU led by a 38-14 margin after that stretch.
• Defensive highlight: KU's strong defense was a result of multiple key plays, especially in the first half.
The Mountaineers were flustered on offense, throwing the ball out of bounds on more than one occasion. The Jayhawks even showed some full-court pressure from time to time, giving West Virginia a taste of its own medicine.
In the first half, WVU turned the ball over 12 times on 34 possessions. The Mountaineers hit just 7-of-28 shots through the first 20 minutes as well, finishing with 16 first-half points. David McCormack recorded two strong blocks, but the defensive showing was mostly due to terrific on-ball defense by Kansas.
•Up next: Kansas travels to Texas Tech at 7 p.m. Saturday.