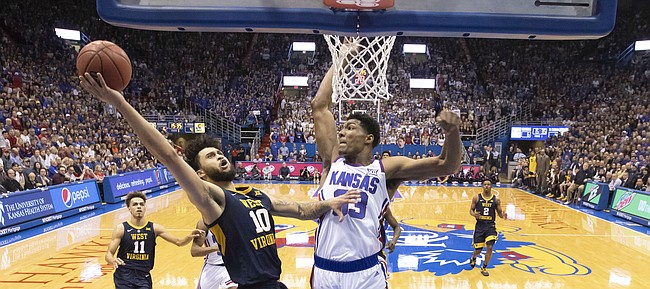 Unfailingly at his most crotchety after a one-sided defeat, West Virginia basketball coach Bob Huggins was less than thrilled about discussing what had just transpired at Allen Fieldhouse on Saturday during his postgame press conference.
Huggins' Mountaineers had just shot 33.9 percent from the floor, a number that plunged with every one of their 20 missed 3-pointers on 23 attempts. Further contributing to their coaches' irritability, WVU's players turned the ball over on 24 occasions — averaging out to slightly more than three giveaways on every 10 trips down the floor.
The numbers led one to think Kansas just may have played some stellar defense in its 78-53 win.
But did Huggins see it that way?
"We helped that. We help everybody look better," Huggins began, when asked if he noticed an improved defensive team from the one WVU faced four weeks earlier.
Photo Gallery
Kansas basketball v. West Virginia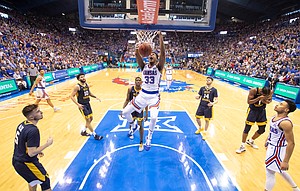 View a gallery of images from Saturday's game between the Jayhawks and Mountaineers at Allen Fieldhouse.
However, the grizzled coach, who would go on to bemoan his own team's defensive efforts, quickly conceded that the Jayhawks did display some important qualities while scheming to stop his Mountaineers.
"I thought they were a little more aggressive," Huggins said. "They were more physical than what they were in Morgantown."
Decidedly, the Jayhawks' assertiveness on defense set them up for their third victory in a row. West Virginia (10-15 overall, 2-10 Big 12) stood no chance after No. 14 KU (20-6, 9-4) held the visitors to a stingy 16 first-half points, the lowest total by a KU opponent since TCU scored nine in a half in 2013.
The Jayhawks' activity didn't let up once they opened the game with a terrific sequence defensively. Dedric Lawson caught 6-foot-10 WVU big man Derek Culver off guard by smothering him with a double team on the catch, Lawson's and David McCormack's long arms pressuring Culver into a pass out of bounds.
It was that type of play that encouraged Bill Self about his team's defense.
"I actually thought our traps were good the first half," Self said when asked what he liked from his players on that end of the floor. "I thought we rebounded the ball defensively really well after the first four minutes."
As the coach referenced, WVU jumped out to a 6-1 rebounding advantage, with five of those boards coming on the offensive glass, before the game's first media timeout.
After that point, though, KU strung together stops for much of the first half, as the Mountaineers only secured two more offensive rebounds and headed to the locker room with 4 second-chance points after shooting 7 for 28.
"So that's pretty good when you miss 21 shots in a half and you only get 7 back the way they go after the ball," Self said. "That wasn't bad for us."
The Jayhawks even pleased their coach by playing closer to what was asked of them in the scouting report, he added.
But Self wasn't about to heap praises on them.
"I mean, we did some better things. But the reality of it is," he said, "you can't probably guard them the same way we did if they had their full complement of players."
No, WVU didn't have Esa Ahmad or Wesley Harris — both kicked off the team recently — or injured would-be starters Sagaba Konate and Beetle Bolden.
But there's something to be said for the way the Jayhawks, short-handed themselves you'll surely remember, never allowed WVU's players to get comfortable or confident.
The Mountaineers' 24 turnovers were the most by a KU opponent since Howard committed 24 in 2011. Credit Devon Dotson, Ochai Agbaji and Quentin Grimes for setting a tone on the perimeter.
"Just keeping your man in front, pressuring the ball, making it hard for them to make entry passes, to pass the ball side to side and stuff," Dotson said of what KU's guards hoped to accomplish. "Putting pressure on them, and I thought the bigs did a great job on Culver today. He's a force. I thought they did a good job today."
Indeed, the Jayhawks made a concerted effort early on to take away Culver, the most likely effective scoring option on the visitors' roster. The big man went 0 for 6 in the first half with 1 point and 2 turnovers and finished the loss shooting 2 for 10 and scoring 9 points.
West Virginia only scored 20 points in the paint, in large part because KU bigs David McCormack and Mitch Lightfoot protected the area around the basket so well.
"You know what, they're blocking shots," Self said, when asked what McCormack (2 blocks) and Lightfoot (3 swats) provided defensively with their liveliness inside. "David is a heavier body, even though he fouls too much and Mitch does, too. At least it allows Dedric to not have to guard the five, which is good for us in most situations. So I think they've both been good for us. And we've been better with ball screen defense since we've been playing two bigs than we were playing one big."
No one appreciates what McCormack (10 points, 4 rebounds) and Lightfoot (5 points, 7 boards) provide more than Lawson.
"Mitch and David, those guys are great. You've got to give those guys credit. Not playing that much through the year," Lawson said of their roles before KU lost Udoka Azubuike, Marcus Garrett and Lagerald Vick from the rotation. "And they still go out there every single game and compete and play, and play extremely hard. So you've got to give those guys credit. They're definitely the heart and soul of the team as far as the bigs."
KU may not have defeated the most formidable teams the Big 12 has to offer in winning three games in a row, but the Jayhawks are playing more inspired defensively now than they did earlier in the season.
With five games to go in what still looks like a wild Big 12 title race, they're trending upward as a defensive team. And especially with their four freshman starters, their fervor seems to grow as they get more comfortable.
Far more talented teams await KU in the weeks ahead, beginning with arguably their most difficult remaining regular-season game on the schedule, at Texas Tech next weekend.
Lawson, while discussing KU's improving defense, already had that crucial matchup on his mind seven days before the showdown in Lubbock, Texas.
"(Self) said we played good defense the first half, and the second half, we let them get a couple of easy baskets, well, one time they got an easy leak-out, things like that," Lawson shared after the WVU win. "Just cutting down on easy baskets, that's something that, going forward at Texas Tech, we've got to do to win the game."
Constantly looking for ways to improve, the Jayhawks need to replicate the defensive energy they showed against West Virginia every time they step on the court if they want to keep the program's incomparable conference title run alive.