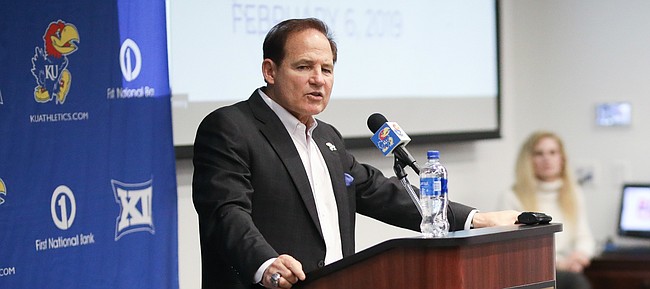 As the Kansas football program's 2019 recruiting class grew by nine players on Wednesday, National Signing Day revealed a peek into the mind of first-year head coach Les Miles.
All the deliberate assessments and planning that went into Miles' first recruiting class since re-entering the coaching ranks culminated with the Jayhawks winning over a number of talented high school prospects.
"The key is to fill the roster and to fill that roster answering the needs of your football team," Miles said during his press conference, as he shared his thoughts on the entire class while speaking with local media members for the first time since he was introduced as KU's new coach back in November.
Miles didn't back down from the notion that many of the newest members of the program will be able to contribute as soon as this coming fall.
Including the 11 December signees, KU's class features four defensive linemen, three linebackers, three quarterbacks, two running baks, two receivers, two cornerbacks one safety, one tight end and one kicker.
Miles said all of the 19 players he discussed will be on scholarship, marking a modification from 15, the number he had cited back in November.
"Really anticipated this number kind of from the start," Miles stated Wednesday, when asked if the class ended up being larger than he anticipated initially.
Class includes 3 QBs
The first February signing day for Miles at Kansas got off to an eventful start as the Jayhawks added another quarterback to their class.
A 6-foot-2 prep QB from Kannapolis, N.C., Jordan Medley was KU's first signee announced on Wednesday morning.
Though Rivals hasn't assigned any stars to Medley, programs such as Charlotte, UMass, Army and Air Force extended offers to the athletic QB, whose open-field speed drew some oohs and ahhs during Miles' press conference, when he showed a video clip of Medley taking off for a highlight reel run.
Miles said Medley, who passed for 2,203 yards and 17 touchdowns as a senior at A.L. Brown High, "probably" runs a 40-yard dash in 4.55 seconds.
During December's early signing period, KU added Thomas MacVittie, a 6-5 pro style QB from Mesa Community College (Ariz.).
MacVittie, whose college career began at Pitt, will be a junior this coming season, while Medley will be a freshman. Miles said he recruited MacVittie at his last job at LSU, and he thinks the QB has since grown into "something special."
KU's 2019 class also includes QB Torry Locklin, who first announced his intentions to play at KU back in February of 2018, seemingly becoming a member of what proved to be the previous regime's final recruiting class.
However, the two-star dual threat QB was asked by the coaches to wait a year. Miles and his new assistants decided to keep Locklin in the mix after the Texas native spent his first semester as a college student only taking classes at a junior college and not playing.
Miles said it's possible either Locklin or Medley could end up switching to another position.
Linebacker flips from K-State to KU
One of the biggest victories of the day for Miles and his staff came when Gavin Potter, a three-star linebacker from Broken Arrow, Okla., decided to join the Jayhawks.
Potter, a three-star talent, had been committed to Kansas State since late October and also was considering signing with Texas Tech.
The efforts of defensive coordinator D.J. Elliot, inside linebackers coach Mike Ekeler and Miles amid what the head coach characterized as a "very competitive recruiting process" helped flip Potter to the Jayhawks.
Potter was named a first team all-state defender by The Oklahoman, and he recorded 92 total tackles his senior year for Broken Arrow's 6AI state championship team.
Dallas standouts sign with KU
The most touted prospect in KU's 2019 class made his decision official, when South Oak Cliff High (Texas) four-star defender Steven Parker signed with the Jayhawks.
KU listed Parker (6-4, 220) as a linebacker and Eliot said that will allow the athletic prospect to rush the passer within the defense's 3-4 scheme.
The Jayhawks' receivers coach, Emmett Jones, led the recruitment for Parker and also successfully landed Velton Gardner, a three-star running back from Dallas Skyline High, where Miles said the team's best player lined up at either slot receiver, quarterback or running back.
Gardner was previously a target of Big 12 programs K-State and Texas Tech.
Jayhawks land former Michigan recruit
Once a member of the 2019 recruiting class at Michigan, Amauri Pesek-Hickson will instead join the Jayhawks.
Two days after decommiting from the Wolverines, the in-state prospect from nearby Blue Valley North signed with KU.
Rivals rates Pesek-Hickson, whom Miles described as a "big back," as a three-star athlete, and KU listed him as a 6-0, 225-pound running back. Because Pesek-Hickson is one of the top seniors in the Sunflower State, Miles said he began studying the in-state signee shortly after taking over at Kansas.
CB Logan picks KU
A three-star high school prospect from St. Augustine, Fla., who picked up offers from such programs as Miami, South Florida and Ole Miss, among many others during his recruitment, Kenny Logan Jr. ultimately decided to relocate to Big 12 country and join the Jayhawks.
According to Jon Kirby of Jayhawk Slant, Eliot and defensive backs coach Chevis Jackson led the recruiting efforts with Logan.
Logan said that, during his recruitment, Miles told the young defensive back that he reminded the coach of one of his former LSU standouts, Tryann Mathieu, also known as the "Honey Badger."
Alabama preps headed to Kansas
KU's high school-focused day of signing included the Jayhawks landing a pair of defenders from Alabama.
Marcus Harris, a 6-2 defensive lineman, is rated a two-star prospect by Rivals and Miles was high on his potential.
Formerly committed to UAB, Jerome Robinson, a 6-3 linebacker, also signed with KU. Robinson is rated a two-star prospect by Rivals. Miles lauded Robinson's athleticism, adding he's also a standout high school basketball player.
Ford no longer included
When KU announced members of its signing class in December, the 11-player list included Justin Ford, a junior college defensive back.
The 3-star cornerback, however, is no longer listed among the Jayhawks' signees.
Ford played at Golden West College (Calif.).
KU football's 2019 recruiting class
(ratings from Rivals; √ = signed)
National Signing Day signees
√ 4-star South Oak Cliff H.S. (Texas) LB Steven Parker (6-4, 220)
√ 3-star Broken Arrow H.S. (Okla.) LB Gavin Potter (6-2, 205)
√ 3-star Dallas Skyline (Texas) RB Velton Gardner (5-9, 190)
√ 3-star Blue Valley North H.S. RB Amauri Pesek-Hickson (6-0, 225)
√ 3-star Menendez H.S. (Fla.) CB Kenny Logan Jr. (6-0, 195)
√ 2-star Park Crossing H.S. (Ala.) DL Marcus Harris (6-2, 265)
√ 2-star Carver H.S. (Ala.) LB Jerome Robinson (6-3, 235)
√ A.L. Brown H.S. (N.C.) QB Jordan Medley (6-2, 200)
√ Westerville Central H.S. (Ohio) K Jacob Borcila (6-2, 170)
December early signees
√ 3-star St. Thomas Aquinas H.S.S Jayden Russell (6-3, 190)
√ 3-star McEachern H.S. (Ga.) CB Valerian Agbaw (5-10, 170)
√ 3-star Mesa C.C. (Ariz.) QB Thomas MacVittie (6-5, 225)
√ 3-star Iowa Central C.C. WR Ezra Naylor (6-4, 210)
√ 3-star Iowa Western C.C. DE Malcolm Lee (6-5, 270)
√ 2-star Coahoma C.C. (Miss.) DL Caleb Sampson (6-4, 285)
√ 2-star Iowa Central C.C. WR Andrew Parchment (6-2, 185)
√ 2-star Meridian H.S. (Miss.) DL Da'Jon Terry (6-4, 350)
√ 2-star Andale H.S. TE Mason Fairchild (6-5, 250)
√ 2-star Rochdale H.S. (Texas) QB Torry Locklin (6-2, 195)