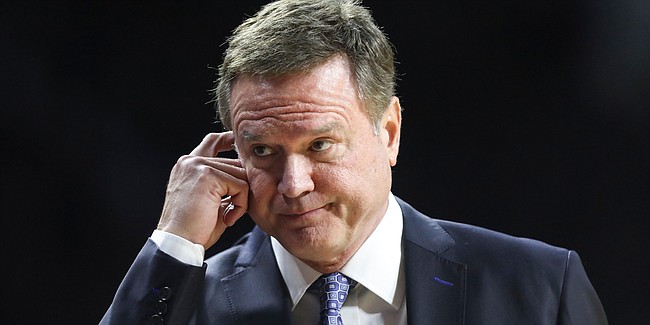 Manhattan – The Kansas men's basketball team certainly has come from behind a time or two to win the Big 12 regular-season title before.
You don't extend a streak of any kind to 14 in a row without a little late-in-the-game luck and a dose of heroics.
But if the 13th-ranked Jayhawks hope to push their NCAA-record run of 14 consecutive Big 12 crowns to 15 in the next month, they are going to have to summon up the strength to come from behind again.
How far behind remains to be seen. But, as of Tuesday night, when the Jayhawks (17-6 overall, 6-4 Big 12) lost 74-67 to Kansas State at Bramlage Coliseum, the margin was two games in the loss column with eight games to play.
Photo Gallery
Kansas basketball v. Kansas State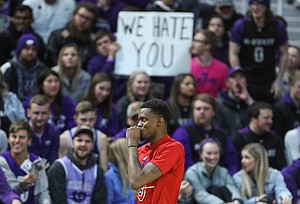 View a gallery of images from Tuesday night's game between the Jayhawks and the Wildcats at Bramlage Coliseum.
"That's obviously a concern," KU coach Bill Self said after Tuesday's loss. "We've put ourselves in a position where, you think, 'Well, K-State's got to come to our place and if we get 'em and do what we're supposed to do at home, it's a half-game deal as opposed to a game and a half.' You think like that. But that's not how you should look at it."
So how should you?
Self tapped in to former Indianapolis Colts coach Jim Mora, whose "Playoffs!" rant is one of the most famous of all time, to further explain his current perspective.
"I feel like I should be Jim Mora right now," Self began. "Because we shouldn't even be concerned about the damn race right now. We should be concerned about, you know, trying to win a game and playing the right way and having the freshmen grow up and having some leadership and things like that that obviously (were) lacking today.
"Are we in a great position to win the league? No. Do we deserve to be in a great position? Absolutely not. Can we flip the switch? It remains to be seen."
Rather than dwelling on the specifics of Tuesday's loss — the 23 turnovers, the inept offensive execution and the 44-34 second-half deficit that turned a halftime lead into a crushing loss, to name just a few — Self drilled down to the core of KU's problems, which, according to him, are much bigger and have lingered longer than anything seen in a single night.
"We're obviously dealing with our fair share (of issues) right now," Self explained. "But don't put it on just turnovers or this or that. No, it's leadership. It's toughness. It's paying attention to detail. It's understanding what we're doing. There's a lot of things that happened before we even got to Manhattan that were reasons why we weren't successful."
Mental toughness?
"No, I'm talking everything," Self said. "Mental, physical. Yeah, this team doesn't have much (of that) right now."
As a result, the Jayhawks will return home in search of the magic elixir that only can come from a cozy game in Allen Fieldhouse.
It worked last Saturday, when Kansas played arguably its best game of the year and drubbed No. 16 Texas Tech. And the team coming to Lawrence this Saturday does not have near the talent nor pedigree of the Red Raiders, who responded to the loss in Lawrence by destroying West Virginia by 31 Monday night in Lubbock, Texas.
After Saturday's 11 a.m. game against Oklahoma State, however, the Jayhawks will go to TCU next Monday and then to Texas Tech on Feb. 23. Sandwiched in between there is another home game against a team near the bottom of the Big 12 standings — West Virginia on Saturday, Feb. 16 — and even if the Jayhawks sweep their 4 remaining home games, they likely are going to have to find a way to win on the road at some point if they want to stay in the race to the end.
Again, though, neither Self nor his players were too worried about the big-picture, down-the-road stuff on Tuesday in Manhattan.
"We've just got to try to get better and win a game this Saturday," Self said. "I talked to them for 3 minutes (in the locker room). I didn't sense anything. I don't think there was any discussion about, 'Yeah guys, one game at a time.' It wasn't like that. It was like, 'Hey, we got our ass kicked and we've just got to take one game at a time.' That was the extent of the conversation."
The conversation in the other locker room was vastly different.
For the K-State seniors, the joy of Tuesday's victory was obvious and evident more than an hour after the final horn sounded.
"It's a bucket-list win," K-State senior Dean Wade said after helping his team improve to 17-5 overall and 7-2 in the Big 12. "It also gets a little space in the Big 12 standings. I know Baylor (15-6, 6-2) is still up there with us, but to get this win puts space between us. The more space, the better, because in the Big 12, you never know what is going to happen."
Added K-State point guard Kamau Stokes: "This is unbelievable. Rivalry game at home. Our first time (beating KU). And it's our senior year, to go out at home with a bang."
Those two, who walked down the ramp from the press room back to the K-State locker room with their arms around each other and smiles still plastered on their faces, handled the big-picture stuff. And fellow senior Barry Brown Jr. — who made an attempt to punctuate this one with a buzzer-beating dunk, just like a former Kansas player and one-time K-State Public Enemy No. 1 did during Brown's freshman year — brought a little comedy and spice to this year's rivalry game.

"Shout out Brannen Greene," Brown said after Tuesday's victory.