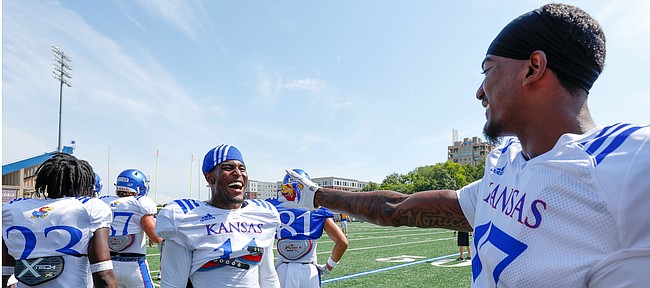 By now, you have surely seen it.
This past weekend, a video from a Kansas football team meeting surfaced via social media. KU head coach Les Miles, who is now a little over two weeks away from his debut with his new team, was captured dancing to 'Before I Let Go' by Frankie Beverly & Maze.
In the video, many KU players are encouraging Miles and capturing his dance moves on their phones.
"Coach Miles, he's a real cool coach," junior inside linebacker Kyron Johnson said. "You have to see him and who he his. He's a really fun coach."
It is not the first time that 'The Mad Hatter' has put on a show like this. After the Spring Game, in fact, Miles joined Rick Ross up on stage. And it is unlikely that this recent old-school jam session will be Miles' last act.
Johnson was actually the person behind the song choice. Johnson, who has a well-documented fascination with older music, decided it was time to listen to something other than rap before a recent team meeting.
At the time, Johnson wasn't sure how his teammates — and more importantly his coaches — were going to react. Of course, what transpired was even better than Johnson could have imagined.
"I wanted to put everybody in a good mood and play some old-school music," Johnson said. "He came along with the other coaches and just started dancing in a group with all of us. It was a like a family moment. We were just having a good time."
But it exemplifies what is different about the Jayhawks entering the 2019 campaign.
The concept of changing a culture can be overblown when a new coaching staff takes over, particularly within the first year. It is too early to tell if the culture of the KU football program is significantly different under Miles. It might even take a few years to get a verdict on that.
All that being said, it is clear that there is something different about the program.
"There is just way more energy, it is more positive energy than last year," Johnson said. "We had energy, but it wasn't the type of energy that we needed like the energy that we have now."
That newfound energy is a testament to the new coaching staff across the board, according to many of the KU players. The energy has been there for much of preseason camp.
"I'm going to say the energy that they bring and how they can relate to the players better," junior linebacker Dru Prox said of the biggest difference with the new coaching staff. "They really understand what you are missing and how to address that. How to make you do your job on the field."
It remains to be seen if any of it will translate to success on the gridiron. At the very least, the Jayhawks appear to be having more fun. For a program that hasn't won more than three games in a season since 2009, that is at least a step in the right direction.