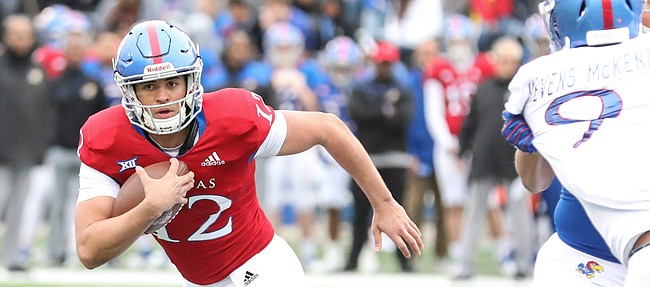 As the competition for the starting quarterback job continues to unfold during preseason football practices, a young QB is finding ways to make his mark, too, even if that doesn't vault him into the marquee battle.
On a roster that features a mass of quarterbacks beyond the frontrunners for the depth chart's No. 1 spot, junior Thomas MacVittie and senior Carter Stanley, the only other QB head coach Les Miles has made a point to bring up on his own during media sessions is a true freshman.
While discussing the aforementioned QB race this past weekend, Miles shared that Torry Locklin, a 6-foot-2, 210-pound reserve from Rockdale, Texas, "had a nice day," too, during KU's Saturday scrimmage.
Unlike other freshmen, Locklin has been on campus since January. He first announced his intentions to play at KU back in February of 2018, seemingly becoming a member of that year's recruiting class.
However, the dual threat QB was asked by the previous coaching staff to wait a year before enrolling. Miles and his new assistants kept Locklin in the mix after the QB spent his first semester as a college student only taking classes at a junior college and not playing, before joining KU the following semester — what is known in college football circles as grayshirting.
The way Miles explained his approach with KU's reserve quarterbacks, such as Locklin, the head coach and his offensive assistants want to at least give the QBs not named MacVittie or Stanley a chance during preseason sessions to show what they can do.
"We're giving a number of reps, just to see if down the road with a new offense at some point in time one of these new guys picks it up and suddenly gets on fire," Miles said.
Following the closed practice in which Locklin drew some praise from his head coach, one of the team's expected impact receivers, junior Andrew Parchment, revealed what he has seen from the first-year QB.
"Torry, I feel like he's a dual threat guy," Parchment began. "He's a leader, too. So it doesn't matter who's in (at QB). He just came in January with me and he's already telling guys what to do, yelling at guys, you know what I'm saying? It's all fun."
Locklin made his unofficial KU debut during the spring game this past April. While he only attempted five passes, completing two for 11 yards, Locklin also delivered one of the chunk yardage touchdowns for the offense, taking off for a 38-yard score.
Parchment, a junior college transfer in KU's 2019 signing class, said he loves the way Locklin plays the position.
"He had a great spring game, as well, using his legs when things broke down," Parchment said. "It doesn't really matter who's in. We're going to get things going."
As a high school prospect in the Class of 2018, Rivals ranked Locklin as a two-star talent. During his senior season at Rockdale High (Texas), Locklin led the team to the 3A state championship.