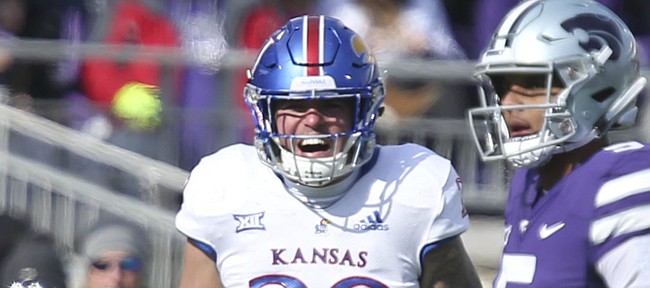 As a small group of friends and family gathered at his parents' Lawrence home on Saturday, Joe Dineen waited.
The former University of Kansas linebacker knew becoming an NFL draft pick was no guarantee. He also figured he had a chance.
Dineen's production and accolades over the past couple of seasons fueled his optimism.
KU's all-time leader in career tackles for loss (45.5), Dineen led all FBS players in solo tackles per game each of the past two years — 9.0 in 2018, and 7.8 in 2017. As a redshirt senior, he became a consensus first team All-Big 12 linebacker, as well as a second team All-American, according to the Associated Press and Sports Illustrated.
However, on what Dineen described as a "stressful" day, the final four rounds went by without him seeing his name appear on the TV screen he kept finding himself watching, even though he really didn't want to.
So what kept any of the league's 32 teams from selecting Dineen in the seven-round, 254-pick draft?
"I don't know. I honestly have no idea," Dineen told the Journal-World. "That question has popped up a lot, and I spent some time thinking about like, 'What the hell's going on?' But I didn't really come up with an answer."
He asked his agent, Tom Mills, the same question, and despite Mills' 20-plus years of experience in the business, all he could tell Dineen was the draft is always unpredictable.
"I don't know what they were looking for, but I'm confident in myself," Dineen said. "All I needed was a shot. So I'm excited."
Denver 'good spot for Jayhawks'
The mood inside the Dineen household shifted toward a joyful one swiftly on Saturday, when the Lawrence native and Free State High graduate agreed to join the Denver Broncos as an undrafted free agent.
"Literally 10 seconds after the draft got over the linebacker coach called me," Dineen said of his phone conversation with Broncos assistant coach Reggie Herring.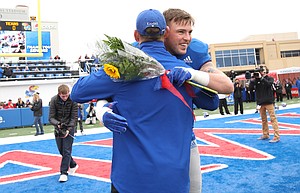 Conversations between Mills and Denver began, Dineen shared, during the draft's sixth round, once the Broncos had exhausted all of their six picks — none of which they used on a linebacker.
What Herring told Dineen inspired the linebacker to accept Denver's offer before the phone call ended.
"Just that I'd be able to come in and compete," Dineen shared of Herring's message.
According to Dineen, the Broncos assistant told him about the team's need for a backup inside linebacker and related how high special teams coordinator Tom McMahon was on Dineen's potential.
"They seemed to have a plan for what they wanted to do with me, and I liked that," Dineen said. "I just felt like it was the best opportunity for me to go in and make the team. So we pulled the trigger."
Although Dineen spent much of his younger days as a Kansas City Chiefs fan, he also dabbled in some Broncos fandom, because one of his favorite childhood players, Peyton Manning, ended up in the Mile High City. So wearing the Broncos' orange and blue won't be difficult for him.
What's more, there was something else about Denver that stuck out for him.
"All the Jayhawks that have actually went there and been successful is something that's appealing, too," Dineen pointed out, citing current Bronco Chris Harris Jr., as well as former Broncos Aqib Talib and Steven Johnson.
"I just feel like it's a good spot for Jayhawks," Dineen said. "I think they treat us pretty well."
During the latter stages of the draft, representatives from Baltimore and Philadelphia reached out to Dineen, as well. But the Broncos made him more comfortable about his future.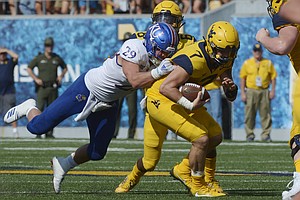 "I just felt like the plan for me at Denver was something they had thought of," Dineen said. "You could tell it wasn't just a spur of the moment situation for them."
'Uphill battle' awaits Dineen
Although Denver made Dineen a post-draft priority, that doesn't mean his path to an actual NFL career will come easily.
For the next week or so, he'll remain in Lawrence, going through "tough workouts" with KU football strength and conditioning coach Zac Woodfin.
Those sessions will help prepare Dineen for Denver's rookie minicamp, which begins May 9.
He's confident he'll be able to stick around for organized team activities and preseason training camp, but few things in the NFL are guaranteed.
"The plan is to be fully a part of it all now," Dineen said of joining the Broncos, "and try and just take it one step at a time but keep making it through all the cuts."
Dineen knows he will have to impress the Broncos' coaching staff to land a spot on the regular season roster, and that doing so will be challenging.
So what will he have to prove to his new coaches?
"I think a big thing is getting a grasp for the defense. I think for rookies that's one of the hardest things is going in there and picking up the playbook," Dineen said. "And then I think one of the most important things is going to be special teams. You can't necessarily expect to go in and get a bunch of snaps on defense. You've got to make your living on special teams and then keep learning the playbook and kind of give yourself extra time by performing on special teams."
Along the way, Dineen will have that undrafted label doubling as a motivating factor to pair with his long-awaited dream of playing in the NFL.
"It's kind of like going in with a chip on my shoulder for sure," Dineen said. "It doesn't make me feel any less confident that I wasn't drafted. But it also in a sense kind of pisses me off. I think I've got stuff to prove to my coaching staff at Denver and then the teams that we play that essentially passed up on me. It'll be an uphill battle for sure, but I'm excited. There's not a lot of people that even get this far. So I'll just take it one step at a time."