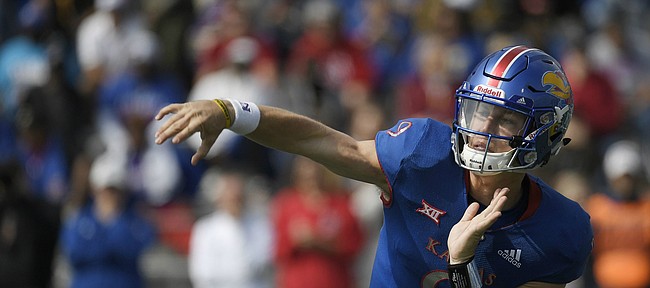 After four weeks of starting Peyton Bender at quarterback and rotating the senior in and out of the lineup to varying degrees each game, Kansas football coach David Beaty took an entirely different approach against Oklahoma State on Saturday.
Not only did Carter Stanley replace Bender at QB, but the redshirt junior took every snap during KU's 48-28 homecoming loss to the Cowboys, in front of 18,364 fans.
"We just felt like he was going to give us the best chance going into the game," Beaty said of Stanley, who completed 75 percent of his 32 passes for 247 yards and three touchdowns. "I think his skill set fits a little bit better with a very active defensive line and a blitz package that possessed some speed, and (Stanley) allowed us to escape maybe a little bit more than we could've with Peyton."
The pregame plan, Beaty added, was to put Bender in against the Cowboys, too.
"But the game just never really went in that direction," KU's coach added, minutes before four separate questions regarding the QB situation during his postgame press conference prompted Beaty to say he wouldn't talk about the position any longer.
Document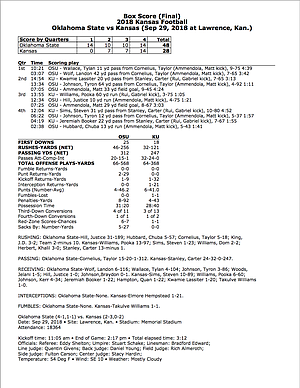 Stanley, who played sparingly against both Rutgers and Baylor, said he had a "pretty good feeling" this past Monday, after speaking with coaches, he would start against OSU.
"But it was definitely an adjustment reps wise, going from taking (third-string) reps to first this week," Stanley shared. "They wanted to feel it out and see how I did and they felt comfortable enough with me."
Although no sort of announcement, even to Stanley's teammates, accompanied the change, the Jayhawks figured out which way the offense was headed with Stanley taking more first-team snaps during practices.
"I had a lot of encouragement from the guys," Stanley said. "They were awesome, kind of boosting me up and saying they were excited and all of that. It felt good."
Stanley didn't throw any interceptions in the defeat, but was sacked five times on a day that he also tied his career high of three TD throws.
Did he show enough to win the job?
"That's not up to me," Stanley said. "Me personally, I know I can be a lot better. I'm a little bit under the weather. I'm just kind of bummed. I'll have to see it on film, but I know I can be a lot better just on some simple things, some more major than others."
After the loss, Beaty balked at deciding upon the starting QB for next week's game at West Virginia.
No Kendrick vs. OSU
The plan this season, Beaty said back in August, was to play quarterback Miles Kendrick every week, even though the sophomore didn't win the starting job in preseason camp.
That plan, of course, was contingent on Kendrick's health. After playing in KU's first four games, Kendrick missed Saturday's loss to Oklahoma State, at David Booth Kansas Memorial Stadium, due to injury.
Photo Gallery
Gallery: KU football vs. Oklahoma State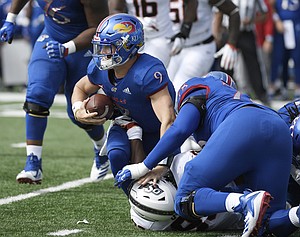 Kansas suffered a 44-28 loss to Oklahoma State Saturday at David Booth Memorial Stadium. The Jayhawks (2-3, 0-2 Big 12) have dropped the previous nine meetings with the Cowboys (4-1, 1-1).
A week earlier, in the third quarter of KU's loss at Baylor, Kendrick appeared hurt his shoulder and did not return to action.
On the season, Kendrick has completed 11 of 19 passes for 100 yards with a touchdown and rushed for 47 yards on 16 carries, with a long of 13.
In Kendrick's absence redshirt freshman Miles Fallin served as KU's third quarterback.
This and that…
• Freshman running back Pooka Williams recorded a career long reception of 21 yards in the first quarter. He later tied that mark with a second 21-yard reception in the third quarter. Williams made six catches for 60 yards and also rushed for 98 yards and a touchdown.
On the first drive of the third quarter, Williams broke a 60-yard touchdown run, which was the longest score of his four-game-old career and the longest TD rush by a Jayhawk since Khalil Herbert went 67 yards for a score against West Virginia in 2017.
Williams has rushed for at least 40 yards on one of his carries in every game he has played this season. His eight 20-plus yard rushes are the most in a single season since Jake Sharp finished with eight in 2008.
• Senior receiver Jeremiah Booker, who caught a 22-yard TD in the fourth quarter from Stanley, became the first KU player to have a touchdown reception in three straight games since Jimmay Mundine in 2013.
• KU senior receiver Steven Sims Jr. broke his career high for single-game receptions, with 10. The last Jayhawk to make 10 catches in a game was Dezmon Briscoe, who had 14 against Missouri in 2009.
Sims increased his career touchdown total to 17, which moves him into a tie for third place all-time with Willie Vaughn (1985-88) and Bruce Adams (1972-74).
• Junior cornerback Elmore Hempstead Jr. came away with his first career interception in the third quarter.

This season the Jayhawks have eight different players with interceptions — Corione Harris, Jeremiah McCollough, Joe Dineen, Shakial Taylor, Bryce Torneden, Ricky Thomas, Mike Lee and Hempstead. That is the most players with an interception since 2009, when Kansas finished with nine.
Dineen up for honor
Redshirt senior linebacker Joe Dineen, who made 10 total tackles against Oklahoma State, became one of 30 FBS student-athletes selected this week as a candidate for the 2018 Senior CLASS Award. To be eligible for the award, a senior player must have notable achievements in four areas of excellence: community, classroom, character and competition.
An acronym for Celebrating Loyalty and Achievement for Staying in School, award focuses on the total student-athlete and encourages students to use their platform in athletics to make a positive impact as leaders in their communities.
Dineen has been active in numerous community service initiatives across the Lawrence community, including KU's elementary school reading program, children's football clinics, Special Olympics football clinics and feeding the homeless with JustFood. He also is passionate about raising funds and awareness for childhood cancer research.