David Beaty wasn't the first football coach to say he needed to look at the film before evaluating a player's performance. And if the fourth-year leader of Kansas' program lets the minutia of the Oklahoma State game film outweigh the big picture that unfolded on the field, he won't be the first to do that either.
But if Beaty does nitpick until he sees enough to justify basing his decisions on which quarterback to start on how each one matches up against the next opponent, he would be making a mistake.
Even in a 20-point loss Saturday, Carter Stanley did enough to expect to start each of the remaining seven weeks on the schedule, barring injury. Notice I didn't say barring injury or illness, just barring injury. Stanley proved Saturday that illness isn't enough to scratch him from a start. On Friday, he caught a bug that's been making the rounds on the team, and on Saturday morning, he said, he threw up. His performance was far cleaner than that image.
Photo Gallery
Gallery: KU football vs. Oklahoma State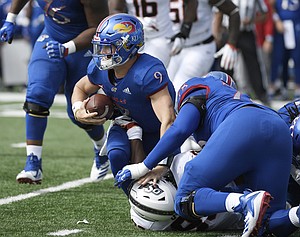 Kansas suffered a 44-28 loss to Oklahoma State Saturday at David Booth Memorial Stadium. The Jayhawks (2-3, 0-2 Big 12) have dropped the previous nine meetings with the Cowboys (4-1, 1-1).
Stanley completed 24 of 32 passes for 247 yards and three touchdowns without throwing an interception. It wasn't enough at any point during the day for an upset to seem like a realistic possibility in a game Oklahoma State won at David Booth Kansas Memorial Stadium, 48-28, but it was enough to settle the score as to the team's best option at quarterback.
Beaty wasn't ready to say that just yet, though, during his postgame media session.
"What we'll do is we'll go back and look at the tape," Beaty said. "It's hard for me to make that assumption without looking at the video."
As usually seems to be the case when Stanley plays, the offense had a little more vigor to it.
He's a gamer, and the other players on field look as if they feed off of that. The blowouts don't seem to come as easily, and the numbers against Big 12 competition back that up. (Stanley has a 58.3 completion percentage in Big 12 games, averages 6.1 yards per attempt, and has thrown 10 touchdowns and 10 interceptions. Bender has a 50.7 completion percentage, 4.75 yards per attempt, four touchdowns and five interceptions.)
Back to Beaty at the podium discussing Stanley's day.
"There are a lot of things that we saw that we liked," Beaty said. "But honestly, it would be very premature for me to say that right now without looking at everything because sometimes, you'll look at something out there, and maybe we got away with something that you're like: 'Oh, that's not really how it should go, and we got lucky.' So we'll see."
Stanley's self-scout: "I was definitely happy to be out there, no doubt. It felt good. But me personally, I know just some simple stuff that may not seem like a big deal, I know I can be a lot better in certain situations."
Beaty talked about how the "air reps" Stanley took as third-string quarterback while the practice reps went to Peyton Bender and Miles Kendrick for the six weeks leading up to the Baylor game made him ready for Saturday. (Miles Kendrick injured his shoulder vs. Baylor and was unavailable Saturday.)
It's unusual for someone to go from the third string to being the only one to take a snap for an entire game, so naturally someone asked what led to that.
Oklahoma State leads the nation in sacks and Stanley has more mobility than Bender. That was a factor.
"They're an active front, and the match-up was not great if we weren't able to move," Beaty said.
Besides, he tried to say, just because Stanley wasn't getting real reps doesn't mean he was third string.
"So I don't look at it like you do. No disrespect, but I don't look at it as one, two, and three," Beaty said. "I know maybe that's semantics, but Carter's skill set fit what we needed, and we trusted him because he's prepared well. And it wasn't anything against Peyton. He's prepared well too."
Seeking clarification, a reporter wanted to know if every week the coaching staff will look at the matchup and see which quarterback fits the game plan best.
That's when Beaty turned prickly and interrupted.
"You're not going to bait me into that right now, brother," Beaty said. "Listen, I have to look at the tape. I mean, we're not talking about the quarterback, so no more questions about that. Let's go to something else."
The challenge among those he stared out at in Mrkonic Auditorium, of course, became to think of another quarterback question.
OK, so do you think Steven Sims (10 receptions for 89 yards and a touchdown, one run for 21 yards) being more involved than in previous weeks had anything to do with having better chemistry with Stanley?
No, the coach said, it might have had more to do with moving Sims from outside receiver to slot receiver.
I'd like to believe that nothing Beaty sees on video will dissuade him from reaching the conclusion that this team has one starting quarterback, but one haunting statement he made from the podium made it seem as if he prefers having three starting quarterbacks to having one.
"Hopefully, we'll get Miles back this next week, and we'll have a full room of competition," he said.
Document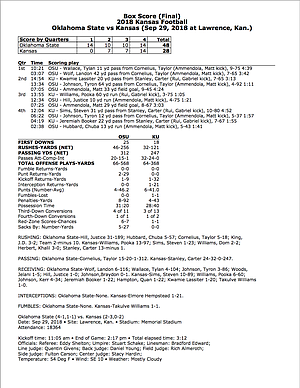 Coaches review the tape to make sure they saw what they think they saw. I had to go back to the tape to make sure I heard what I thought I heard. I did. Not only that, he wasn't joking.
Stanley completed 75 percent of his passes and at one point was 18 of 22. Ride that wave for the rest of the season.
If Beaty thinks doing so makes him look bad for making the best quarterback on the roster the third stringer for the first four weeks, there is an easy answer for that.
Something along the lines of, "We had hoped we would have great pass protection this season and with great pass protection we think Peyton can remind everyone that he once threw for 566 yards against East Mississippi Community College. Well, we're not quite ready to create long-lasting pockets against Big 12 defensive lines, so Carter gives us the best chance, and he has stopped the QB room door from spinning. Carter will start the rest of the season. We still have a lot of things that need fixing on this team, so it's nice to know who our quarterback will be while we're shoring up other areas."
That would have been a good answer, but it wasn't anything close to the ones he gave.
Who knows? Maybe Beaty will watch the tape, settle on Stanley and announce he's starting the rest of the season. Or maybe he'll show that nothing really has changed during his four years on the job.