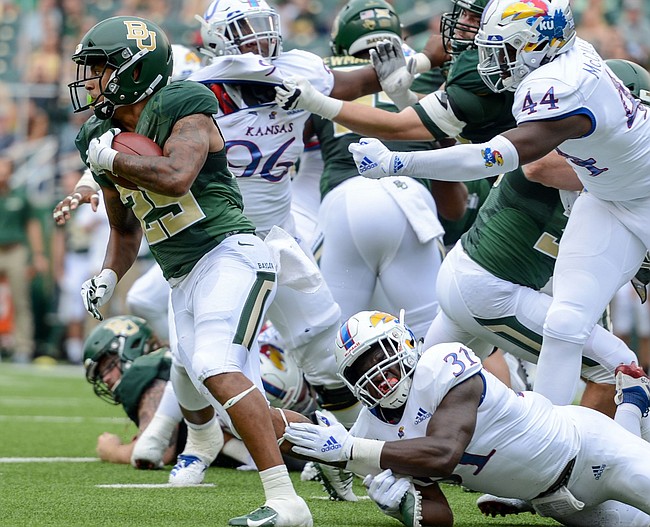 The harsh reality of Big 12 football hit visiting Kansas hard Saturday afternoon inside Baylor's McLane Stadium.
After winning their final two nonconference games by an average margin of more than 30 points, the Jayhawks couldn't score on the Bears until six-plus minutes into the third quarter and stumbled to a 26-7 loss.
BU led 23-0 by halftime after out-gaining KU (2-2 overall, 0-1 Big 12) 256-48 in the opening 30 minutes.
The Jayhawks picked up only five 1st downs before intermission with the Bears (3-1, 1-0) stifling their rushing attack.
Kansas finished the loss with 271 total yards, to Baylor's 446.
Senior KU quarterback Peyton Bender completed 10 of 17 passes for 105 yards and a touchdown. Sophomore backup QB Miles Kendrick connected on two of his four throws for seven yards. Junior Carter Stanley played late, netting 37 yards on four-for-six passing
The KU offense went without a turnover for a third consecutive game.
KU lost its 41st straight true Big 12 road game.
Here's a quick look back at some of the action:
• The game turned when: The KU rushing attack couldn't find any early rhythm or success against the largest, fastest defenders the Jayhawks have faced so far this season.
Not including BU's two first-half sacks, which sent KU a combined 20 yards in the wrong direction, the visitors only ran for 20 yards on 11 true rushing attempts before halftime.
Even true freshman Pooka Williams, coming off consecutive 100-yard outings, lost yardage on three of his nine first-half carries, which netted all of 16 yards.
By the end of a long afternoon for the KU offense, Williams completed his Big 12 debut with 89 of the team's 122 rushing yards — with 72 coming on one third-quarter carry.
• Offensive highlight: Not much looked good about KU's offense during a rough conference opener.
But sophomore Stephon Robinson made the team's most impressive effort of the first half on a pass over the middle from Peyton Bender.
The throw was on a trajectory to sail high over the 5-foot-10, 170-pound transfer from El Camino Junior College, but Robinson leapt high to get his fingers on it. Then, when he couldn't bring it in on the initial touch, Robinson kept his eyes on the tipped ball and completed a difficult 28-yard catch.
• Defensive highlight: With no takeaways for KU's defense this week, the Jayhawks had difficulty replicating the electricity that made back-to-back convincing victories against Central Michigan and Rutgers possible.
Photo Gallery
KU football at Baylor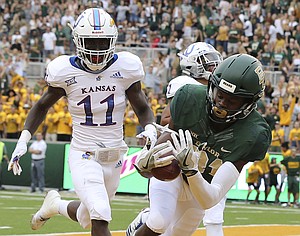 The Kansas football team opened Big 12 play with a 26-7 loss at Baylor, on Sept. 22, 2018. (Photos courtesy of Waco Tribune-Herald)
As usual, though, redshirt senior linebacker Joe Dineen racked up tackles for the unit.
Dineen made 13 total stops (11 solo) at BU. And with two tackles for loss, Dineen moved up to fourth place all-time in the KU record books for career TFLs (37), moving past former KU linebacker Ben Heeney (35).
• Key stat: Everything that Charlie Brewer did before halftime.
The Bears' sophomore quarterback could seemingly do no wrong early on, putting his team in thorough control.
Brewer completed 11 of his 14 throws in the first half for 151 yards and three touchdowns, often showing off his arm strength and precision.
What's more, Brewer also led BU in rushing yards in the first half, averaging 9.7 yards per attempt on the ground and totaling 58.
Brewer finished the Big 12 opener with 277 total yards and three TDs.
• Up next: The Jayhawks will be back at David Booth Kansas Memorial Stadium next Saturday to play host to Oklahoma State (11 a.m. kickoff).
SCORING SUMMARY
FIRST QUARTER
5:35 — Chris Platt 22 pass from Charlie Brewer. Connor Martin kick. Six-play drive for 47 yards, in 3:48. (BU 7, KU 0.)
SECOND QUARTER
14:52 — Tyquan Thornton 39 pass from Brewer. Martin kick. Six-play drive for 69 yards, in 2:40. (BU 14, KU 0.)
4:32 — Martin 45 field goal. Twelve-play drive for 55 yards, in 6:43. (BU 17, KU 0.)
1:37 — Josh Fleeks 34 pass from Brewer. Martin kick failed. Four-play drive for 46 yards, in 1:16. (BU 23, KU 0.)
THIRD QUARTER
8:32 — Jeremiah Booker 10 pass from Peyton Bender. Gabriel Rui kick. Seven-play drive for 90 yards, in 2:28. (BU 23, KU 7.)
5:00 — Martin 27 field goal. Nine-play drive for 65 yards, in 3:32. (BU 26, KU 7.)