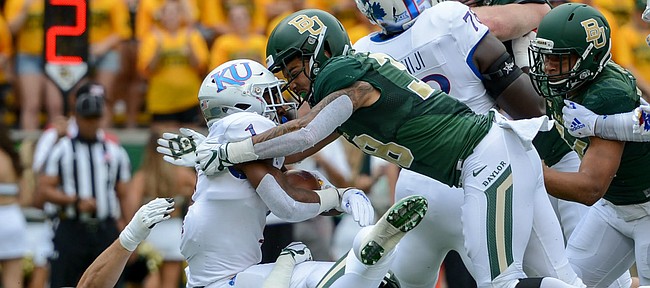 Waco, Texas — The Baylor football team's defense figured out how to take Pooka Williams out of the game for all but one big run and poof, just like magic, the Kansas offense vanished.
And even if the feel-good vibes born of a two-game winning streak against nonconference foes didn't completely disappear, they were pushed beneath the surface by a question that ruled the day: Has Kansas improved enough for it to translate into better results against Big 12 competition?
In this season's Big 12 opener, the answer was no. At halftime, the answer was hell no!
In scoring a 26-7 victory over Kansas at McLane Stadium, the Bears limited Williams to 89 net yards on 14 carries, and nothing else KU tried as a means of making Baylor pay for paying so much attention to the fleet freshman running back worked either. Williams picked up 72 of those yards on one third-quarter sprint down the right sideline, a play that set up Peyton Bender's 10-yard touchdown pass to Jeremiah Booker with 8:32 left in the quarter, drawing Kansas within 23-7.
Photo Gallery
KU football at Baylor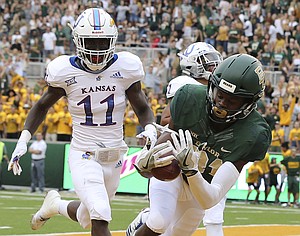 The Kansas football team opened Big 12 play with a 26-7 loss at Baylor, on Sept. 22, 2018. (Photos courtesy of Waco Tribune-Herald)
No other possession included a breakaway from Williams and in turn no other series resulted in a single point. For one unsightly half, the game shaped up very much like a typical first half of Bears running away from Jayhawks and rolling up a big advantage.
Baylor took a 23-0 lead into halftime and it would have been worse had J.T. Woods not dropped an interception Bender threw right to him, a pick that would have earned him six points with a return of less than 10 yards in the first quarter.
When halftime arrived to give Kansas the break in the action it needed, the statistics showed Baylor with 256 total yards and Kansas with 48.
Baylor's first-half dominance started up front with a defensive line that had its way with KU's blockers. Watching that made the pressing question bubble back to the surface: Has Kansas made enough improvements for it to make a difference against Big 12 competition?
"I did not think we were outmatched, I'll tell you that," fourth-year Kansas coach David Beaty said. "I did not think we were outmatched. I mean that with all due respect to Baylor. They have a really nice football team. Matt (Rhule) has done a really good job recruiting, but that's certainly not going to be an excuse. We had plenty to get it done. I didn't think we did a very good job of executing the game plan. Obviously, we didn't do a good enough job teaching it and we didn't get it done as a group."
Unlike in the previous two weeks, when Kansas combined for three touchdowns on interception returns in lopsided victories against Central Michigan and Rutgers, the defense wasn't able to help out the offense with any points in this one. KU had 13 takeaways in the first three games and just one turnover. Neither team turned it over Saturday, so those numbers haven't changed.
Kansas started the game by trying to establish the run and Baylor was intent on not giving any breathing room to Pooka, who entered as the leading rusher in the Big 12 with 288 yards, despite playing in one fewer game than the other top backs in the league. He gained six yards on KU's first play from scrimmage, but was thrown for losses of three yards on the third and fourth plays of the series. The Bears sent multiple tacklers after him, hit him hard, and piled on within the limits of the rulebook. If the Bears erred, they did so on the side of aggressiveness and amassed 140 yards on 13 penalties. The rough style for which they were flagged didn't keep them from accomplishing their goal, which was to keep KU's best offensive player from beating them.
"They loaded up the box pretty good and I thought we had a hard time getting push off the ball throughout the entire game," Kansas senior quarterback Peyton Bender said. "I feel like they kind of knew what we were trying to do. Obviously, we've been a run-heavy team, so we were trying to establish the run, couldn't really get it done, but shoot, they're an athletic team. They've got athletes all over the field. They came out and played harder than us. They played better than us today."
Baylor dared Kansas to go to the air by putting eight defenders in the box, not all that risky a strategy given that KU's receivers had trouble getting separation on the men covering them.
"Up front, I felt like they really controled the line of scrimmage today," Bender said. "We didn't get really good push and then we struggled to throw the ball, so there's no reason for them to lighten up the box. We just have to do a better job and play harder next week (vs. Oklahoma State in Lawrence)."
A Kansas pass defense that totaled seven interceptions in the first three weeks was torched for three touchdowns in the first half by Charlie Brewer, who also rushed for 58 yards in the first half.
Brewer was on the run when he spotted Chris Platt alone in the back of the end zone and hit him for an easy 22-yard touchdown. Corione Harris, with his back to the play, looked like a freshman in getting nowhere near the action.
Beaty explained that Harris originally did the right thing on the play and explained where things went wrong: "I don't think he knew that there was a guy behind him. (His responsibility) changes when quarterback breaks the pocket. There are times when you have to know that you have to latch on the nearest guy and I think he'll learn from that."
Baylor freshman Tyquan Thornton beat Mike Lee to the right corner of the end zone and Brewer hit him for a 39-yard TD eight seconds into the second quarter. Brewer hooked up with Josh Fleeks for a 34-yard TD strike in the back of the end zone with Kansas safeties Hasan Defense and Jeremiah McCullough on the scene as Baylor took a 23-0 lead an missed the extra point with 1:37 left in the half.
"If there's any positive I take from it it's that we allowed three points in the second half," Beaty said.
After halftime, the linebackers did a better job of containing Brewer and the defensive backs did a better job of staying with Baylor's talented receivers.
Defense shared what transpired during halftime.
"It started with coach Beaty," Defense said. "He told us we were beating ourselves up and then when we separated and went with coach Bowen, he told us we're definitely beating ourselves up. He told us what we were getting beat on and once we saw where we were supposed to be coach Bowen was just like, 'We can't have it. Second half we have to be able to stop them and make plays. If we want to have a chance to come back and win, we can't allow the same mistakes to happen twice.' "
They did as asked, but it was too late, and KU's record dropped to 2-2 overall and its Big 12 road losing streak grew to 41 games. Meanwhile, Baylor (3-1) already has tripled its victory total from a year ago.
SCORING SUMMARY
FIRST QUARTER
5:35 — Chris Platt 22 pass from Charlie Brewer. Connor Martin kick. Six-play drive for 47 yards, in 3:48. (BU 7, KU 0.)
SECOND QUARTER
14:52 — Tyquan Thornton 39 pass from Brewer. Martin kick. Six-play drive for 69 yards, in 2:40. (BU 14, KU 0.)
4:32 — Martin 45 field goal. Twelve-play drive for 55 yards, in 6:43. (BU 17, KU 0.)
1:37 — Josh Fleeks 34 pass from Brewer. Martin kick failed. Four-play drive for 46 yards, in 1:16. (BU 23, KU 0.)
THIRD QUARTER
8:32 — Jeremiah Booker 10 pass from Peyton Bender. Gabriel Rui kick. Seven-play drive for 90 yards, in 2:28. (BU 23, KU 7.)
5:00 — Martin 27 field goal. Nine-play drive for 65 yards, in 3:32. (BU 26, KU 7.)